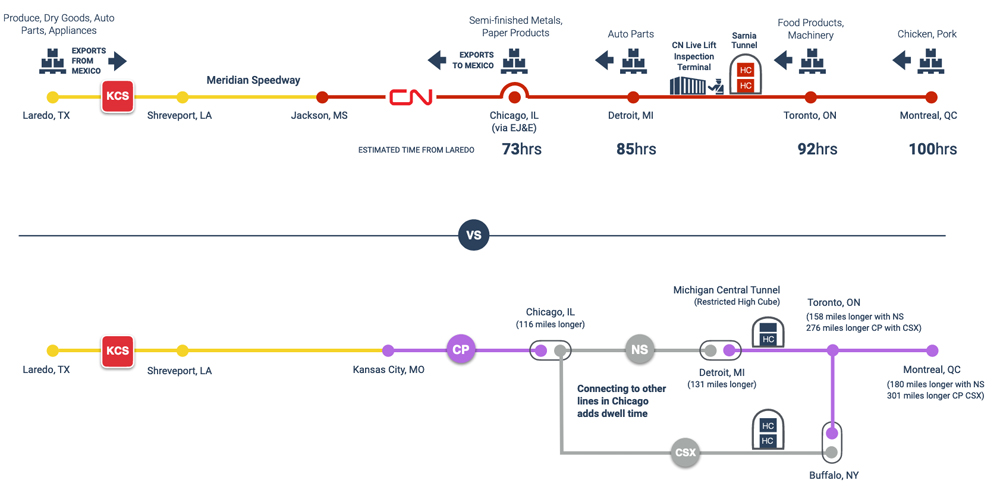 MONTREAL — Canadian National argues that its proposed combination with Kansas City Southern will offer shorter, faster, and more efficient routes than tying together the Canadian Pacific and KCS networks.
And that less complicated route structure, CN contends, will enable a CN-KCS system to successfully gain north-south traffic that currently moves by truck between Mexico, the U.S., and Canada.
CN said its proposed $33.7 billion combination with KCS — announced today in competition with CP's proposed $29 billion acquisition of KCS — would lead to $600 million in intermodal growth. That's 75% of the total revenue gains associated with a CN-KCS merger, officials said.
"This proposed combination is a story of growth, and more specifically, truck-to-rail conversion," CN Chief Operating Officer Rob Reilly says. "To drive these revenue synergies, It will require a railroad that has a proven track record of intermodal growth. Over the past decade, no other railroad has grown intermodal at a faster rate than CN, with our intermodal volumes growing by nearly 80%."
The long hauls between manufacturing and consuming centers in Mexico and the Upper Midwest and Eastern Canada are attractive, CN CEO JJ Ruest says, noting that it's 2,800 rail miles from Mexico City to Toronto and 2,300 miles between the auto producing centers of San Luis Potosi, Mexico, and Detroit. "These are really the sweet spots where intermodal should and needs to dominate," Ruest says, noting rail's 4:1 fuel efficiency advantage over trucks.
But it will take single-line service — something that doesn't currently exist from Mexico to the Midwest and Canada — to make it happen, Ruest says.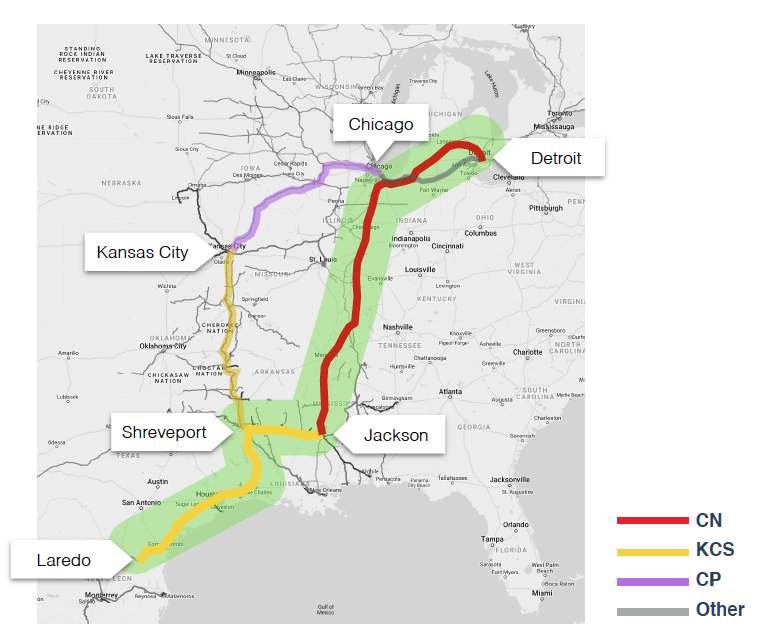 "Either intermodal product will be superior to what is currently available," intermodal analyst Larry Gross says of the dueling CP and CN bids for KCS and their plans to introduce new intermodal service linking Mexico, the Midwest, and Canada. "Speed is secondary to ease of use and reliability. Single line is superior to interchange in all respects in today's intermodal world."
KCS currently offers intermodal service linking Mexico and Chicago in conjunction with Union Pacific interchange at Laredo, Texas; BNSF Railway at Robstown, Texas; and CN at Jackson, Miss. About 75% of the southbound intermodal traffic is auto parts destined for assembly plants in Mexico, while northbound containers carry electronics, appliances, and other consumer goods.
About 16,000 trucks cross the border at Laredo every day.
A combination of CN and KCS routes from the Mexican border at Laredo to Chicago, Detroit, and Eastern Canada would have several advantages over tying together the CP and KCS networks through Kansas City.
By connecting the KCS and CN systems at the current interchange point of Jackson, Miss., CN and KCS would create a single-line route that's 130 miles shorter than the CP-KCS route via Kansas City, Mo.
The CN-KCS route, using the former Illinois Central north of Jackson, would be able to move traffic between Laredo and Detroit in about 72 hours, which is at least 48 hours faster than the more heavily graded and curvy CP-KCS routing.
Part of the transit time difference stems from what CN calls its Chicago Bypass, the former Elgin, Joliet & Eastern that connects the IC with CN's Grand Trunk Western. CN also has a full-clearance Sarnia Tunnel at the border between Michigan and Ontario.
CP, in contrast, relies on trackage rights on Norfolk Southern between Chicago and Detroit. For double-stack service between Chicago and Eastern Canada, CP uses trackage rights over CSX Transportation between Chicago and Buffalo, N.Y., due to clearance constraints in its Detroit River Tunnel. The CN-KCS route to Toronto is 158 miles shorter than CP's route via NS and 276 miles shorter than CP's route via CSX, according to CN.
CN also said that it would tie Kansas City, Mo., to ports in Eastern Canada with single-line service via its connection with KCS at Springfield, Ill.