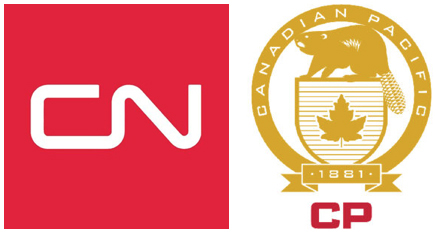 Canadian National and Canadian Pacific have both announced records for Canadian grain movement in the just completed 2020-21 crop year, with CN setting a second consecutive record and CP reaching a new mark for the fourth consecutive year.
CN says it moved more than 31 million metric tons of grain, bettering last year's mark of 29.5 million metric tones.It also moved 1.1 million metric tons from Western Canada by container. Grain movement from Eastern Canada is not included in these figures.
CN CEO JJ Ruest said in a press release that his railroad remains "committed to making capacity-enhancing investments to our network and to update our rolling stock. These investments benefit our grain customers, as well as all those from the other sectors we serve."
In May, CN announced plans to acquire 1,000 new high-capacity grain hoppers as part of an ongoing effort to build a fleet of 6,000 such cars.
CP reports moving 30.62 million metric tons, a 3.7% improvement over last year's record of 29.52 million metric tons. Including grain movements by container, CP moved 31.21 million metric tons, a 3.4% increase from the 2019-20 crop year.
"The challenge created by the COVID-19 pandemic over the past 17 months has underpinned the value of strong communication and supply chain collaboration," Joan Hardy, CP vice-president sales and marketing, grain and fertilizers, said in a press release. "Despite a sharp reduction in demand this spring, CP and our customers have again broken our movement record, and we celebrate that achievement across the supply chain."
CP had moved 15% more grain than last year through the end of March, but May through July demand fell to almost 15% below the same period a year earlier.
CP said the figure reflects the use of 8,500-foot High Efficiency Product trains, which — in using new high-capacity cars as well as longer trains — can move more than 40% more grain than the previous standard 7,000-foot grain train model.