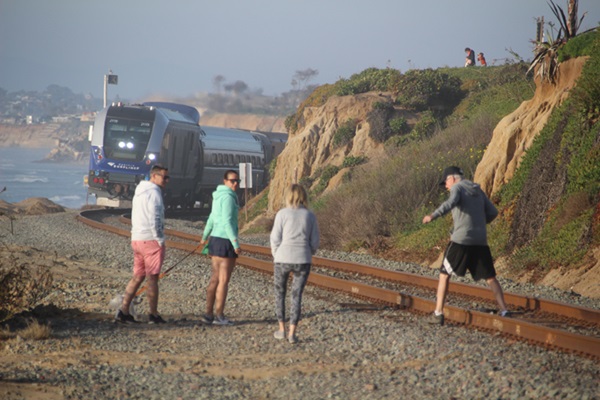 ---
DEL MAR, Calif. — The California Coastal Commission is now threatening "enforcement actions" against the North County Transit District if it builds a safety fence along its right-of-way on the Del Mar Bluffs without obtaining a development permit from the Commission.
The San Diego Union-Tribune reports the latest twist in the dispute between the transit agency, commission, and city of Del Mar came in the form of the commission's "pre-cease and desist" letter saying that construction of the fence would violate the state Coastal Act and could bring unspecified administrative and civil penalties, and that the commission could order the fence's removal.
The dispute between governmental agencies reflects an issue the NCTD sought to address when it took the matter to the Surface Transportation District in 2020. In its original filing, the district asked the STB to issue an order to keep the city and commission from regulating work along the rail right-of-way, citing what it called an "irreconcilable conflict" between rail and coastal-use regulations [see "Digest: San Diego transit agency seeks STB ruling …," Trains News Wire, Sept. 15, 2020].
The NCTD wants to build the fence to address frequent trespassing along the right-of-way by people walking along the bluffs or accessing the beach below. Del Mar residents have opposed the fence because it would restrict their beach access and spoil views from homes along the tracks.
In an update to its original petition to the STB, the district responded to the commission letter by saying it "cannot in good faith further delay the safety fencing project and risk any additional unnecessary loss of life or injuries."
The district said that in the 16 months since it began negotiating with Del Mar and the commission, there have been 1,828 incidents, including one fatality, along its right-of-way in the city. Incidents include cases where trains must sound their horns to alert trespassers along the tracks.