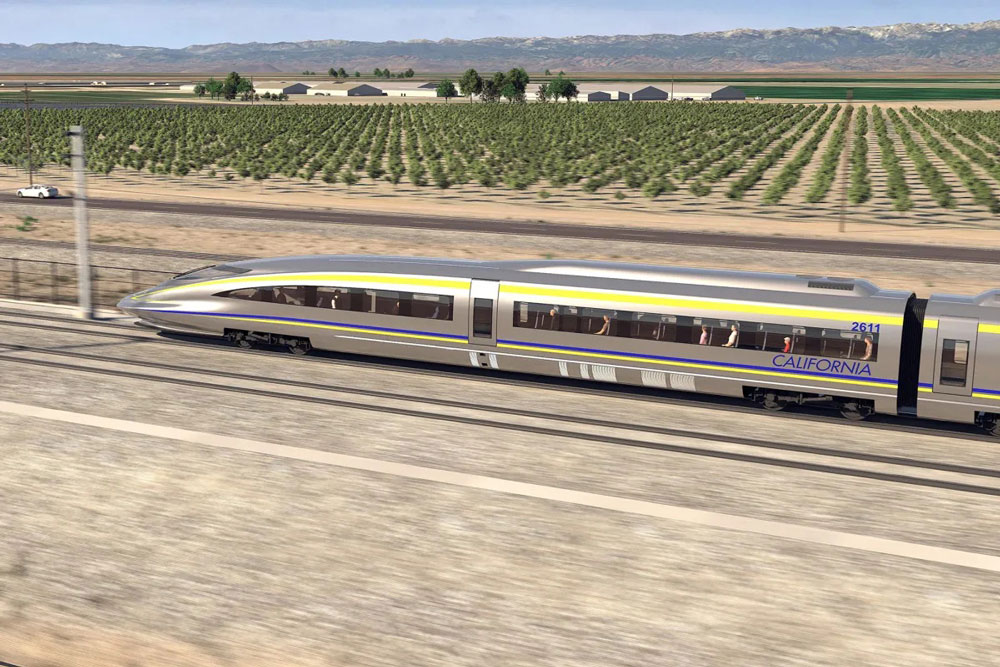 SACRAMENTO, Calif. – California Gov. Gavin Newsom is deadlocked in a dispute with Democratic colleagues in the state House over the next steps in the future of the state's $105 billion high speed rail project, according to CalMatters, an online, nonprofit news agency that covers public policy in the Golden State.
The California High-Speed Rail Authority's vision is to build the nation's first 220-mph passenger railroad, connecting San Francisco with Los Angeles via the Central Valley, with eventual build-out to an 800-mile system reaching Sacramento and San Diego.
Already, the state has spent more than $10 billion on what the news agency characterizes as "the largest single investment in state history, the most ambitious civil works effort in the nation and now a symbol to many experts of how not to build a railroad."
At issue is Newsom's 2021 request for legislators to approve a $4.2 billion appropriation, the last remaining amount from a 2008 bond measure authorizing the project. CalMatters staff writer Ralph Vartabedian describes the standoff this way: "The battle involves who will exert control over the project's future, how to improve its efficiency, and how the remaining funds can yield the greatest benefits, which involve sharp disagreements that could be difficult to resolve."
Construction, land acquisition, and planning are underway for a 171-mile middle section of the San Francisco-Los Angeles route lying between Merced on the north and Bakersfield on the south. Currently, 119 miles of the line are under contract, but further progress has been impeded by utility relocation and property issues.
A recent CHSRA report says that 57% of 1,850 utility relocations remain uncompleted, 10 years after construction began. In addition, the agency still needs to acquire 222 land parcels out of a total of 2,291, and only 22 of 66 structures have been completed.
When proposed in 2008, the system was originally projected to cost $33 billion and open in 2020. Democratic House Speaker Anthony Rendon of Los Angeles said: "There is no confidence in the project. We had an end date of 2020 and now we don't have an end date."
Legislators last year proposed a "recalibration" of the project that would substitute 170-mph battery-powered trains on the middle section of the route and delay electrification until the line reaches one of the endpoints. Critics of that plan say battery-powered technology is unproven to reach true HSR performance speeds.
In addition, legislators last fall offered Newsom $2.5 billion for construction and cost overruns, in exchange for an increase in  high speed rail segments in Southern California and an improved plan to connect the Central Valley segment to the San Francisco Bay Area. No progress has taken place on this proposal.
"Given the political divisions, the cost growth, the schedule delays, and the lack of a sound future revenue source, this project is going to the graveyard of famous boondoggles," said Bent Flyvbjerg, a business expert at the University of Oxford's Saïd Business School and IT University of Copenhagen.
Supporters disagree. The report quotes former U.S. Transportation Secretary Ray LaHood as saying: "There's construction under way. Hundreds of people are working on the project and have good paying jobs. There's a plan now to go to Bakersfield. The future is very encouraging. It hasn't stopped. The naysayers are always going to be naysayers."
CalMatters' report notes that CHSRA's need for the $4.2 billion Newsom requested is not apparent, as the agency has nearly half that much cash on hand, which could keep the project moving ahead for at least a year. CHRSA's CEO Brian P. Kelly counters that the appropriation is needed to enable stable planning and to proceed with orderly purchases of trainsets, construction of which requires a long lead time.
The overarching issue seems to be that as cost overruns grow, the state may be unable to complete the 171-mile line to Los Angeles and San Francisco. On the north, completing the connection to the Bay Area could cost $22 billion, while the connection from Bakersfield to LA could cost $50 billion. Legislators "are worried that the 171-mile system would remain isolated," CalMatters reported, quoting one assembly member as saying: "The idea that you would spend all your money on a train that doesn't connect to anything and just hope that you're going to get more money, I find a really frightening business proposition."