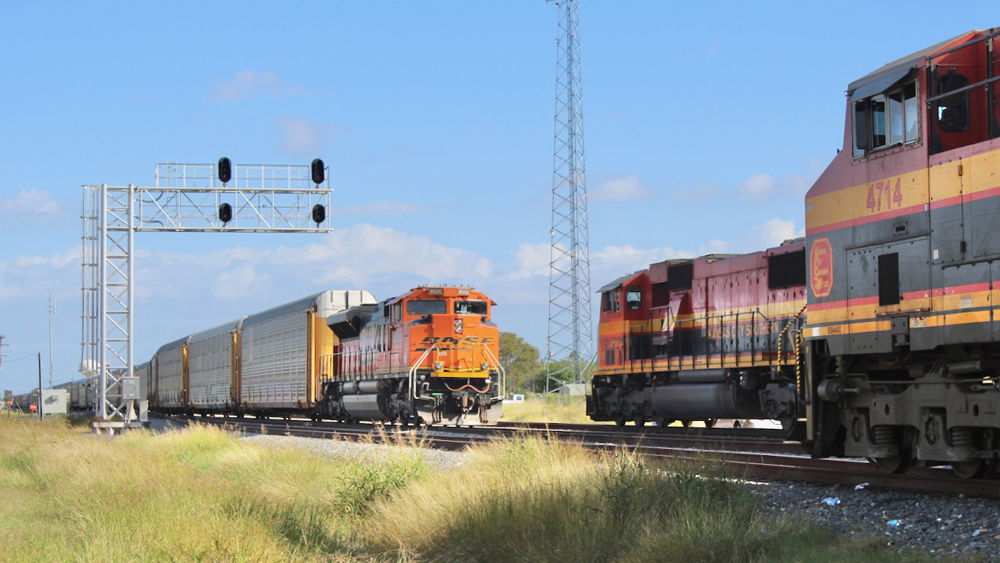 OMAHA, Neb. — BNSF Railway corporate parent Berkshire Hathaway is closely watching the battle for Kansas City Southern.
Canadian Pacific and Canadian National have dueling bids in place for the smallest Class I railroad, with an eye toward creating the first system to link Canada, the U.S., and Mexico. "Either of those companies acquiring Kansas City Southern will have an impact on BNSF," Berkshire Vice Chairman Greg Abel said at the company's annual meeting on Saturday.
BNSF relies on KCS interchange for intermodal traffic moving to and from Mexico via the Laredo, Texas, gateway, the busiest rail border crossing in North America.
"We move intermodal business both in and out of there on behalf of certain customers, "Abel says. "We'll want to protect the rights of our customers there, so we'll be active in the approval process. But there's no question, at the end it impacts our franchise."
Berkshire Chairman Warren Buffett said a merger involving KCS and one of the Canadian roads will have a small impact on both BNSF and Union Pacific.
Buffett suggested the Canadians are willing to pay too much for KCS, given that its concession to operate in Mexico ends in 2047. CP's friendly bid for KCS is worth $29 billion, while CN has offered $33.7 billion. "We would not pay this price," he says. "It implies a price for BNSF that's even higher than what the UP is selling for."
Union Pacific is valued at nearly $148 billion based on the current value of its outstanding shares.
Buffett also downplayed KCS's growth potential. "There's no magic to the Kansas City Southern," he says.
But he said he understands railroads' drive to expand their networks, as they have always done, and KCS is a logical target for the Canadians.
"I'm sure from the standpoint of both CP and CN, there's only one K.C. Southern," Buffett says. "They're not going to get a chance to expand. They're not going to buy us. They're not going to buy the UP. The juices flow, and the prices go up."
"People are not going to remember what you paid, but they're going to remember whether you built a larger system," Buffett says of CP and CN executives.
Berkshire has considered expanding its rail holdings. "We looked at buying CP," Buffett says. "Everybody looks at everything."
Buffett was asked why BNSF's profitability continues to lag that of rival Union Pacific.
He responded that in the first quarter BNSF narrowed its operating ratio gap with UP. BNSF's operating ratio was 3.6 points behind UP in the first quarter this year, compared to a 6.2-point gap a year ago.
BNSF has improved productivity and reduced costs, Berkshire noted in its first quarter earnings report.
"[CEO] Katie Farmer's doing an incredible job at BNSF, and it'd be an interesting question whether five years from now or 10 years from now, BNSF or Union Pacific has the higher earnings," Buffett says. "We've had higher earnings in the past, Union Pacific passed us."
For the first quarter, BNSF's net profit was $1.25 billion on $5.2 billion in revenue, while UP netted $1.34 billion on $4.6 billion in revenue.
Both railroads, Buffett noted, believe they have the best network in the West.
"We know we're larger than Union Pacific, we will do more business than they do. And we should make a little more money than they do, but we haven't in the last few years," Buffett says. "But it's quite a railroad, I feel very good about that."
He later added: "We want to do a little bit better than the other guy."