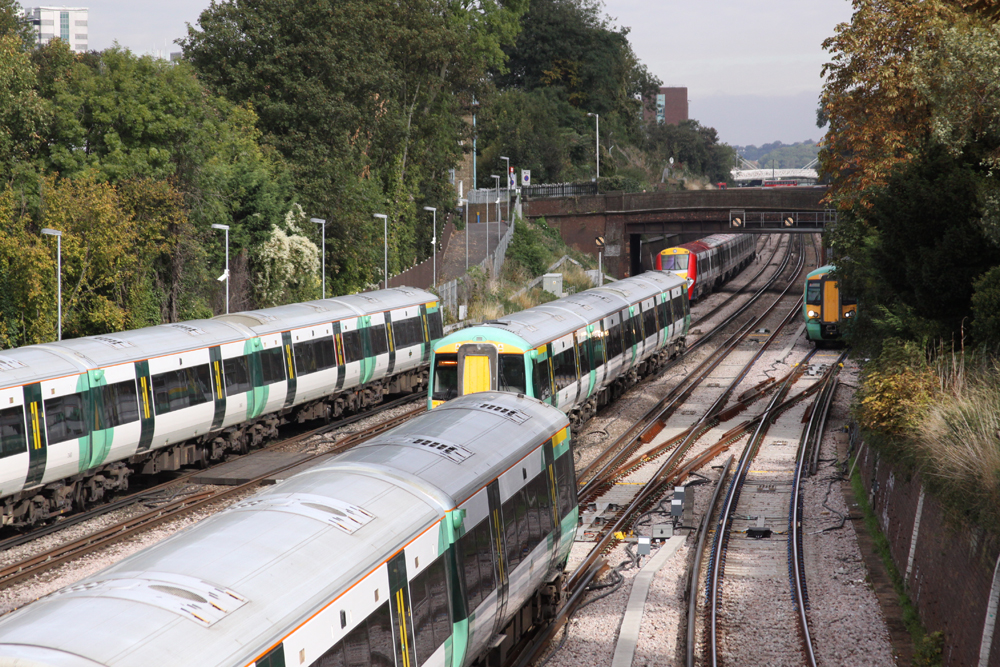 ---
LONDON — Most trains in Britain have been cancelled or rescheduled as of today (Tuesday, June 21) due to a widespread strike. The action involves some, but not all, railway workers at 13 passenger companies, plus national rail infrastructure company Network Rail and the London subway (Tube) system.
In total, around 40,000 people are striking. The strike has been called by the National Union of Rail, Maritime, and Transport Workers (RMT), which represents most rail workers including signalling and control-center staff, but not train engineers or some administrative staff.  Ballots at train operating companies resulted in most workers voting to take strike action, although some chose not to. Even in areas where train operating staff have chosen not to vote for strikes, there will be few trains, as signalling and control staff (who work for Network Rail) will be striking.
At dispute, according to the union, are plans for layoffs across the industry and the refusal of employers to match inflation (currently running at around 10% in Britain) in pay offers. Plans announced by the British government for the new Great British Railway organization [see "British government plans major shake-up of rail industry," Trains News Wire, May 26, 2021] do include staff reductions, but on a voluntary basis, at least initially. However, industry rumors suggest plans are being drawn up to shut all, or almost all, station ticket counters. This has already been done on London's subway network and in several European countries.
The strike is the first of three planned this month; the next two are on Thursday and Saturday. Further dates have been penciled in but not formally announced for July. The RMT union has a mandate to call strikes for six months, although by law it has to give two weeks' notice of dates. By staggering the strike action, the disruption is longer term. For example, services on Wednesday morning (a non-strike day) will be largely cancelled until around 7 a.m., as night-shift staff who would have started work on Tuesday will have been on strike. So no trains will run early in the morning or late at night all week, and on many lines no trains will run at all.
The operating companies affected, all of which have government contracts to operate trains, are concentrating on running some trains on busy routes on strike days, using a mixture of non-union staff and managers. On the days between strikes, more trains will be operated during the daytime. Train companies have published detailed timetables, available on their websites, showing their plans; on strike days only around 10% of normal services will run.
Negotiations go nowhere
The British government has refused to directly meet with rail union leaders, despite almost the entire passenger industry being state funded, with contracts whose terms are agreed at the centre of government. The level of micro-management by government is such that any pay increase would require government approval, so the union demand to talk directly to the ministers making those decisions is understandable — as is the preference of the politicians concerned to avoid this, choosing to let the train companies face such talks. Talks between the RMT and the train operators plus Network Rail have been underway, but have not resulted in any agreement.
Some disputes in the UK rail industry have been going on longer. In Scotland, train engineers, who belong to a specialist separate union, are involved in a long dispute that has resulted in a 5% pay-raise offer, which their union is recommending. Some RMT union leaders have suggested increases should be around 7%, but this is unlikely. as it would set a standard for other government-paid employers (e.g., health care or police) that the government will not be able to meet.
Rail workers in the UK are already paid substantially better than many who work in other sectors, including healthcare or retail jobs. During the two-decade period of privatization — with franchises that ended for good in 2020 as a result of COVID-19 — these workers were used to above-average pay increases most years. A shortage of trained rail staff meant operators were willing to offer good deals, and rising passenger numbers helped pay for it. Because of COVID, passenger numbers have declined, although they are now back to about 75% of 2019 levels. In the meantime, the British government has pumped billions of dollars into the industry, meaning many staff were not furloughed and trains still ran despite a lack of passengers.
Moves to limit the impact of strikes
While the government has talked about changing laws so temporary staff can replace strikers — currently illegal in the UK — this would have no real impact in the rail industry. Even assuming staff could be found, with unemployment remaining low, they would need training that for any operational job would take at minimum days, possibly much longer.
The government has also proposed several times, but not actually put forward, draft legislation to make railways and other essential services offer limited operations, even during strikes. This is commonplace in Europe, although some of the countries with guaranteed minimum train service during strikes, such as Italy or Spain, also tend to have more rail strikes than countries like Germany or the UK, which do not offer such guarantees.
Other countries, such as Belgium, take a middle way. Employees are compelled to say whether they will strike or not (but it's their choice), and a timetable is then devised around those working.