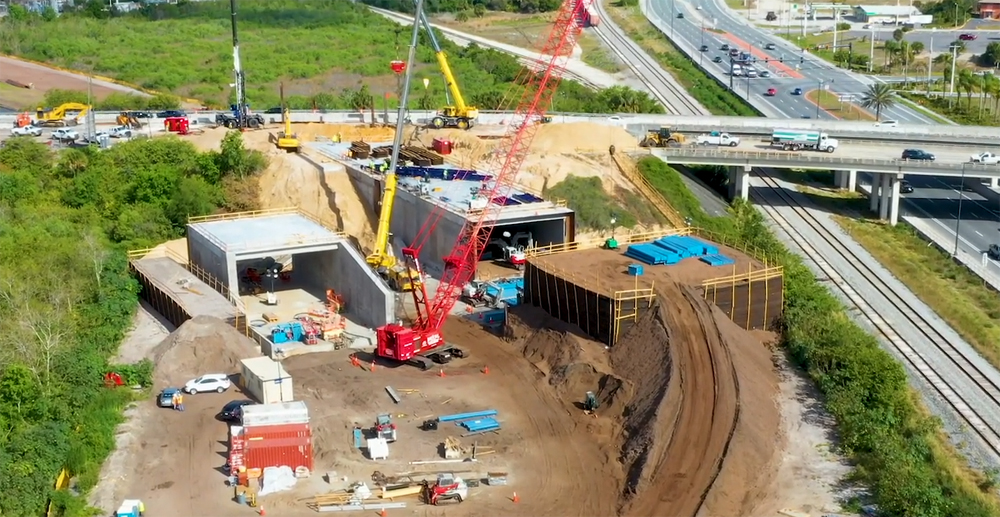 MIAMI — As part of preparation for its extension to Orlando, Brightline has completed a second highway grade separation for its 125-mph right-of-way east of the Orlando Airport utilizing the box-jacking process, where pre-cast concrete boxes are pushed under a road to reduce extended auto traffic disruptions and construction costs.
Brightline trains have not operated between Miami and West Palm Beach for more than a year as a result of COVID-19's impact on travel, but the company is aiming for a fourth-quarter 2021 restart, Brightline Senior VP of Corporate Affairs Ben Porritt tells Trains News Wire. Meanwhile, work continues on the West Palm Beach-Orlando segment and other projects.
Here's a look at the most recent developments:
Box-jacking at Cocoa, Fla.
The grade separation involved narrowed highway lanes in March and a few overnight closures of the Beachline Expressway, State Route 528, where the rail right-of-way from Orlando joins Florida East Coast Railway's main line just west of Cocoa, Fla. In 2020, Brightline used the technique to build an underpass under Goldenrod Road east of Orlando International Airport in just nine days. Traditional grade separation construction would have shut down portions of the highway for a year while separate bridges were erected.
Construction is 50% complete
Brightline has supplied a drone video which shows how right-of-way construction has progressed at the Orlando airport station and vehicle maintenance facility, and on the route paralleling highway 528 between Orlando and Cocoa. The project is now more than 50% complete, with all 35 miles of right-of-way cleared and all 21 bridges under construction. South of Cocoa, 90% of clearing for the second main track is complete, construction at 22 of 155 double-tracked highway grade crossings is finished or underway, and work has begun at nine of the 29 bridges. The entire extension is expected to conclude by the end of 2022, with service to begin the after testing is completed the following year.
Extension to Walt Disney World and Tampa
Although Brightline has an agreement to serve Walt Disney World with an extension from Orlando International Airport on a route to Tampa, mostly utilizing the median of Interstate 4, it is still negotiating engineering and lease details with the Florida Department of Transportation. Two routes to the Disney Springs station are under consideration. After several extensions, an agreement should be finalized by the end of July. The company has also received approval to do a joint study with SunRail, the Orlando-area commuter authority, that would explore creating a shared infrastructure to provide connectivity between the SunRail system and the airport.
South Florida station construction
Brightline's Porritt confirms that the new station opposite the mall and parking facility at Aventura, south of Fort Lauderdale, is under construction, and tells News Wire that the community garden and parking garage for the new station at Boca Raton, "will begin in the next few weeks," adding, "both stations are expected to become operational in 2022." Plans for a station at PortMiami are still under negotiation, though details there have likely been affected by Brightline's decision to sever its relationship with Richard Branson's Virgin Group last year.
Commuter rail agreements
Porritt says negotiations for commuter rail systems that might operate in Broward and Miami-Dade Counties on Brightline tracks and with Tri-Rail's entry into Brightline's MiamiCentral terminal are continuing. "Operations for commuter rail are the decision of the county, and will be a county system regardless of who operates it. There is no official relationship except for the sharing of the corridor," he says.
Preparing for a resumption of service
Brightline is installing new systems with ultraviolet light air filtration units in all of its passenger cars, but the existing equipment and stations were already designed to have touchless bathrooms, as well as cashless ticketing kiosks and food counters. The coaches already have clear partitions between table-facing booths, and Porritt says cleaning protocols have always called for stations to be cleaned every 45 minutes. "That said, we will be looking for additional unique ways to build confidence within the market when service returns."