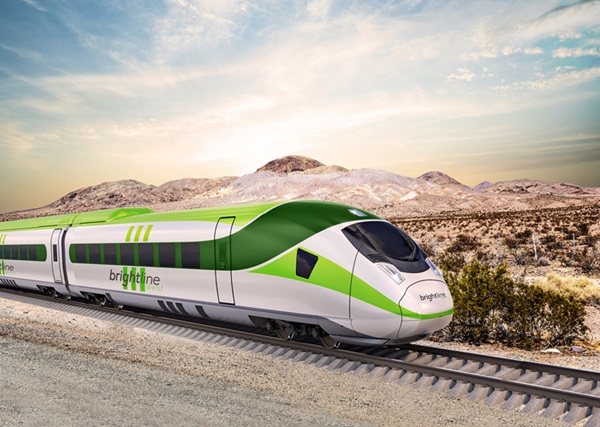 LAS VEGAS, Nev. — The effort to finance the Brightline West high speed rail line between Las Vegas, Nev., and Victorville, Calif., will wait until 2022.
The Las Vegas Review-Journal reports Brightline spokesman Ben Porritt said the plan to seek funding through private activity bonds was being pushed back because of the COVID-19 pandemic, and that the company had notified agencies involved its effort of that plan beforehand. "COVID has impacted just about everyone," Porritt said, "including our cooperating agencies and as a result, we've shifted our timeline for this request to 2022."
Brightline was awarded $200 million in private activity bonds in Nevada and $600 million in California in 2020, allowing it to seek $2.4 billion in bond sales. But it postponed the sale in November 2020, because of market conditions, just days after detailing plans to start construction before the end of 2020 [see "Las Vegas high speed project, rebranded Brightline West …," Trains News Wire, Oct. 26, 2020]. The company subsequently said it would begin construction in the second quarter of this year [see "Digest: Brightline West aims for spring start …," News Wire, Jan. 14, 2021] before announcing the latest delay.