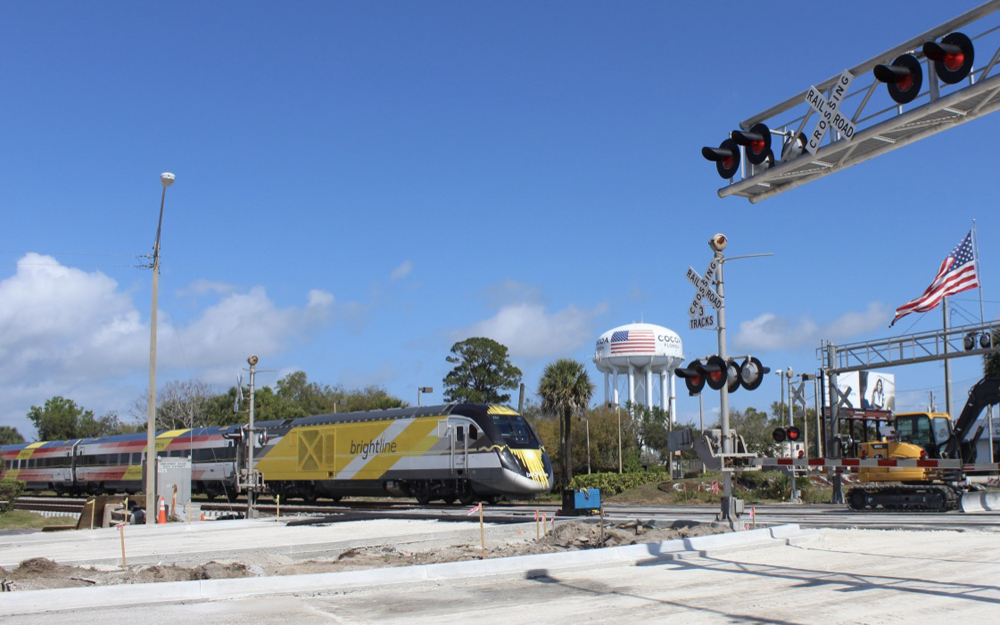 ---
COCOA, Fla. — Brightline crews are set to resume 110-mph tests this Friday, Jan. 6, south of Fort Pierce, Fla., as part of continuing preparations for the passenger operator's expansion of service to Orlando. The tests in Martin and St. Luicie counties, along an 11-mile stretch of the 129-mile segment of Florida East Coast Railway main line between Cocoa and West Palm Beach, will see passenger trains operating up to that speed as soon as all Federal Railroad Administration-mandated test results are validated and remaining infrastructure improvements are completed.
Meanwhile, the FRA has released Brightline's plan for the sealed corridor west of Cocoa to Orlando International Airport. Unlike FECRs recently double-tracked north-south route, which contains 156 highway and pedestrian crossings, the 39-mile east-west trackage is crossing-free and engineered for 125-mph operation.
Overall construction is 87% complete and involved 6.6 million employee-hours of work through the end of 2022.
South of Cocoa, work continues around the new double-track fixed spans at Crane Creek, Turkey Creek, and the Sebastian River. Rehabilitation of the single-track St. Lucie River drawbridge at Stuart, Fla., will include replacing key structural components, upgrading mechanical drive and electrical control systems, and installing a bridge monitor, countdown clock, and a bridge app for mariners similar to the one the company uses at the Fort Lauderdale bridge.
Dual ATC/PTC system planned for 125-mph corridor
In December, Brightline requested FRA approval to field test its Interoperable Electronic Train Management System (I-ETMS) between Cocoa and Orlando.
The request includes a description of the company's "Concept of Operations" and specific test procedures. The proposed plans are available through the federal register website, which has links to Docket FRA-2022-0098. The FRA will consider public comments submitted through Feb. 21, 2023.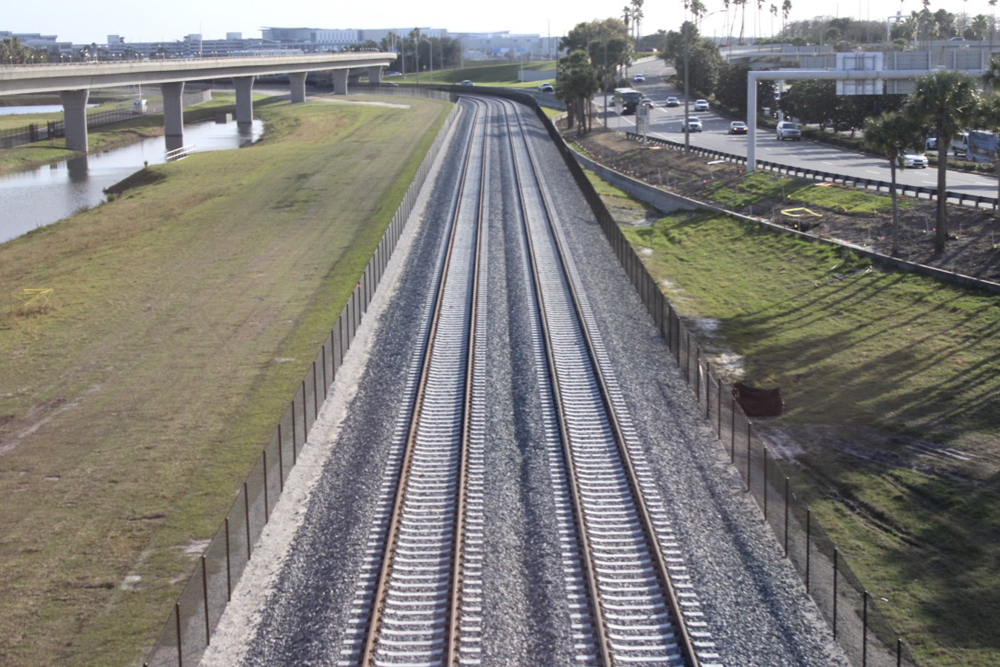 The downloadable documents consist of a 54-page test plan and appendices totaling 536 pages, including Brightline and FECR operating rules and track charts of the Orlando extension. For this 39-mile segment, the company' proposes an Automatic Train Control and cab signal add-on "that supplements the Centralized Traffic Control system of blocks. In positive train control territory, the I-ETMS PTC system will "supplement the ATC system to include enforcement of permanent and temporary speed restrictions and mandatory directives." On the extension, the ATC and I-ETMS PTC systems are to work in tandem utilizing a serial communication interface.
"The PTC system will send a message to the ATC system requesting it to enter 'Higher Speed Mode,' and in this mode," the plan explains, "ATC will permit operation at speeds up to 125 mph."
The proposal says the PTC system "allows and enforces the proper aspect speed limit based on route data, while ATC displays cab signal aspects and enforces lower speed restrictions such as 'stop' and 'restricting' to preserve core signal system functions. It will also warn and enforce the maximum territory speed of 125 mph."
The document also notes that only passenger locomotives will be equipped with the ATC/PTC serial interface on the Orlando extension; the systems will separately govern work trains and no overhead freight traffic is anticipated.
Track charts show 29 miles of single track between the Orlando West interlocking, 7 miles west of the airport, and "Cocoa Junction." There are about 23 miles with a 125-mph maximum speed limit on the segment and 21 block signals in each direction over that route.
New 110-mph system where crossings are present
Since October, double track sections have hosted friction braking, acceleration, and systems testing south of Cocoa where all highway crossing warning devices, crossovers, and signals have been installed.
Dan Whitaker, Brightline's vice president, rail systems, tells Trains News Wire that the company "has worked with the FRA to identify modifications to Wabtec's existing I-ETMS positive train control mixed system overlay south of West Palm Beach (to) satisfy additional requirements for certification at speeds up to 125 mph. If roads cross at grade, speeds will be limited to the FRA-regulated maximum of 110 mph."
The key I-ETMS add-on is a wireless crossing activation system to ensure consistent warning times are provided with train moves that exceed 79 mph.
Whitaker says, "A complex algorithm is used by the train management computer to determine when the train will arrive at the crossing." This system is used in conjunction with conventional track circuits, which activate warning devices at speeds up to 79 mph.
"The enhancements, which include Wabtec's Precision Navigation Module, Smart Direction of travel, and automatic track selection, allow the system to differentiate between trains traveling at different speeds and ensures that warning times are consistent regardless of train speeds," he adds.
Where higher speeds are permitted, crossings are either equipped with quad gates or wide roadway-separated medians.
Both the north-south and east-west segments include deployment of ground-breaking technology components that must be verified by FRA staff engineers. Brightline's Orlando Extension testing document says a "Revenue Service Demonstration" plan for that segment will be submitted to the agency in "Second Quarter 2023," but the company expects 125-mph trains to begin testing before then.