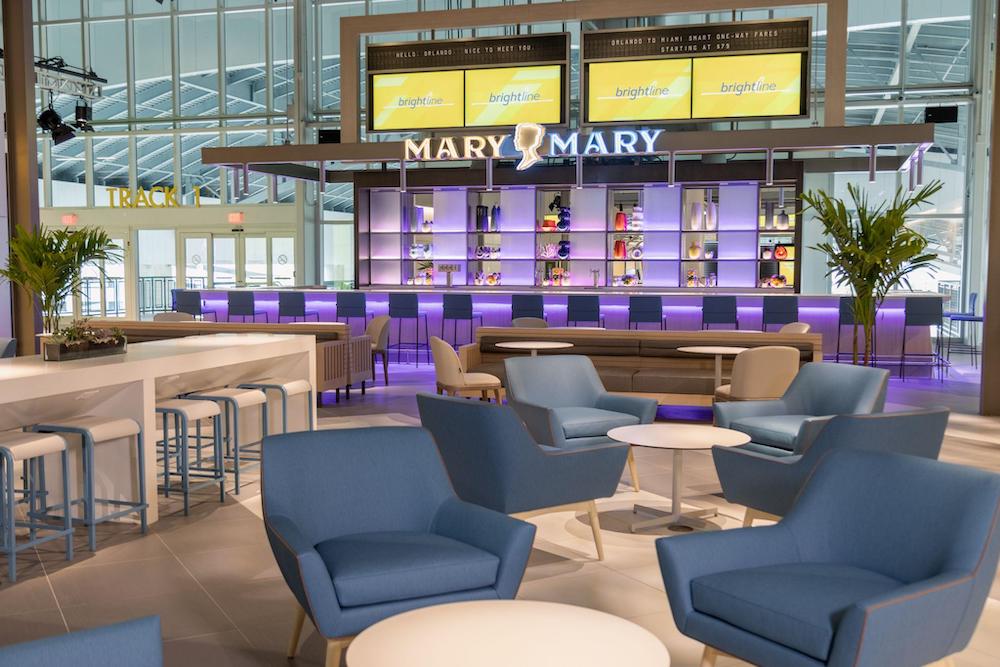 ---
ORLANDO, Fla. — Although a firm start date for Brightline's Miami-Orlando revenue service has yet to be firmed up, the company used a Thursday grand opening event at its Orlando International Airport station to release more details about fares and how trains will operate.
Brightline says ticket sales will begin next month and revenue service will start this summer, pending Federal Railroad Administration certification and the completion of all necessary infrastructure improvements.
Station
Tracks and platforms have been complete for almost two years but the station interior build-out was only recently completed. Trains News Wire visited the 80,000 square-foot facility while it was under construction in February. Like the company's MiamiCentral, it features an open seating area in front of a large "Mary Mary Bar" (named after Florida East Coast impresario Henry M. Flagler's two wives). Large windows in the boarding area behind the bar offer views of the boarding platforms below.
Above the bar are video screens and a message board that produces flapping sounds when arrival and departure information is changed, thus notifying waiting passengers that their train may be boarding. Instead of stored train names and destinations common to analog versions pioneered by Italian manufacturer Solari, however, this digital version – custom-produced by the Oat Foundry of Philadelphia – can display any message.
As is the case with all Brightline stations, there is a separate lounge for Premium class passengers, but this station also features a conference room overlooking Orlando International's Terminal Link automated people mover. There is also a "MRKT PLACE" retail shopping area for gifts and refreshments.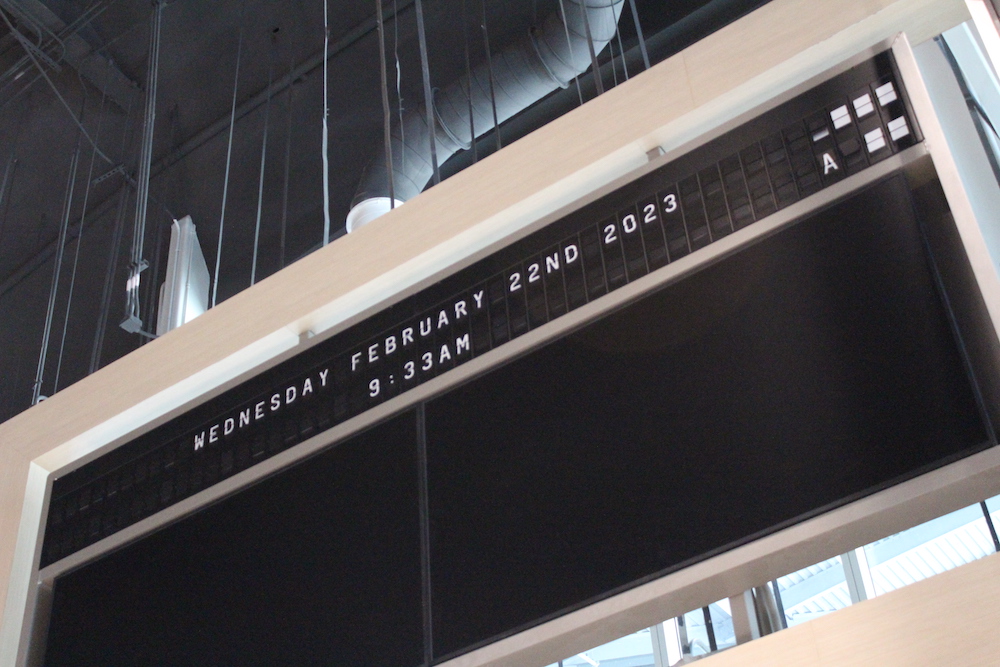 Schedule
Brightline will be offering 16 daily departures approximately every hour in a still-to-be-determined mix of non-stop and "regular" trains (stopping at West Palm Beach, Boca Raton, Fort Lauderdale, and Aventura) from 5 a.m. to 8:50 p.m. southbound and 6:50 a.m. to 9:45 p.m. northbound. On weekends, the first northbound train leaves at 5:45 a.m.
Additional Miami-West Palm Beach trains will continue to serve morning rush and late-night customers, with the first West Palm Beach train leaving at 5 a.m. and last Miami departure at 12:45 a.m.
Non-stops are carded at 2 hours 59 minutes, and the all-stops have a running time of 3 hours, 30 minutes.
Fares
Though intermediate station pricing has not been revealed, one-way fares to and from Orlando will start at $79 in Smart class and $149 in Premium, with 2-1 seating, where meals, drinks, snacks, and checked baggage service is included. The company says it will offer a Smart fare bundle for families of four "for less than $199 one way."
At launch, trains will continue to operate with three Smart coaches and one Premium coach, so presumably fares will fluctuate by departure as demand for a particular train increases or decreases. Siemens recently announced that Brightline's inventory and reservation software will be upgraded to S3 Passenger, a ticketing system offered by Siemens subsidiary Sqills, that "will allow Brightline to optimally manage and maximize seat utilization for higher capacity and yields."
The carrier has ordered another 10 coaches from Siemens, which are expected to be delivered in 2024.
Officials from Brightline, including president Patrick Goddard and CEO Mike Reininger, as well as representatives from Orlando, Orange, County, and the Greater Orlando Airport Authority attended Thursday's ceremony.