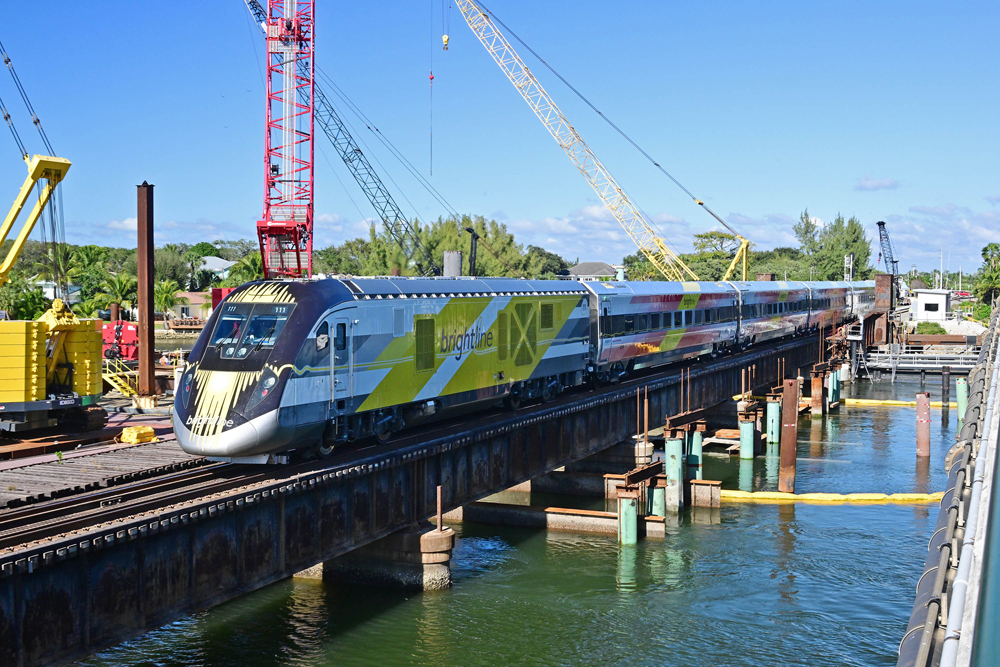 ---
WEST PALM BEACH, Fla. — The next chapter in Brightline's plan to connect Miami and Orlando with modern intercity passenger trains began Tuesday with the first route familiarization runs for operating crews.
Tuesday's train made a round trip to Micco, Fla., which is midway between Melbourne and Vero Beach, Fla., and 90 miles north of Brightline's West Palm Beach maintenance facility. A second Florida East Coast Railway main track is being restored another 35 miles north to Cocoa, Fla., where an entirely new right-of-way is being constructed to an already-completed station at Orlando International Airport. A test train scheduled for a West Palm Beach-Cocoa round trip today (Wednesday, Jan. 19), has been cancelled; the first West Palm Beach-Cocoa round trip is now scheduled for Thursday, Jan. 20, departing West Palm Beach about 7 a.m.
Unlike most railroad qualification runs and testing elsewhere, this one was highly publicized by Brightline, in part to illustrate the progress the company has made since construction began in 2019. The route is more than 70% complete, and service is expected to begin in early 2023 after the Orlando-Cocoa segment is finished and all West Palm-Cocoa capacity improvements are in place.
One of the most significant investments is being made at Jupiter, Fla., where an aging drawbridge over the Loxahatchee River is being replaced with a new double-track span. All other bridges along the route are being refurbished or replaced before passenger service begins, except for the single-track drawbridge at Stuart, Fla.
Although familiarization runs will be limited to 60 mph, FEC's current freight speed limit, Brightline trains will eventually be permitted to travel at 110 mph on the West Palm Beach-Cocoa segment. That's where highway grade crossing monitoring systems are being installed as a part of Wabtec's I-ETMS positive train control signal system, which must undergo reliability certification at that speed. On the sealed corridor under construction between Cocoa and Orlando, trains will be permitted to operate at 125 mph once the system is certified by the Federal Railroad Administration. The existing I-ETMS passenger train maximum is 90 mph.
Publicizing the testing activity, which is expected to continue through the end of 2022, calls attention to local residents that they should expect increased train traffic on the route. Since Brightline's Miami-West Palm Beach service resumed in November 2021, after a service suspension that began in March 2020, there have been many vehicle collisions and trespasser fatalities, and the company has made significant safety outreach efforts in communities along the original route. Coverage of Tuesday's qualification runs is a first step in raising awareness of what's ahead for Treasure Coast residents.
— Updated at 8:05 a.m. CST with cancellation of trip planned for Wednesday.