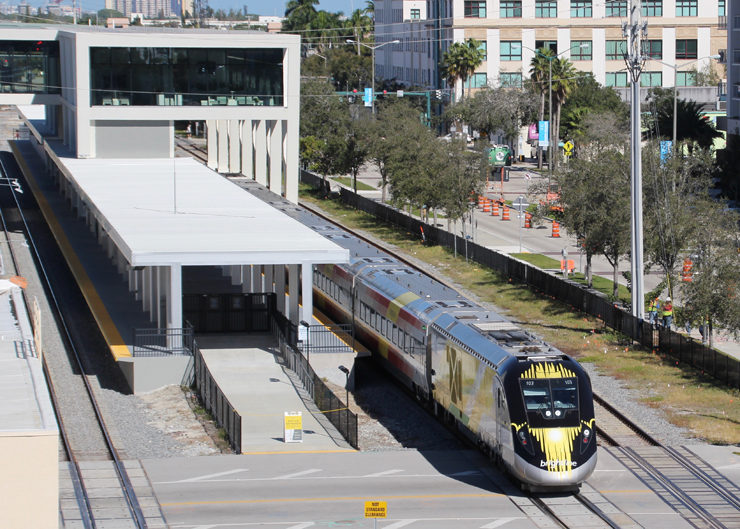 ---
WASHINGTON — Brightline trains to Orlando aim to be in operation "hopefully by Christmastime," Fortress Investment Group co-CEO and Brightline chairman Wes Edens said Tuesday.
Edens made the comment during a "Washington Post Live" event on the future of transportation. He also said he hoped construction would be under way on the Brightline West project between Las Vegas and Southern California by then, with that line in operation three years later.
Edens told the Post there are 20 city pairs Brightline considers "really compelling" for similar rail passenger service, and believes that once the current projects provide proof of concept, similar operations will be developed over the next 10 to 20 years.
Other notable comments from Edens:
— Use of highway medians for right-of-way, as is planned with Brightline's eventual extension to Tampa, and much of the Las Vegas-Southern Caifornia route, is "in hindsight, the preferred way" of developing routes. "I think it's cheaper to do it that way. I think you could make the rail system more secure because you could build a fence around it, the median, and keep, you know, cars and people and animals away from it."
— Permitting is the "biggest challenge" in rail infrastructure, he says: "The actual project that is on the precipice of getting permitted from Vegas to L.A. started actually 15 years ago. We got involved in it about three and a half years ago. The total cost, the hard-dollar cost by the time we get our permits and are ready to start construction, it would be about $550 million … I think if you want to see this happen in a lot of other places, as I do, we have to make it a little bit easier for people to access."
UPDATE, June 9, 12 p.m. CDT:  A Brightline source, clarifying Edens' Tuesday statement to the Washington Post, tells Trains News Wire that the company fully expects that test trains will be running on the company's new route between West Palm Beach and Orlando International Airport as soon as track structures and signaling permit. This is likely to happen even before Christmas 2022, but revenue service is still scheduled to launch at an "early 2023" date to be announced once crew qualification and route certification is completed.