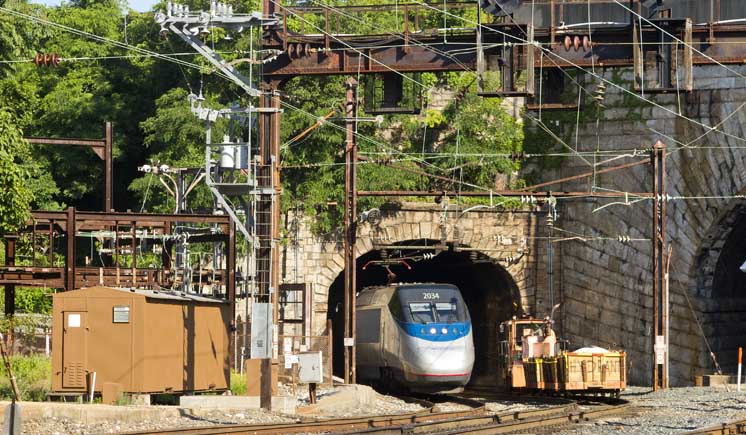 ---
BALTIMORE — President Joe Biden today announced that the project to replace the Baltimore & Potomac Tunnel, a Northeast Corridor bottleneck dating to 1873, will receive more than $4 billion in federal infrastructure funding.
"The structure is deteriorating. The roof is leaking. The floor is sinking. This is the United State of America, for God's sake," Biden said, according to the Washington Post, during his appearance at Baltimore Penn Station, with the B&P tunnel as a backdrop. "… For years, people talked about fixing this tunnel. This is a 150-year-old tunnel — you wonder how in the hell it's still standing. And with the bipartisan infrastructure plan, we are finally getting it done.
The White House said the tunnel project could ultimately receive up to $4.7 billion in federal funds, although no allocations have yet been made by the Department of Transportation. The first work — demolition, utility relocation, and some track work — will begin this year to replace the B&P tunnel with the Frederick Douglass Tunnel, which will feature bores allowing speeds up to 110 mph. The current tunnel has sections as slow as 30 mph because of sharp curves.
Amtrak said in a statement that it intends to commit approximately $750 million toward the project, expected to cost about $6 billion, while Maryland will commit about $450 million.
"Replacing this Civil War-era B&P tunnel will nearly triple train capacity on this critical section of the Northeast Corridor for the nine million annual Amtrak and MARC customers who rely on this vital connection,"  Amtrak CEO Stephen Gardner said in a press release. "As we work with Maryland and our labor partners to deliver the new Frederick Douglass Tunnel, we are grateful for essential funding that the Biden Administration has designated for this project, made possible by the Bipartisan Infrastructure Law and the strong support of our many federal, state and local partners."
The Post reports that Monday's event included the announcement of multiple labor agreements that officials say will assure good jobs and lower the changes of labor disputes that could delay construction. The White House has said the tunnel project will create 20,000 jobs.
Today's event was the first of back-to-back days of rail-related infrastructure events scheduled for Biden. On Tuesday, he is slated to appear in New York to highlight the Hudson River rail tunnel that is part of the Northeast Corridor's Gateway Project.