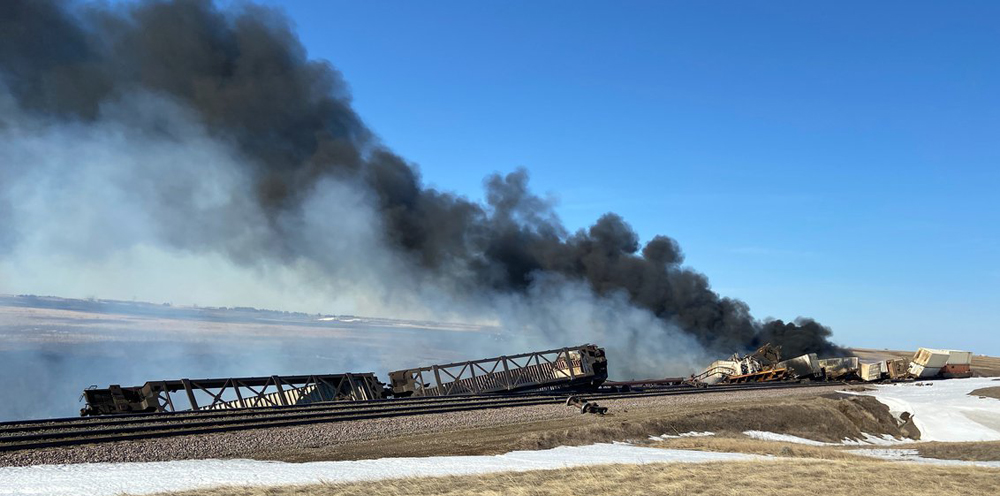 ---
BURLINGTON, N.D. — Fifteen cars of a BNSF Railway intermodal train derailed early Sunday near Burlington, with some cars catching fire, closing the railroad's Glasgow Subdivision main line just west of Minot, N.D.
KMOT-TV reports that while the derailment occurred about 1 a.m., as of 3:15 p.m., the fire was still burning because firefighters were facing difficulties in reaching the scene, with fire trucks becoming stuck in mud while en route. A North Dakota National Guard helicopter was dispatched to help fight the fire.
KFYR-TV reports the line reopened about 2:30 a.m. Monday. Cleanup is continuing.
BNSF said in a statement that the containers involved carried paper products and frozen foods, and that cars with containers carrying hazardous material had not derailed and had been removed from the scene. No injuries were reported.
The derailment and fire led to cancellation of both directions of Amtrak's Empire Builder on Sunday between Minot and Shelby, Mont.
— Updated at 7:50 p.m. CDT with line reopening.