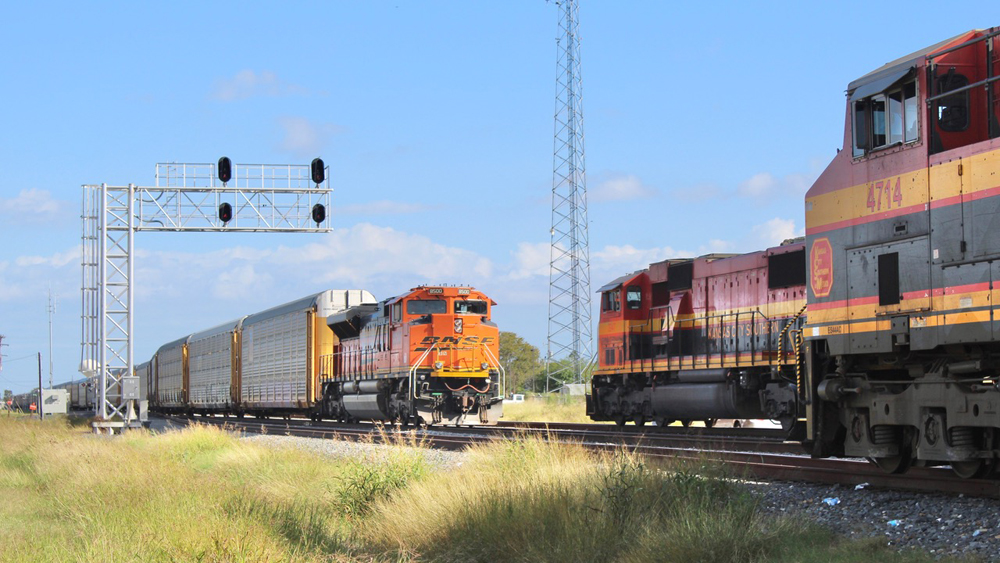 ---
WASHINGTON — Is BNSF de Mexico a possibility?
BNSF Railway, in a Thursday regulatory filing related to the proposed Canadian Pacific-Kansas City Southern merger, said it may seek trackage rights on Kansas City Southern to reach the Mexican border at Laredo, Texas.
The bombshell was tucked away in a footnote: BNSF will seek a concession from the Mexican government to provide service south of the border.
"The imposition of BNSF's overhead trackage rights between Robstown, Tex. and Laredo, Tex. would take effect only if and when BNSF obtains the right to directly serve shippers in Mexico through a concession with the Mexican government," BNSF's footnote says.
BNSF currently interchanges with KCS at Robstown, which it reaches via trackage rights over Union Pacific.
KCS, through its KCS de Mexico subsidiary, has a concession to operate trackage in Mexico through 2047. But the concession comes up for review in 2027, creating a potential opening for BNSF to seek trackage rights that would provide competition to KCS de Mexico.
Mexican regulators have flirted with boosting rail to rail competition in Mexico in recent years but have not acted on various proposals that mostly dealt with rail access in southern Mexico where KCS does not operate.
The CP-KCS merger quickly received required regulatory approval from Mexican officials in November.
BNSF's gambit would require three dominoes to fall in its favor. The U.S. Surface Transportation Board would have to approve the CP-KCS merger and be willing to grant BNSF trackage rights as a condition of the merger. And then BNSF would have to persuade Mexican regulators that it could compete effectively with Canadian Pacific Kansas City in Mexico.
Industry observers say if this scenario were to fall into place it would strengthen BNSF's access to Mexico, limit projected growth on CPKC, and make BNSF a more effective competitor for Union Pacific, which currently handles 70% of traffic that crosses the U.S.-Mexico border.
Observers credit the BNSF Mexico strategy to its chief legal officer, Roger Nober, who was chairman of the STB from 2002 to 2006.
BNSF is the odd man out at the Mexican border. It relies on KCS to reach KCS de Mexico, has trackage rights on UP to reach Ferromex at the Eagle Pass, Texas, gateway, and has its own route to the border crossing at El Paso, where it connects with Ferromex.
Representatives for BNSF did not immediately respond to an email seeking comment. CP declined comment.