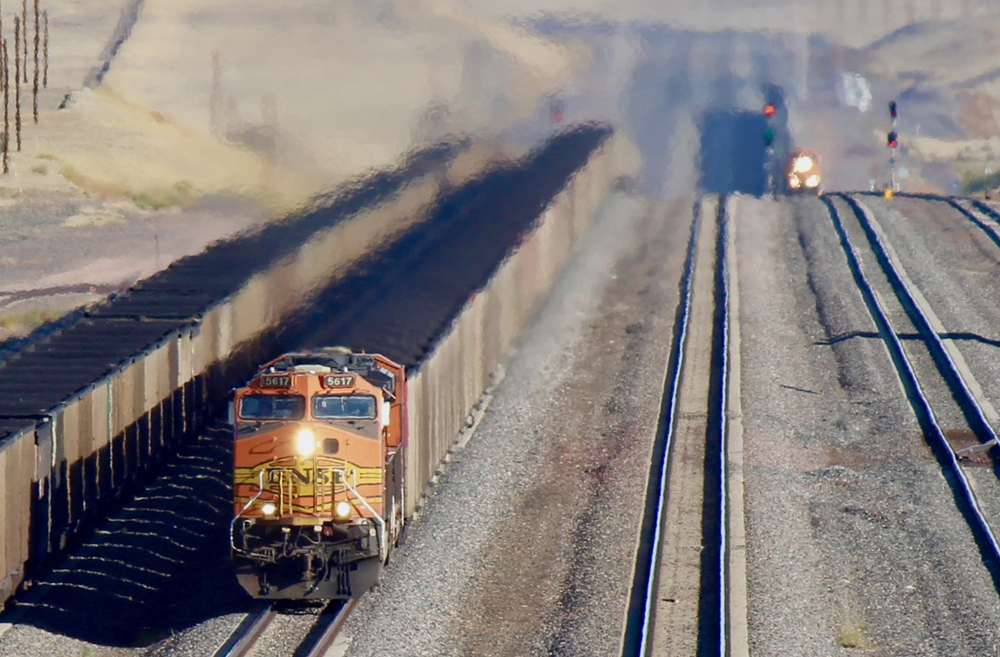 ---
OMAHA, Neb. — BNSF Railway produced record profits in 2021 amid broad growth in traffic and revenue.
For the year, BNSF's operating income surged 13.7%, to $8.8 billion, as revenue rose 11.6%, to $22.5 billion, the railroad's corporate parent, Berkshire Hathaway, reported on Saturday. The railroad's operating ratio improved 0.7 points to a record 60.9%.
"BNSF, our third giant, continues to be the No. 1 artery of American commerce, which makes it an indispensable asset for America as well as for Berkshire. If the many essential products BNSF carries were instead hauled by truck, America's carbon emissions would soar," Berkshire Chairman Warren Buffett wrote in his annual letter to shareholders.
"Your railroad had record earnings of $6 billion in 2021," he wrote. "Here, it should be noted, we are talking about the old-fashioned sort of earnings that we favor: a figure calculated after interest, taxes, depreciation, amortization and all forms of compensation. (Our definition suggests a warning: Deceptive 'adjustments' to earnings — to use a polite description — have become both more frequent and more fanciful as stocks have risen. Speaking less politely, I would say that bull markets breed bloviated bull … .)
"BNSF trains traveled 143 million miles last year and carried 535 million tons of cargo," Buffett added. "Both accomplishments far exceed those of any other American carrier. You can be proud of your railroad."
BNSF's volume was up 6.9% overall for the year, led by an 8.9% increase in coal shipments. Consumer products volume increased 7.7%, while industrial products grew 5.4%, and agriculture shipments rose 2.9%.
Operating revenues from consumer products increased 13.7%, reflecting increased volumes and higher average revenue per car/unit. "The volume increase was primarily due to growth in intermodal in both international and domestic shipments driven by increased retail sales, inventory replenishments by retailers and increased e-commerce activity," Berkshire reported.
Industrial products revenue rose 5%. "The volume increase was primarily due to improvement in the U.S. industrial economy, driving higher volumes in the construction and building sectors, partially offset by lower petroleum volumes due to unfavorable market conditions in the energy sector," Berkshire wrote.
Agricultural products revenue increased 5.8% due to higher domestic grain shipments and growth in ethanol and related commodities, along with higher revenue per car.
Coal revenue grew 21.5% on higher volume and average revenue per unit. "The volume increase in 2021 was attributable to increased electricity generation, higher natural gas prices and improved export demand," the company said.
Berkshire said 38% of BNSF's freight revenues were derived from consumer products, 24% from industrial products, 23% from agricultural products, and 15% from coal.
In his shareholder letter, Buffett recalled how Berkshire wound up making an offer to buy BNSF in 2009. Berkshire's board was scheduled to meet in Fort Worth — which happens to be home to BNSF's headquarters — on Oct. 22. So Buffett met earlier in the day with Matt Rose, who was BNSF's chief executive at the time.
"When I made the date, I had no idea that our get-together would coincide with BNSF's third-quarter earnings report, which was released late on the 22nd. The market reacted badly to the railroad's results. The Great Recession was in full force in the third quarter, and BNSF's earnings reflected that slump. The economic outlook was also bleak, and Wall Street wasn't feeling friendly to railroads — or much else," Buffett wrote.
"On the following day, I again got together with Matt and suggested that Berkshire would offer the railroad a better long-term home than it could expect as a public company. I also told him the maximum price that Berkshire would pay," Buffett wrote.
"Matt relayed the offer to his directors and advisors. Eleven busy days later, Berkshire and BNSF announced a firm deal," Buffett wrote. "And here I'll venture a rare prediction: BNSF will be a key asset for Berkshire and our country a century from now."