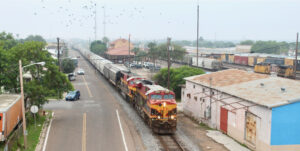 WASHINGTON – BNSF Railway and Norfolk Southern may both seek trackage rights over Kansas City Southern routes in order to preserve competition as part of the proposed Canadian Pacific-KCS merger.
The railroads disclosed their intentions in regulatory filings posted today on the Surface Transportation Board website. The board's deadline for such responsive applications is Feb. 28.
BNSF may ask the STB to grant trackage rights over KCS's former Texas Mexican Railway between Robstown, Texas, and the Laredo gateway, the busiest rail border crossing in North America. BNSF currently interchanges cross-border traffic with KCS at Robstown.
BNSF also will seek trackage rights over KCS between Metro, Texas, north of Dallas-Fort Worth, and Bossier City, La., near Shreveport.
In addition, BNSF said it may seek trackage rights over CP's main line between Savanna, Ill., and Clinton, Iowa.
NS said it would seek to protect and expand its rights to move traffic over the 320-mile Meridian Speedway, its joint venture with KCS between Meridian, Miss., and Shreveport, La.
NS currently has haulage rights over the Meridian Speedway for overhead intermodal traffic that originates or terminates west of Dallas and doesn't originate or terminate at any point on KCS.
NS aims to modify this agreement to include premium boxcar and automotive traffic as well as intermodal, boxcar, and automotive traffic originating or terminating west of Shreveport rather than Dallas. NS also said it may seek trackage rights over KCS from Meridian to Dallas.
CSX Transportation and Union Pacific sought waivers from the STB that would allow them to file responsive applications despite not filing descriptions of anticipated responsive applications by the Jan. 12 deadline. CSX said it did not plan to file a responsive application, but that may change based on what conditions other railroads seek as part of the CPKC merger.
BNSF filing:
https://dcms-external.s3.amazonaws.com/DCMS_External_PROD/1642088192919/303514.pdf
NS filing:
https://dcms-external.s3.amazonaws.com/DCMS_External_PROD/1642083704095/303516.pdf