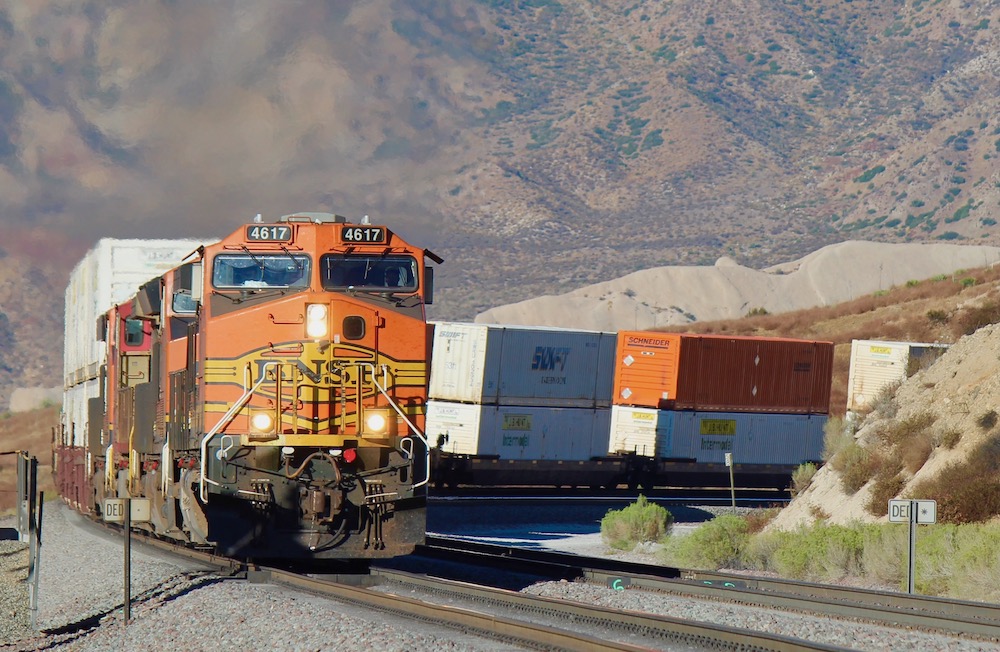 ---
Editor's Note: This is an abridged version of a feature that will run in the October issue of Trains Magazine that will examine intermodal developments on both BNSF Railway and Union Pacific.
It's not easy for railroads' domestic intermodal customers to jump ship, which is why their partnerships tend to endure for decades. Yet change has come to the West. In the past two years, Union Pacific has landed a trio of longtime BNSF Railway customers. Knight-Swift and APL Logistics left BNSF in 2022. And this year Schneider National shifted its orange containers to UP.
Neither railroad would disclose how many annual loads changed hands. But it's likely that Knight-Swift, APL, and Schneider delivered nearly 450,000 new container loads to UP. This much is certain: As intermodal demand softened in the first quarter this year, UP's intermodal volume was down just 3%, while BNSF's tumbled 18%.
No one could be happier about this turn of events than J.B. Hunt, BNSF's lone remaining truckload intermodal partner. And if you think BNSF is crying in its soup, think again. BNSF and J.B. Hunt have tightened their relationship and are acting like one company as they jointly look for ways to increase capacity, improve service, and convert freight off the highway.
Last year — three months after Schneider said it would leave BNSF for UP, partly due to the unique BNSF-J.B. Hunt revenue-sharing agreement — J.B. Hunt and BNSF announced a joint plan to expand capacity and coordinate their operations.
J.B. Hunt is increasing its industry-largest container fleet by 40% over the next two to four years, bringing it to 150,000 53-foot containers. It's also adding chassis. For its part, BNSF continues to expand intermodal terminals, buy well cars, and add mainline capacity.
Over the years BNSF and J.B. Hunt have grown together and out of necessity have had a close relationship. But they couldn't get cozier because BNSF also counted Hunt competitors Schneider, Knight-Swift, and APL Logistics among its customers. If BNSF did something special for J.B. Hunt, it would have to do it for the other customers, too.
Now it's a different story. "We often got frustrated with each other because J.B. Hunt wanted to do something a certain way and they needed us to do it the way that they were structured," Darren Field, J.B. Hunt's intermodal president, tells Trains. "And that did create healthy tension that was good for all of us. But as those competitors are gone, the dialogue is very different. Everything that we had ever wanted to talk about is on the table today."
Tom Williams, BNSF's group vice president of consumer products, agrees. "I would say it's an evolution because it's always been very close," he says of the relationship with the railroad's largest intermodal customer. With multiple truckload intermodal customers, there was always competition for capacity. Those conflicts are gone now that J.B. Hunt is BNSF's only truckload partner. "It's removed a barrier that existed to go to the next level," Williams says.
Targeting Trucks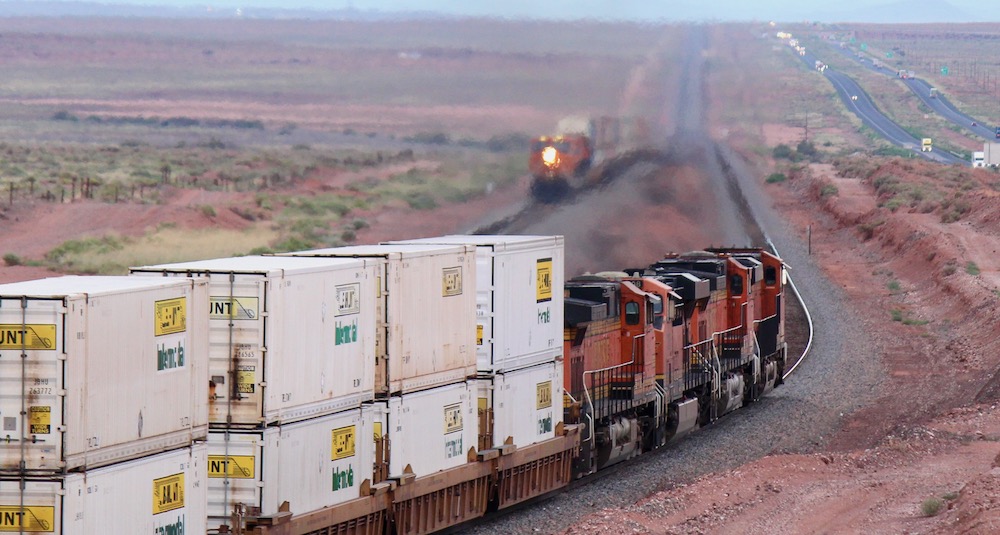 ---
The 41,000 containers Hunt is adding to its fleet slightly exceeds the number of Schneider, Knight-Swift, and APL Logistics containers that left BNSF for UP. "The easiest thing for J.B. Hunt to do is go buy containers to backfill Schneider's capacity," Field says. "The hard work is integrating our technology tools. How do we deliver a product to the customer that is not available anywhere else and frankly can't be available anywhere else because of those channel conflicts?"
Hunt isn't gunning for Schneider's business. "Highway conversion is our top priority," Field says.
The big prize? The seven million to 11 million truckloads per year that could be in J.B. Hunt containers. Hunt, which handled just over two million intermodal loads last year, can see all that highway volume through its online bid warehouse. "We have seen literally millions of shipments over time every year that can and should be intermodal," Field says.
BNSF is fully on board. "We want to pull in as much of that freight as we possibly can," Williams says.
The problem is that intermodal service isn't reliable enough to lure more trucks off the road. "We have to prove an ultra-successful consistent rail service to those customers … There's many, many customers that will say, 'I don't have to have it as fast as a truck gets it to me. I just have to know it's going to be here,'" Field says. "And by saying that, it highlights that they don't trust intermodal. And at the level of quality they're looking for, I'm not sure we've earned that trust, particularly over the last four or five years."
So BNSF and Hunt are attacking an age-old intermodal problem: Reliability takes a hit when volume is heavy, either by the day of the week, during peak season, or in years when demand is high. "We handle a lot of freight that has some tolerance for variability, a lot of inbound to distribution centers," Williams says. "But then there's a lot of customer freight that moves in long haul lanes that doesn't necessarily have really tight transit requirements, but because of the higher cost of failure can't handle what has been historic variability."
Getting More Out of Terminals
Improving service consistency starts in terminals, which get congested late in the week as volume builds. Traditionally, BNSF created the load sheet – which determines what containers will take a certain train – and J.B. Hunt scheduled its service around it. Now they're doing it together. With J.B. Hunt sharing data on which loads are the most service-sensitive, BNSF can make sure the hot boxes make the train and are among the first grounded at destination. "We can protect that most-service sensitive, highest cost of failure cargo and make sure that it's not subject to the variability that the volume surges bring," Williams says.
At the Alliance terminal north of Fort Worth, BNSF is testing a pair of home-grown artificial intelligence systems that use algorithms to improve terminal operations.
The first plots the most efficient way for hostler rigs to get specific containers and trailers from their parking spots to the cranes. The goal is to reduce the number of hostler miles, which eases congestion and speeds the loading process. So far the system has, on average, shaved 20 miles off each hostler's driving distance per train.
The second is a load planning optimizer that takes just seconds to determine where containers and trailers should be dropped next to production tracks, what cars they'll ride, and whether they should be on the top or bottom when double stacked.
Combined, these two systems have reduced the average train loading time by 30 minutes, which means BNSF can get more out of Alliance's production tracks each day. When these systems are fully deployed across the railroad, BNSF believes it will create the capacity for 500,000 additional lifts per year, all without the need to add cranes or production tracks.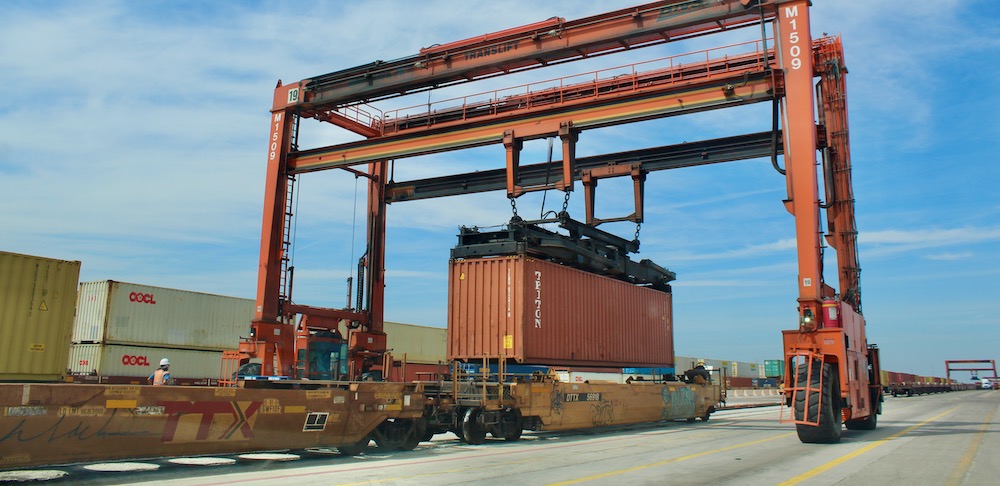 ---
In another capacity and productivity trick, BNSF has converted the wide-span cranes at Logistics Park Chicago to operate by wireless remote control. Instead of having to drive out to the crane and climb four flights of stairs to the cab, the operators now work from an office at the terminal, which saves an hour per crane per shift. "If you multiply that by six cranes that we have at LPC, you have the equivalent of another entire crane's worth of productivity, and capacity that we can deploy for our customers," says Jon Gabriel, BNSF's vice president of service design and performance.
BNSF also has a tech solution for keeping tabs on where containers and trailers are parked and what parking spots are empty. At Alliance it's testing a system that pulls real-time data from GPS trackers on containers, cameras mounted on hostler rigs, and aerial drones. "We've created a data collection engine that can take all of those and combine them so that we know with high certainty where your box is," Gabriel says.
The information is fed into BNSF's RailPass app so draymen save time getting in and out of the terminal. It's a big deal for intermodal customers. "If I find five minutes of time for my driver inside the rail terminal, and multiply that over the magnitude of loads we ship, it's real money," Field says.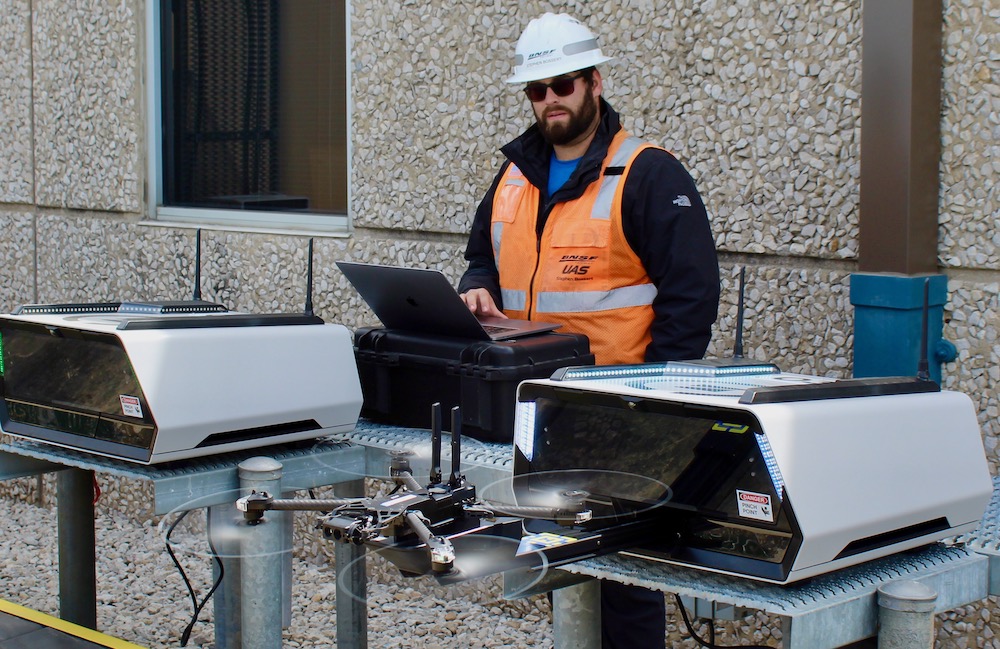 ---
More Iron, Better Service
BNSF continues to polish its crown jewel, the Southern Transcon linking Los Angeles and Chicago. "It's built for speed and for growth," Gabriel says. "We clearly feel there's over the road conversion growth opportunities for us to go get with that great network we built out and continue to add to."
This year, BNSF will break open the last major single-track bottleneck on the Southern Transcon by adding 25 miles of second main on the Emporia Subdivision in Kansas, making the route 99.8% double iron. Construction of a second bridge over the Missouri River at Sibley, Mo., began this year and will eliminate another single-track section. A multiyear terminal and fueling pad project at Belen, N.M., also is under way.
BNSF looks at expansion projects with one eye on capacity and another on service. Gabriel says BNSF capacity projects are designed not only to allow a given stretch of main line to carry more trains per day, but also to bring on volume while maintaining the railroad's service commitments.
A case in point: Stretches of third and fourth main that BNSF has added on heavy grades and at crew change points west of Amarillo, Texas, since 2018. At Southern Transcon crew change points, the extra main allows intermodal trains to leapfrog manifest and bulk trains. On grades, the third main separates the hotshots from the rest of the pack.
This year BNSF will complete a 29.23-mile third main track project on the 1.4% grade between West Needles and Goffs, Calif. Similar multiyear projects are in the works. One will add 10 miles of third main on the 1.42% Supai Summit grade near Flagstaff, Ariz. Another will add a third main on the 1.44% Ash Hill grade on the Needles Subdivision, the last obstacle westbounds face before reaching Barstow, Calif. "That additional capacity really does help us reduce the variability of our service," Gabriel says.