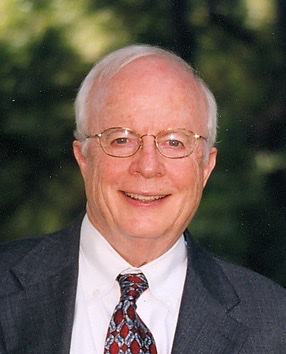 William E. (Bill) Greenwood, who led Burlington Northern's intermodal operations through the discord of deregulation and later served as the railroad's chief operating officer, died Sept. 22. He was 85.
Greenwood became intrigued with railroading when he was in high school, and his love and fascination never ceased. "My interest began while working in a Phillips 66 gas station adjacent to the "IC" tower in Mendota, Ill.," he once told an interviewer. "There were three railroads, the "Q" (or Burlington), the Illinois Central and the Milwaukee, that intersected at this junction, literally within 50 feet of where I pumped gas.
"It was a very busy interlocking, and gradually I became fascinated with all the activity. This was in the period of 1952 to 1956, so I saw plenty of steam, switching, freight trains, and a multitude of passenger trains."
The tower operator noticed the boy's interest and offered to teach him the job. The day after his graduation from high school Greenwood passed the rules exam and began working for the Burlington as a telegrapher and tower operator during his college vacations. Following college and a stint in the military  Greenwood held a mix of lower management positions as he slowly worked his way up.
By 1980 he had become division superintendent at Alliance, Neb., near the Wyoming coal fields. Because of its burgeoning coal traffic, Alliance was one of the busiest divisions on the BN, creating problems that Greenwood had to solve with imagination and speed to keep the trains moving.
When deregulation came, Greenwood's success at Alliance caught the eyes of his bosses and he was placed in charge of BN's piggyback business. Greenwood quickly renamed it the Intermodal Unit. "Every other railroad called it 'Piggyback' or some form of 'Piggyback,'" said Greenwood. "We rebranded it." So that it would have more flexibility in the marketplace, he merged operations, marketing, and pricing into a unified business unit.
Greenwood replaced 160 circus-style ramps with 22 mechanized hubs. The old ramps handled only piggyback trailers but the new hubs also could process intermodal containers, the industry's hot new market. In three years, Greenwood's unit moved from the country's eighth-largest carrier of intermodal boxes to first place.
From vice president-intermodal Greenwood moved up to chief operations officer, overseeing both BN's operations and marketing. In 1992 a new chief executive split his functions, giving operations to another executive.
A rivalry began developing between the two men. The next year floods hit the railroad and it was thrown into disarray, and their subordinates in marketing and operations began blaming the slow recovery on each other. On Memorial Day 1994 both Greenwood and his rival in operations were forced to retire.
After Greenwood left Burlington Northern in 1994 he provided consulting services through his Zephyr Group. He also served as a shareholder advocate while assisting various corporations including Mark VII Corporation, Transcisco Industries, Remington Oil and Gas Corp. and Dune Energy Inc., as a member of their board of directors. Greenwood also served as an adjunct instructor teaching business leadership for Texas Christian University, serving on the Marquette University Business School Advisory Board of Directors and as an active instructing contributor to the Denver University Transportation Institute and the Northwestern University Transportation Center.
His passion for railroad history also saw him lead the transition of the Galesburg, Ill.-based National Railroad Hall of Fame from a local idea to an organization with advisors whose geographic reach and industry influence spans the country and represents all aspects of the industry. He also helped found the Mendota (Ill.) Museum & Historical Society and its Union Depot Railroad Museum, for which he served as its first President of its Board of Directors for 27 years. He was actively involved with the Lexington Group in Transportation History and established a collection of his railroad archives at the John W. Barriger National Railroad Library.
— Material from Mark Cane contributed to this obituary.