SCRANTON, Pa. – Following a nearly two-year renovation, Union Pacific Big Boy 4-8-8-4 locomotive No. 4012 has been returned to public display at Steamtown National Historic Site in Scranton.
During a several-hour procedure on Wednesday, the locomotive and tender were moved from a location outside the park's paint shop, spun separately on the turntable, reunited, and moved to display at the park's entrance. There, the engine's articulation is showcased because it is parked on a section of curved track.
The 132-foot-long locomotive and tender were handled individually, because together they exceeded the 90-foot length of Steamtown's turntable. The engine is one of 25 of a unique class built for the Union Pacific Railroad between 1941 and 1944. They were used primarily in Wyoming and Utah to handle wartime freight demands on UP's self-described "strategic middle route" main line between east and west.
Cost of the contract was $1,598,592. The work involved replacement of rusted parts, remediation of hazardous materials, and a complete paint job that followed UP specifications.
Discreet solar panels were mounted atop the engine and tender to power a timer-controlled illumination of the headlight, numberboards, and marker lights.
According to Park Superintendent Cherie Shepherd, the event could not have been completed at a better time, with the coming of National Train Day on May 8 and the fact that May is National Preservation Month.
"The Big Boy No. 4012 is an important piece of steam locomotive history and as a unit of the National Park Service, it is our job to preserve these pieces and share their story with future generations," Shepherd says. "For me it is always fulfilling to the smiles on visitors' faces when they see the Big Boy for the first time."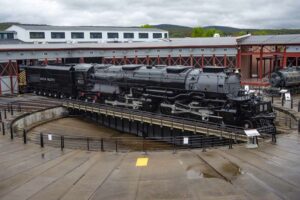 Of the 25 Big Boys built, eight survive and most are on display at various museums throughout the Southwest, Midwest, and West. The one not displayed, No. 4014, was restored by UP to operating condition in 2019 and resides in its Cheyenne, Wyo., roundhouse.
No. 4012 is the closest one to its birthplace, the Alco plant in Schenectady, N.Y. According to an NPS park ranger, the engine's location in the Northeast, near heavily populated New York and Philadelphia, is a prime reason for its attraction. "Tourists come from Europe, Asia, South America to visit the Northeast and tell us that this is the closest they're going to get to a Big Boy," he says. In 2019, Steamtown hosted around 103,000 visitors.
In conjunction with National Train Day, the park plans to put three other locomotives on display: Nickel Plate Road 2-8-4 No. 759, Grand Trunk Western 4-8-2 No. 6039, and Groveton Paper Works 2-4-2T No. 7.
At Steamtown, the visitor center, roundhouse, and bookstore remain open 10 a.m. to 4 p.m. daily, while the history museum, technology museum, and theater remained closed due to pandemic restrictions. Also remaining suspended are train excursions and shop tours.
Steamtown NHS was authorized by Congress in 1986 and the site opened in 1995. The bulk of its equipment, including No. 4012 and about 20 other steam locomotives, had previously constituted a private foundation collection in Vermont that moved to Scranton in 1984.