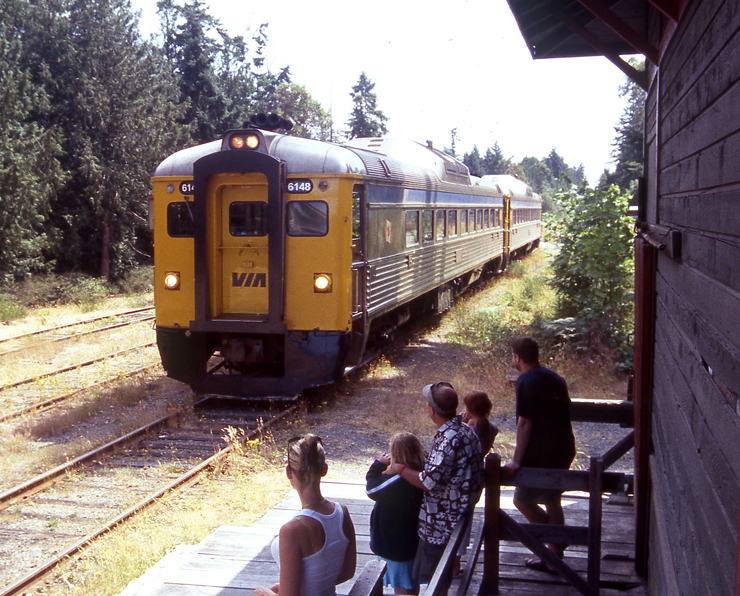 ---
VICTORIA, British Columbia — The British Columbia government will spend C$18 million on planning for a possible resurrection of rail service on the former Esquimalt & Nanaimo line on Vancouver Island, beating by a day a court-ordered deadline to declare intentions for the long-dormant rail line but pushing an ultimate decision farther into the future.
The CBC reports that provincial Transportation Minister Rob Fleming announced the additional consultation on the route's future on Tuesday, while federal Transport Minister Omar Alghabra said that the government would return a portion of the land to the Snaw-Naw-As First Nation, which raised the land claim that led to the court-ordered deadline.
In a joint statement, the two ministers said the federal and provincial governments "acknowledge the importance of this corridor. As a result, we will begin a formal engagement process with affected First Nations on the next steps of the corridor for the mutual benefit of the province and First Nations. A partnership-driven approach represents the best way for moving forward together and achieving a collective vision for the corridor that benefits everyone."
A lawyer for the Snaw-Naw-As, Karey Brooks, told the CBC the current owner of the rail route, the Island Corridor Foundation, "has been hanging onto this dream that one day there will be train service along the corridor again. And that could still be the case, But at least now Snaw-Naw-As get their land back." The land in question is 10 acres bisecting  Snaw-Naw-As land north of Nanaimo, roughly the midpoint of the 135-mile former route from Victoria to Courtenay, B.C.
A 2020 study established a wide range of possible costs for restoring rail service on the line, topping out at more than $700 million to restore the right-of-way to optimal condition for commuter rail service and about $600 million to actually start that service [see "Study places cost of restoring Vancouver Island rail line …," Trains News Wire, April 29, 2020].
The Vancouver Sun reports the Island Corridor Foundation said it would review the government decisions before commenting. Four of the foundation's five First Nations members quit recently in protest of the foundation's pro-rail stance, the Sun reports. Rail opponents have proposed turning the right-of-way into a cycling and hiking trail, and say electric buses would be a better transit option than rails service.