---
JACKSONVILLE, Fla. – CSX Transportation's Baltimore & Ohio heritage locomotive, which emerged from the Waycross, Ga., paint shop this week, is the first of several the railroad has in the works.
"To honor CSX's heritage railroads, employees at the Waycross Locomotive Shop are creating paint designs for many of the predecessor roads. The Waycross team recently completed the first of its heritage designs, which honors the Baltimore & Ohio Railroad, the first common carrier railroad in the United States," CSX said in an announcement sent to employees today.
"The inaugural heritage series locomotive — renumbered CSX 1827 in recognition of the year the B&O was chartered — combines colors from the modern CSX and the most recognized of the many B&O paint schemes. It carries the modern CSX logo on the front and the B&O's iconic capitol dome logo on the rear. The design was initiated by a 25-year CSX employee and generational railroader at the CSX locomotive shop in Huntington, W.Va.," the announcement says.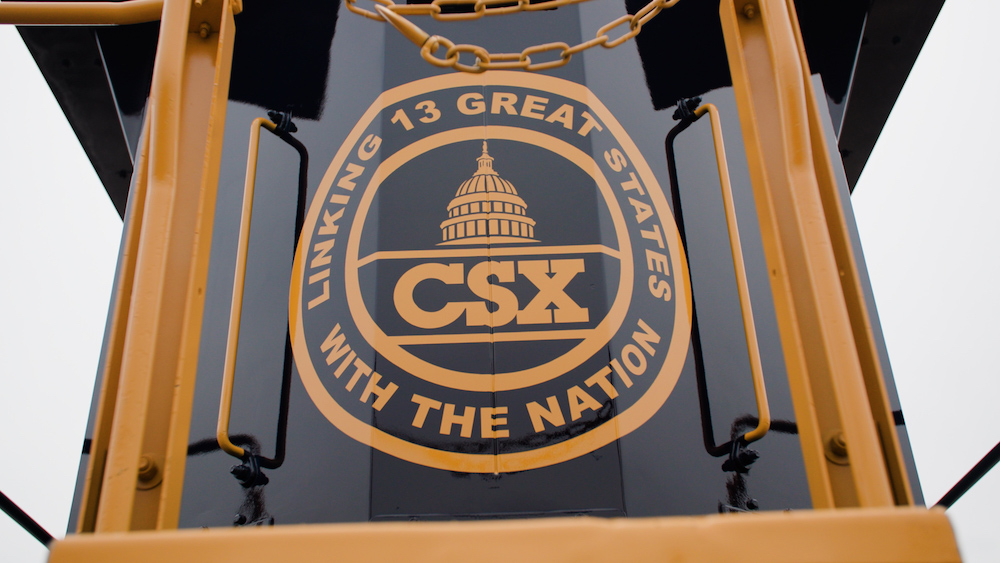 ---
CSX CEO Joe Hinrichs and Jamie Boychuk, executive vice president of operations, "they had an idea, a vision to do some of these heritage units. And I kind of brought it to life," J.D. Cremeans, a carman painter, says in a video the railroad produced on the locomotive.
Cremeans' father and grandfather both worked for the railroad, and when he hired out in 1998 he was on the B&O roster. "So this B&O locomotive has a little bit of a special meaning to me," Cremeans says.
The heritage locomotives will wear the current CSX paint scheme on the nose and cab, which will fade into the livery of the predecessor railroad. It's "kind of like pulling our history behind us … without this heritage, there would be no CSX," Cremeans says.
A CSX spokesman says the railroad hasn't decided on a firm number of heritage locomotives yet, but said there will be "quite a few."
No. 1827 made its debut on the point of Waycross-Birmingham, Ala., merchandise train M646-10 on Wednesday.
"She's a beauty," Hinrichs said in a post on LinkedIn.