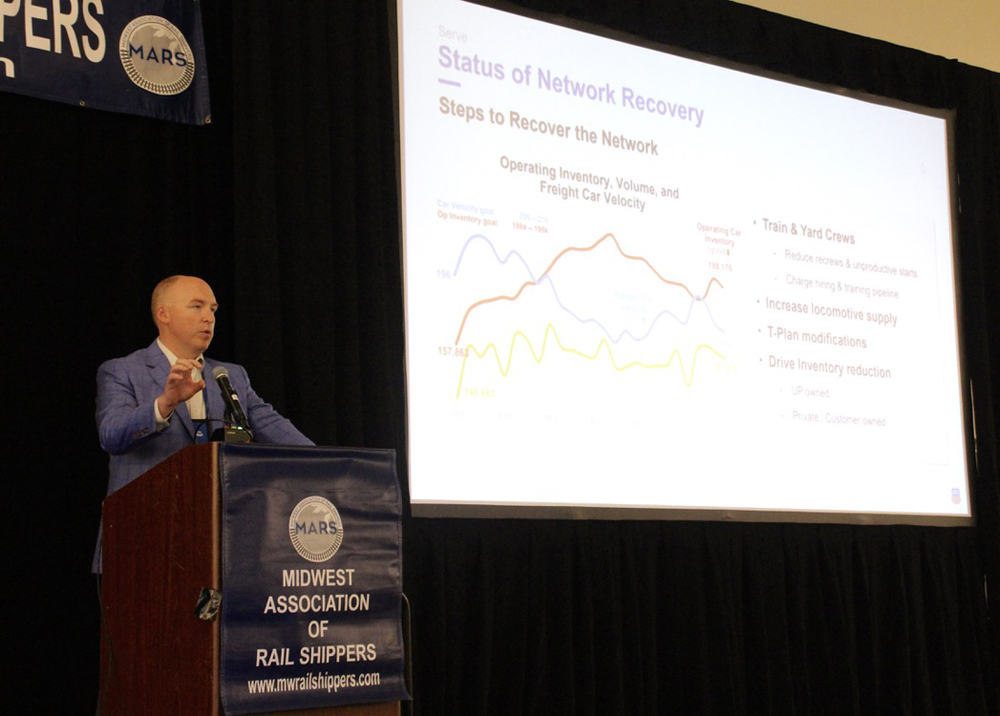 ---
LAKE GENEVA, Wis. — With car velocity dropping and inventory climbing earlier this year, Union Pacific engaged in some "difficult conversations" with customers, Eric Gehringer says.
The railroad's executive vice president of operations is well aware for whom they were more difficult.
"We had to go to our customers — some customers, not all customers — and we had very difficult conversations," Gehringer said Tuesday while taking members of the Midwest Association of Rail Shippers through UP's efforts to address service problems. "Certainly difficult for them; I wouldn't pretend to say it's as difficult for us. Because we were asking the customers to help us."
That help took the form an April request to shippers to reduce their car inventories — with the intent of metering traffic if voluntary reductions weren't sufficient [see "Union Pacific to begin metering traffic …," Trains News Wire, April 12, 2022].
Drastic though the move may have been, Gehringer now says it — and additional moves, including returning some 150 locomotives to service — were successful.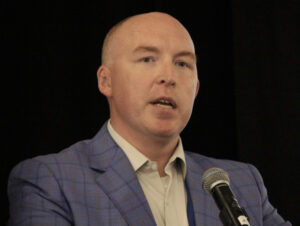 "I am encouraged with the progress we've made in the last 60 days," Gehringer said. "We owe our customers … another 60 days of continuous improvement to get us back about 200 miles per day [in car velocity; the figure for the week ending July 15 is 191 miles]. Because when we get back above 200 miles per day, our service is more in line with your expectations."
The issue the railroad faced was the addition of some 35,000 cars to its online inventory, an increase that came in just four to five weeks, Gehringer said.
"That is a massive amount of cars, and it wasn't the customers' fault," he said. "Customers did exactly what you would expect a logical business to do. As the railroad slowed, they're still producing x number of widgets. They still need to put those widgets on the railroad, thus more cars come on the railroad."
Still, he said, the railroad "had to be able to get that inventory out to speed the railroad up.
"If you don't do that, we know what it looks like, because we've literally done it before. We've demonstrated that if you can't get inventory off the railroad, you'll kind of muddle along for about eight months. Velocity will not be horrifically bad, but border line. Your [other] service metrics: all bad. And you're constantly asking yourself: Why isn't the railroad speeding up? Why isn't the customer seeing better service. It's because you haven't really changed anything. You're just trying to move the same pieces around the board."
In addition to asking customers to decrease their car inventory, UP also pulled 7% of its own car fleet. "You're not going to ask the customers to do something you're not willing to do yourself," Gehringer said. "Seven percent feels like a small percentage, but it's actually a really large number of cars, and we did it for the exact same reason."
About 3,000 cars remain stored, he said. While the railroad is discussing returning some to service, "we're not just going to open the floodgates … and let 3,000 cars out onto the railroad unless the railroad can handle them."
The return to service of those stored locomotives was also a major factor in improving velocity, he said, particularly in the southeast portion of the railroad, a wedge-shaped area roughly defined by St. Louis, Houston, and New Orleans.
"That's where a lot of the inventory ends up going," he said. "So we put those 150 locomotives in because, because it allowed us to speed up the network. And literally, once they were in service, it did almost did it overnight. We were starting to gain and continue to gain velocity in that area.
"So you won't see me hesitate to put locomotives into the system when it's going to get inventory off the railroad."