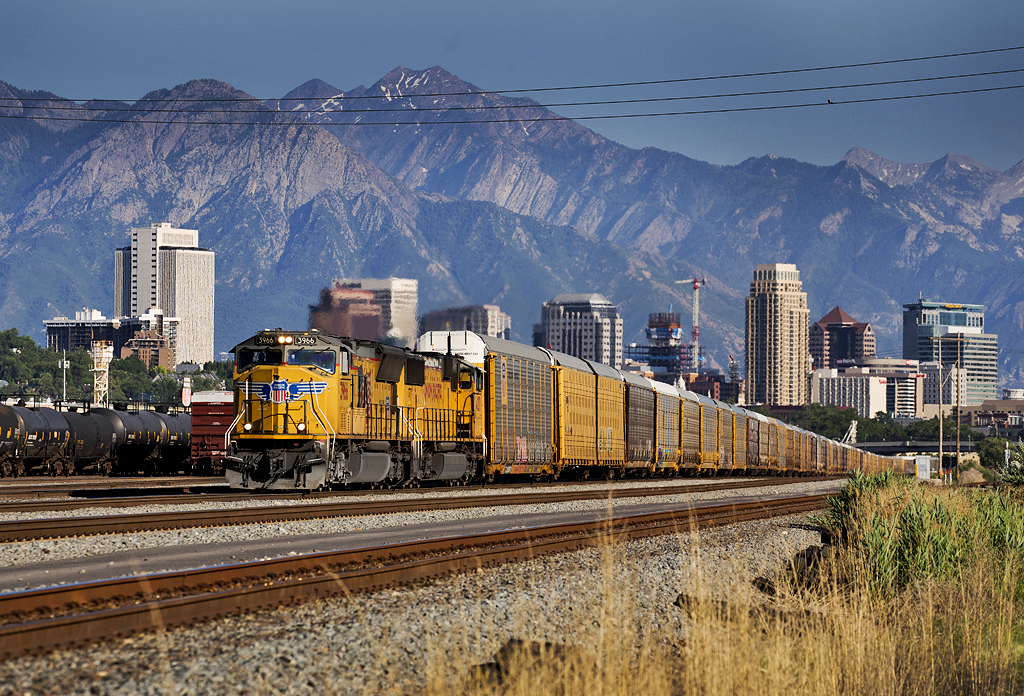 CHARLESTON, W.Va. – Consumers want to purchase new vehicles, and railroads are eager to transport them, but a persistent microchip shortage riddled with pandemic-related setbacks is likely to mean fewer auto sales and subsequently, fewer autorack loads from U.S. auto plants for the balance of 2021.
Year-to-date, U.S. railroads have transported more than 490,870 carloads of motor vehicles and parts, which represents a 5.6% increase from 2020 volumes at the same time, according to weekly rail traffic data compiled by the Association of American Railroads. On the surface, this would indicate the auto sector, and rail's part in the supply chain, have rebounded from COVID-19 related slowdowns, but in reality, 2021's gains are amplified by 2020's abrupt shutdown that halted most all auto-related rail shipments in the March-May 2020 period.
Much of this year's shipments are trailing 2020 and pre-pandemic volumes of 2019, signaling that production for semiconductors has yet to match consumer demand as the economy steadily rebounds from the pandemic. According to the AAR, U.S. railroads hauled 11,563 carloads of motor vehicles and parts for the week ending Sept. 25, which is close to a third fewer carloads compared to the same week in 2020.
General Motors delivered nearly 447,000 vehicles in the U.S. for the third quarter, down more than 218,000 vehicles from a year ago, the auto giant reported on Friday. Similarly, Nissan's third quarter sales were down 10% to 198,955 from 221,150 vehicles in Q3 2020. And Honda reported similar third quarter results on Friday, noting a near 11% decline in car and truck sales.
As auto makers match production with the availability of the highly sought after chips, some manufacturers have idled or strategically halted production at assembly plants across the country. In early September, General Motors announced it would idle nearly all of its North American assembly plants due to the microchip shortage. And earlier in the summer, Ford temporarily halted output at its Kansas City assembly plant where the popular F-150 pickup truck is built, CNBC reported at the time.
The microchip shortage is the result of auto makers halting their orders for microchips at the initial onset of COVID-19 in early 2020. Since auto builders largely maintain just-in-time inventories, there was not an excess supply of microchips in reserve for when demand resurfaced. Simultaneously, chip-makers were trying to handle increasing demand for semiconductors used in computers and games consoles, as workers migrated to home offices. As the economy improved, overseas chip makers have had difficulty matching production with demand.
It won't be until railroads announce their third quarter results that the industry will have a clear view on how the chip shortage is truly affecting freight carload revenues. All seven of the Class I railroads highlighted double and even triple-digit percentage increases for automotive shipments in 2021's second quarter, but again, those numbers were largely inflated by 2020's production halt during the worst of the pandemic. Traditionally, BNSF Railway, Union Pacific, CSX Transportation, and Norfolk Southern have been the biggest players in moving automotive shipments. UP alone moved 173,000 automotive carloads in 2021's second quarter ending June 30. In the East, NS moved more than 82,300 carloads and CSX at 77,000 carloads. For CSX and NS, that was a 120% and 122% volume increase, respectively.
In the coming weeks, updated quarterly revenues will be distributed, providing better guidance on how the availability of semiconductors is really impacting automotive shipment revenues on the U.S. rail system.