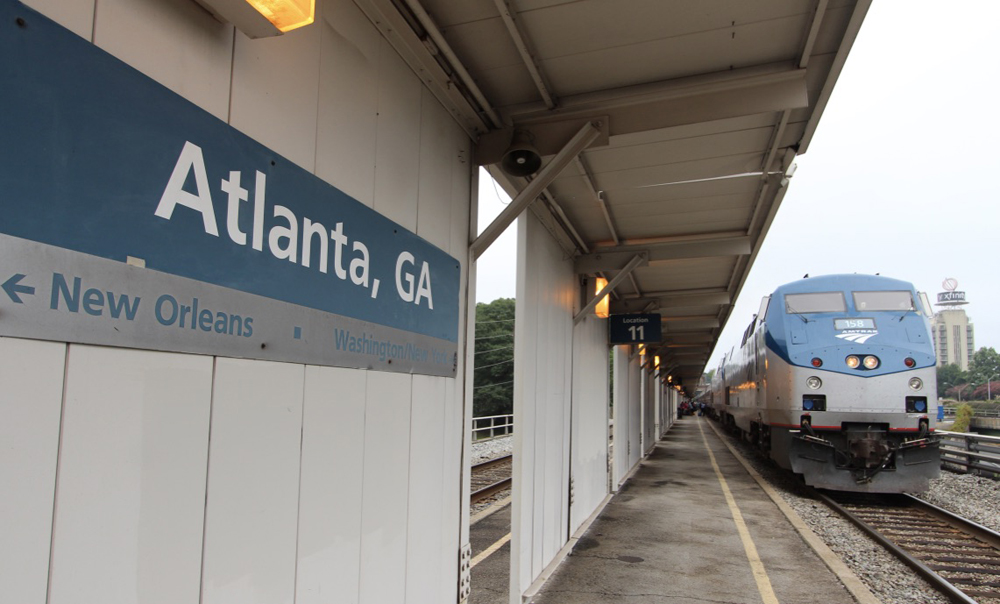 ATLANTA — As of this week with its return to daily departures from New York and New Orleans, the schedule for Amtrak's Crescent has been lengthened. This is "to improve customer satisfaction and on-time reliability," according to a service change advistory.
But the adjustments, especially for the northbound train, threaten historically strong patronage on the Atlanta-Northeast Corridor market. New city-pair opportunities could be created with the new departure times, but only if properly promoted.
One reason the Crescent needs attention: it chalked up miserable punctuality in the fiscal year ending Sept. 30, 2020. According to Amtrak's General and Legislative Annual Report, the New York-New Orleans train only arrived at stations within 15 minutes of schedule between 46% and 48% of the time. The differing figures reflect whether the measurement was made at its final destination, at every station, or weighted by how all passenger arrived at their respective stations.
The last metric, "customer on-time performance," is the standard established last year by Federal Railroad Administration rulemaking [see "Analysis: FRA seeks Amtrak, host railroad scheduling cooperation," Trains News Wire, Nov 20, 2020].
For a train to deliver 80% of its passengers "on time," the rulemaking reasons, Amtrak and the host railroad must develop a schedule reflecting current operating realities. Norfolk Southern, which hosts the train for 1,152 miles between Washington, D.C., and New Orleans, has worked with Amtrak on a schedule that purports to do so. The effort is likely to be the first of many to conform to the FRA rule, since most long-distance schedules haven't changed in years.
A timetable comparing the Crescent's original schedule and the one that debuted this week is shown below. Amtrak has yet to publish a downloadable version of the new schedule; this one was created by Trains.com by asking Amtrak's website for "train status" at the stations shown.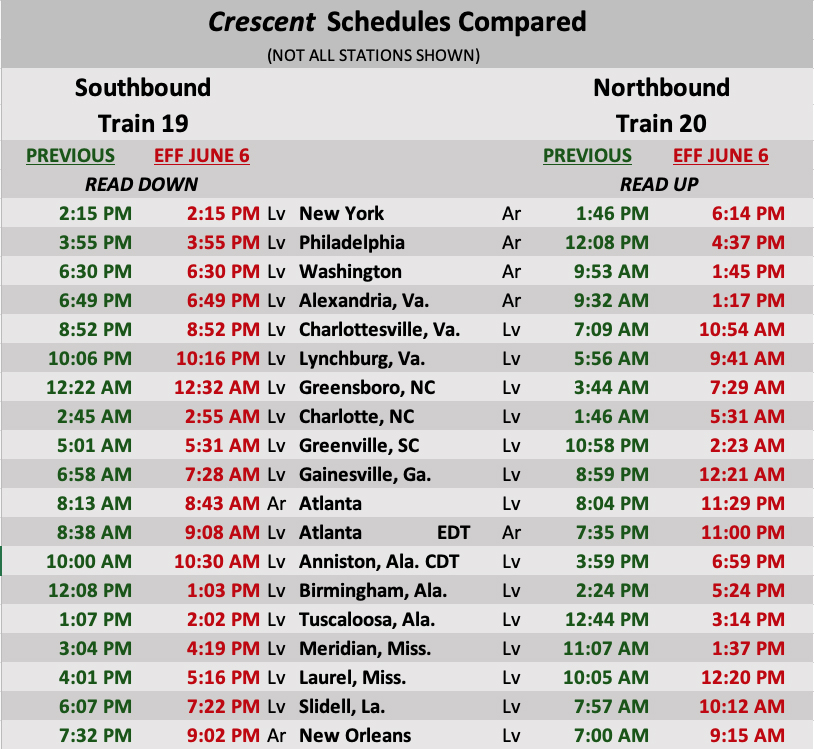 How the schedule has changed
— A half-hour of recovery time, or padding, has been added southbound train No. 19 between Lynchburg, Va., and Atlanta; another hour is added between various stations all the way to New Orleans. The segment between Atlanta and the Crescent City has seen the biggest freight interference delays.
— With the later arrival and the need to give operating and onboard service crews enough rest, northbound train No. 20 now doesn't leave until 9:15 a.m. The later departure might help attract passengers who thought the previous 7 a.m. time was too early.
— One hour, 10 minutes of recovery time is incorporated into the northbound schedule south of Atlanta. The net result of both the later departure and additional padding is that the train now won't leave the Georgia capital until 11:30 p.m.
— Instead of a mid-morning arrival into Washington, D.C., and an early afternoon New York City arrival, the northbound train now arrives significantly later.
Anyone who has stayed up or awakened overnight on the Crescent knows that it has always done a surprisingly good business at Charlotte, N.C. With the northbound departure moved to almost 6 a.m., it now becomes an early morning player over part of North Carolina's Piedmont corridor (as far as Greensboro) and could lure more riders at more attractive times at cities it previously served in the wee hours.
Historic strengths
From the 1970s — when Southern Railway President W. Graham Claytor Jr. withheld his passenger trains from Amtrak during its first decade — through 2013, the Crescent was a model of on-time reliability. It didn't hurt that Claytor, who became Amtrak's president in 1982, took a special interest.
As with most long-distance trains, the Crescent developed strong, overlapping markets. Northeast Corridor-Atlanta overnight schedules in both directions delivered passengers the next morning, with time for dinner and breakfast onboard, and still allowed a full day's activity.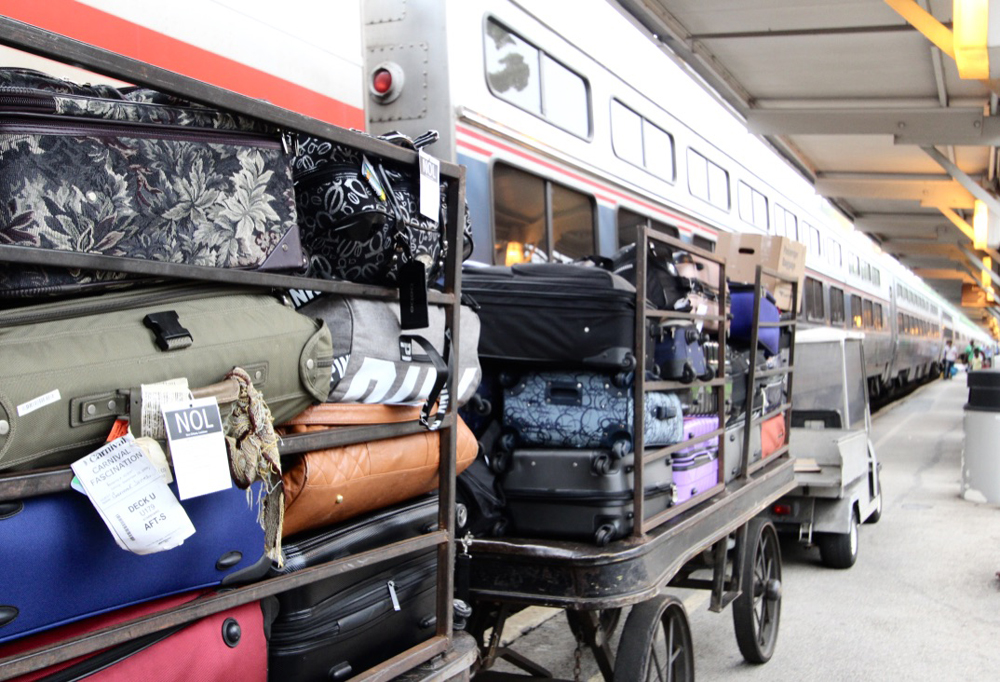 Business was so heavy that some coaches and sleepers were switched out southbound and added northbound at Atlanta to accommodate demand. When Amtrak managers tried to institute the practice in 2012 to improve the train's revenue and efficiency following a directive from Congress, Norfolk Southern refused to allow en route switching in the increasingly congested Atlanta terminal.
The Crescent's evening/morning schedule to and from Virginia also had been consistently popular long before the state sponsored a Northeast Regional train to Lynchburg and later Roanoke. The train also did a significant daytime business between Atlanta; Birmingham, Ala.; Meridian, Miss., and New Orleans, along with other intermediate stops.
The new schedule eliminates many of those advantages, particularly northbound, where the longer travel time and later departure puts the train into Atlanta and Northeastern cities at unattractive times.
Some loss in patronage could be counteracted by promoting the new schedule along the route. Yet current Amtrak management has declined to spend promotional money on individual long-distance trains except Auto Train, and even rejects the notion printed schedules are useful in letting prospective customers know when trains leave or what stations they serve.
How are the trains doing on the new schedules?
A Trains.com analysis of the first three days of the new timings shows there were still significant delays that weren't always counteracted by the lengthened schedules:
— Southbound No. 19 required over an hour leaving Washington on June 6 to swap the electric locomotive for diesel power, but the train made up the delay by Charlotte. After losing an hour again south of Meridian into Slidell, La., it was 32 minutes late into New Orleans.
— Tuesday, the southbound Crescent had early arrivals into Greenville, S.C., Atlanta, and Birmingham, Ala., totaling more than an hour. It could have used the time later, because it was more than 1 hour, 45 minutes late into Slidell, La., and arrived in New Orleans at 10:08 p.m.
— The first two days of northbound train No. 20 generally operated on time with early or on-time arrivals, but the northbound train on Tuesday reduced an hour and a half delay at Tuscaloosa, Ala., to 50 minutes at Anniston, Ala., and 30 minutes arriving Atlanta. Still, what used to be an 8 p.m. departure slipped to nearly midnight.
With the additional leeway given dispatchers to mesh Norfolk Southern's version of Precision Scheduled Railroading with the newly-minted Crescent schedules, there should be an extra effort to run the passenger train on time, or at least minimize serious delays. Though the lengthened schedule has masked some of the problems, that hasn't initially been the case.