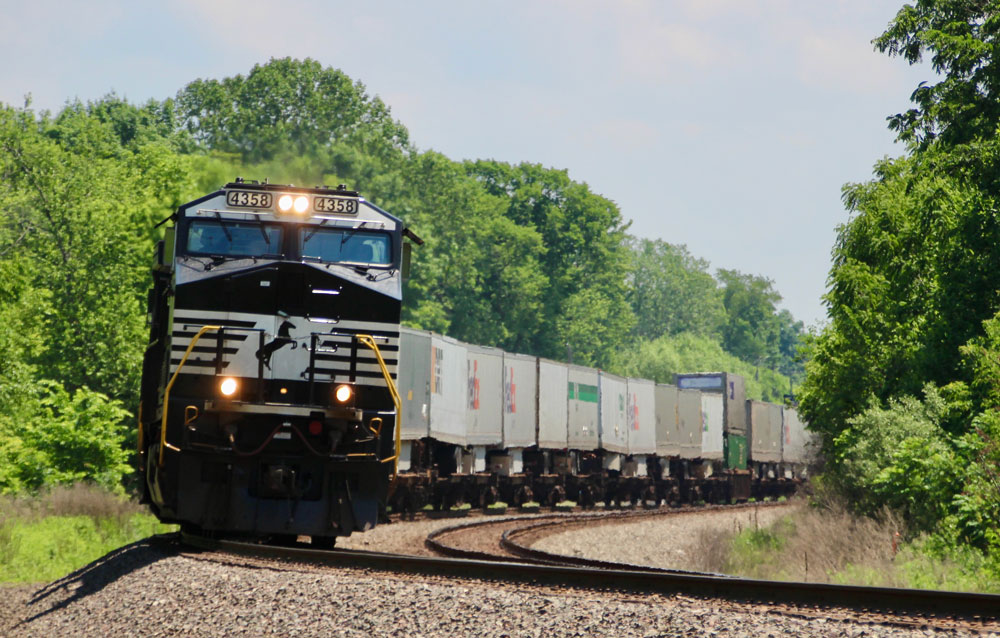 Intermodal analyst Larry Gross has gone out on a limb. In his latest "Intermodal in Depth" report, Gross predicts the demise of TOFC, or trailer on flatcar service, within the next four years.
In some ways, this shouldn't be a surprise. Trailers have become a smaller and smaller part of the intermodal world as railroads have emphasized domestic containers that can be double-stacked. TOFC is long gone in Canada and Mexico, and so far this year trailers represent just 8.5% of U.S. intermodal loads, down from 60% in 1988.
But trailers have seen an on-and-off resurgence over the past few years amid a chronic shortage of truck drivers and the rise of parcel traffic due to the boom in e-commerce. In fact, trailer volume has surged 26% through the first four months of 2021.
Now, Gross says, traditional TOFC users — including parcel and temperature-controlled carriers — are planning to significantly expand their container fleets. "Driven by the desire to simplify their operations and improve train capacity, the railroads are actively taking steps to convert the remaining TOFC volume to container," Gross says. "These steps include eliminating TOFC services in specific lanes and at specific terminals, widening the rate differential between trailer and container, and providing trailer customers with warnings of even greater differentials to come. As a result, conversion is beginning to occur in these last bastions of TOFC use."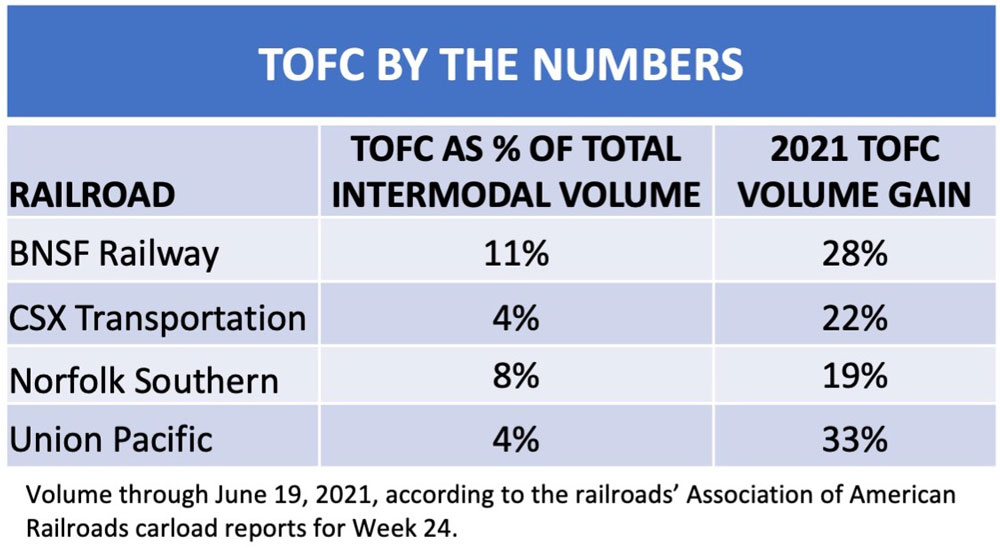 This is the latest development in the trend of railroads simplifying their intermodal networks. Over the past few years, all of the U.S. Class I railroads have streamlined steel-wheel interchange and pared interline service linking lower-volume origins and destinations. And as part of their shifts to Precision Scheduled Railroading, CSX Transportation and Union Pacific have scaled back their intermodal service. "The future of TOFC is strictly limited in the PSR era," Gross says.
The big four U.S. Class I railroads prefer containers because double-stack trains can carry twice the volume as a TOFC train of the same length. Trailers eat capacity in terminals and on single-track routes where sidings dictate train length. Trailers also complicate terminal operations because they require separate lifting equipment and must ride on the few remaining TOFC flatcars in the TTX fleet. So, there are plenty of good reasons railroads want an all-container intermodal operation.
But what's simpler, more efficient, and more profitable for the railroads can be more complicated for their intermodal customers. Chassis supply is a perennial problem, and containers aren't always the right tool for the job. And this means that only about half of current TOFC traffic will convert to containers, Gross predicts.
The rest, he says, will hit the road. Based on this year's trailer volume trends, that would equal a loss of roughly 4% of U.S. intermodal volume.
Longer-haul moves in 53-foot trailers are the most likely to convert to domestic containers and remain on the rails, Gross says. The most likely traffic to be lost: business that moves in 28-foot pup trailers, which carry parcel shipments in small lots from origin to destination without a sorting move in between. UPS and FedEx will be unlikely to give up this efficiency and therefore will send these loads to the road.
Trailers will survive a while longer in oddball situations, Gross says, such as Florida East Coast's service between Jacksonville and Miami, an imbalanced market with loads southbound and empties northbound. Norfolk Southern's Triple Crown RoadRailer service between Detroit and Kansas City, meanwhile, will keep rolling until its equipment wears out.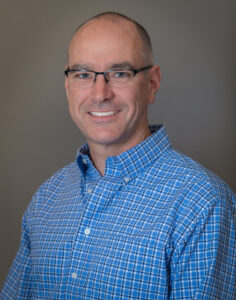 The conversion to a fully containerized network will make intermodal more of a niche product than it already is. Railroads will essentially give up their ability to serve as a safety valve for truckload carriers that shift some volume to intermodal when driver supply gets tight, as well as for parcel carriers who rely even more on trailers during the holiday peak shipping season.
If TOFC is about to ride off into the sunset, it's hard to see how this will help intermodal grow. At one time, railroads sought to expand the intermodal universe through innovations like RoadRailer and Canadian Pacific's Expressway short-haul TOFC service. No longer.
A string of UPS trailers riding an intermodal train has long been a symbol of premium service and the hotshot that sees nothing but green signals on its trip across the railroad. A complete shift to containers won't end this tradition, of course, but it will bring down the curtain on the piggyback era that began when Chicago Great Western loaded its first trailers on flatcars way back in 1936.
You can reach Bill Stephens at bybillstephens@gmail.com and follow him on Twitter @bybillstephens