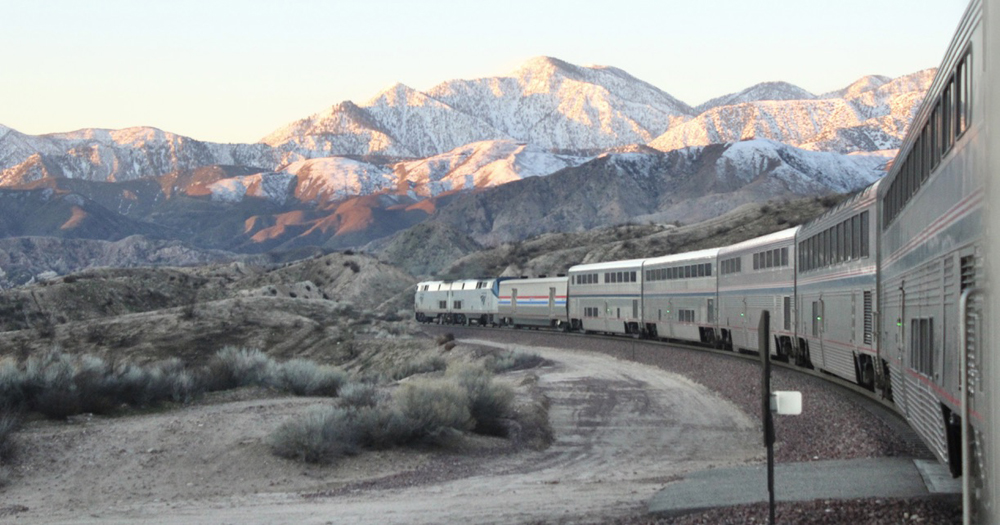 ---
CHICAGO — The first 10 days of July have seen significant departure and timekeeping issues for Amtrak's long-distance trains traveling west and south of Chicago, with few passengers able to make planned transfers at the end of their trips. And even those who did make connections often faced significant timekeeping delays.
An example: Passengers riding the California Zephyr that departed Chicago 20 minutes late on July 8 who planned on switching to the northbound Coast Starlight at Sacramento, Calif., did manage to make the connection — even though train No. 5 arrived almost 9 hours behind schedule.
More Chief trouble
Freight congestion on BNSF Railway's Transcon west of Albuquerque has been especially worrisome. Despite generous schedule padding into Los Angeles, not one of the eight Southwest Chiefs departing Chicago from July 1 to July 9 managed to make a 1-hour, 51-minute cross-platform transfer to the Seattle-bound Coast Starlight. Seven of the eight trains suffered delays ranging from 4 hours, 16 minutes, to a whopping 12 hours, 58 minutes.
That especially tardy westbound Chief, which arrived into Los Angeles at 8:58 p.m. Sunday, July 10, instead of 8 a.m., lost more than 3 hours at Winslow, Ariz., and another 5 hours before departing nearby Flagstaff, Ariz. Delays worsen if engineers and conductors exceed the daily maximum federally allowed on-duty time and must be relieved far from a crew base .
Eastbound Southwest Chiefs during the same period fared somewhat better. Only one train missed the New York-bound Lake Shore Limited, arriving at 10:30 p.m. instead of 2:50 p.m. on July 8. But four others arrived too late for the eastbound Capitol Limited and all Midwest regional service. That includes the Chief into Chicago more than 5 hours late on Monday, July 11.
Zephyr tardiness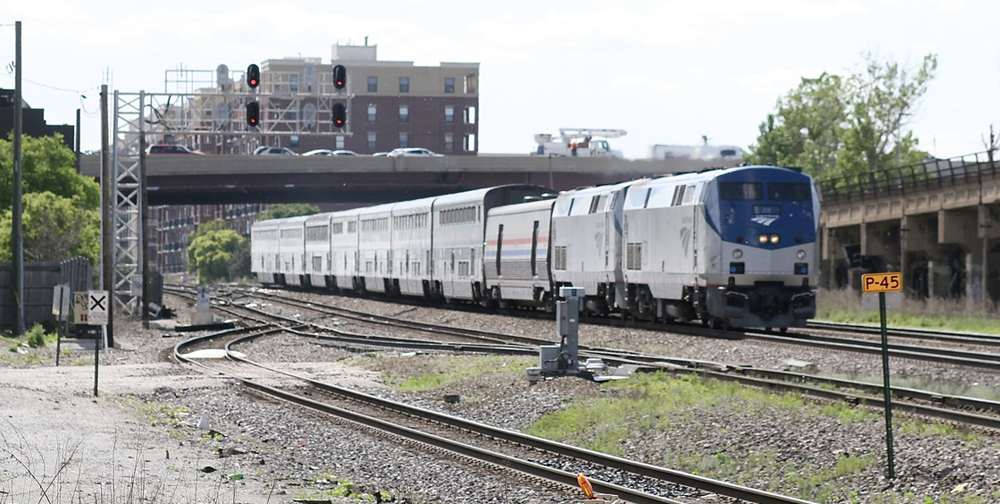 Substantial delays also plagued the California Zephyr, mostly on the Union Pacific in Colorado and further west. Eight eastbound Zephyrs leaving California from July 1-9 were more than 4 hours late into the Windy City. Meanwhile, passengers on four of nine westbound Zephyrs arrived at the Emeryville, Calif., endpoint more than 6 hours late, including those who transferred to a bus at Green River, Utah, for Salt Lake City following a washout. They switched to another bus when the make-up Zephyr that had taken them from Salt Lake terminated at Reno, Nev.
Missed connections not only inconvenience travelers but cost the company money for alternate transportation or hotels, and lost revenue from suddenly unsold space on a connecting train. One passenger tells News Wire that he received vouchers or Guest Rewards points valued at $980, $1,100, and $600 from Amtrak Customer Relations as a result of three disrupted trips in 2022.
Issues leaving Chicago
 The Empire Builder, Texas Eagle, Coast Starlight, City of New Orleans, and Sunset Limited also suffered occasional en-route delays in early July, but few as consistently debilitating as those encountered by the Zephyr and Chief.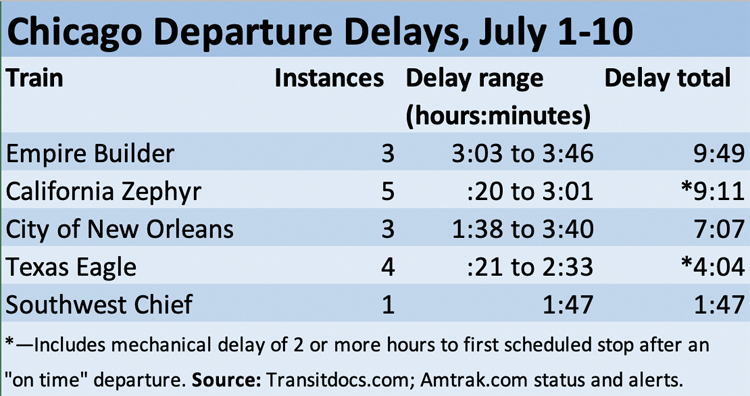 However, trains leaving from Chicago were not immune from terminal tardiness. Amtrak does not provide data other than attributing delays to "mechanical issues," though multiple late inbound arrivals can cause shop staffing, inspection, and maintenance protocols to be rearranged.
The table at right shows delays for long-distance trains heading west or south from trains from Chicago between July 1-10. These late departures can place a train out of its scheduled slot on routes with heavy freight train activity or single track, exacerbating delays by shuffling normal meets or overtaking.