---
CHICAGO — A line blockage earlier this week and equipment shortages have led to the cancellation of westbound Empire Builder departure from Chicago today (Wednesday, Aug. 3), as well as the eastbound Builder departures from Seattle and Portland on Friday, Aug. 5.
The move comes after the Builder slated to arrive in Chicago on Tuesday, Aug. 2, was delayed nearly 12 hours because BNSF Railway's line in western Montana was blocked early on Sunday, July 31, and also reflects the reduction in the number of operable cars and locomotives available this summer.
Meanwhile, a shortage of serviceable rolling stock also led to cancellation of the morning Chicago-Quincy, Ill., round trip of the Carl Sandberg. Originally, that was scheduled to continue through Sunday, Aug. 7; as of Aug. 5, Amtrak has announced it will offer substitute bus service for those two trips through Tuesday, Aug. 9.
The Builder's cascading problems began Friday, July 29, when late-discovered mechanical issues delayed the westbound Chicago departure for 3½ hours. Another 3 hours were lost out of St. Cloud, Minn., before a 4½-hour stop east of Libby, Mont., caused by a disabled freight train.
Because equipment that arrives in Seattle and Portland in the morning is turned for a departure the same afternoon, eastbound trains scheduled to depart July 31 were badly delayed. The Seattle section of the Builder left King Street Station at 4:07 a.m. on Aug. 1, more than 11 hours late. That equipment, which should have arrived in Chicago on Tuesday afternoon, was not expected until after 2 a.m. today. Uncertainty over its availability triggered the Wednesday cancellation because not enough extra cars are available.
Each of the five Empire Builder Superliner equipment sets this summer operates with three coaches, two sleeping cars, a transition sleeper, dining car, Sightseer lounge, and baggage car split between the Portland and Seattle sections. This is one coach and at least one sleeping car less than what the train typically provides.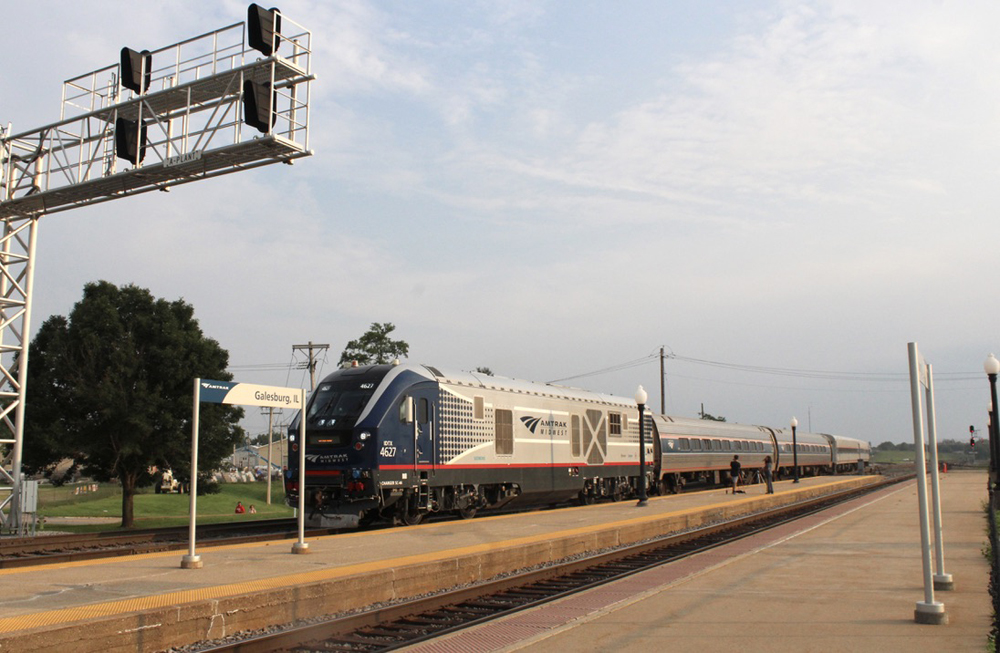 Systemwide mechanical and onboard staff reductions in 2020 and 2021 have meant the company has a substantial number of revenue-producing assets sitting idle that need safety overhauls before they can be returned to service.
Amtrak spokesman Marc Magliari tells News Wire the Carl Sandburg is not running because "we have exceeded the margin of spare equipment, so we had to suspend that round trip. We expect the release of enough usable equipment to be able to restore that service next week." The Aug. 5 plan for substitute bus service with the extension of the cancellation of the trains through Aug. 9 "will allow our shop forces more time to provide a larger number of usable railcars to avoid cancellations," he says.
Federally prescribed maintenance requirements mean cars must be taken out of service periodically. The slow introduction of Siemens' Venture coaches, and the fact that they must be bracketed with either Horizon or Amfleet cars until a door defect is rectified, has exacerbated the shortage.
Other limiting factors include utilization of Horizon equipment in the Pacific Northwest after the Washington Department of Transportation cancelled its maintenance agreement with Talgo, and Canadian National's insistence that Superliners must be used on Chicago-Carbondale trains. That route's second round trip has not been reinstated.
Outright cancellations mean lost bookings and inconvenience for trainloads of customers. Between Chicago and St. Paul, the next coach seat is available on Wednesday, August 10. And as of Tuesday evening this week, no seats could be purchased this Friday through Sunday on any of the three trains remaining between Chicago and Galesburg, Ill. — the California Zephyr, Southwest Chief, and Illinois Zephyr.
— Updated at 2:10 p.m. CDT on Aug. 5 with extension of Carl Sandburg cancellation and substitute bus service.