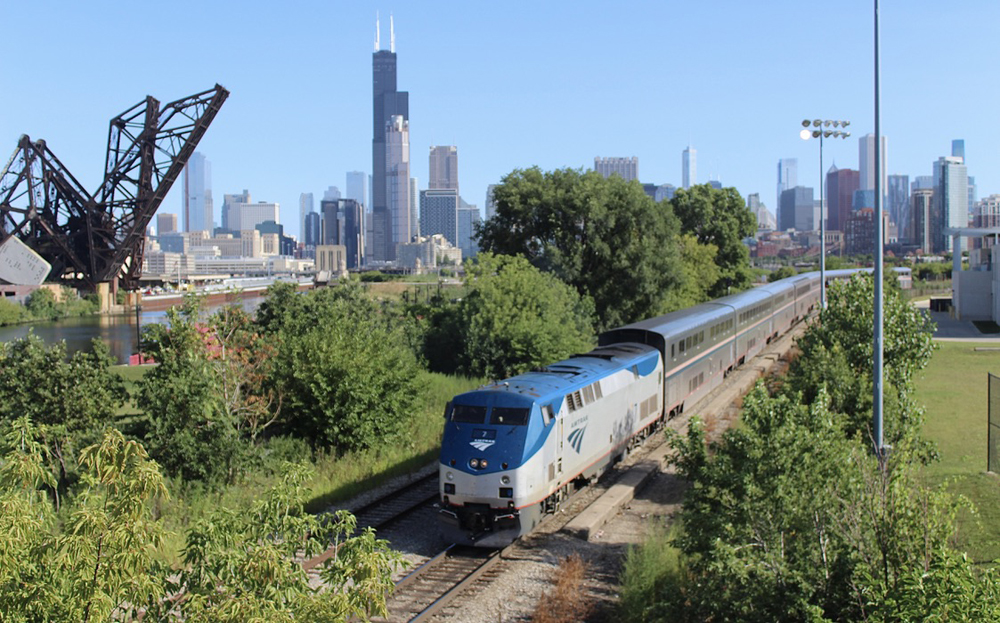 ---
CHICAGO — Amtrak is seeking more than $200 million in federal funding, along with money from state and local sources, in an attempt to fix a series of long-standing deficiencies, capacity limitations, and how trains from the south and east enter Chicago.
The passenger operator is competing for a portion of $5 billion available between 2022 and 2026 under the National Infrastructure Project Assistance, or Mega Program. It seeks $251.1 million in federal grants, which it would match with $83.7 million from its annual appropriation and an equal amount from a combination of partners including transportation departments of Illinois, Michigan, and the City of Chicago; Metra; and Cook County, Ill.
If Amtrak is among applicants selected by the U.S. Department of Transportation to receive funding from the Mega program, the total of $418.5 million from all sources would fund these interconnected projects:
Direct access from the St. Charles Airline to Chicago Union Station: Estimated cost, $146.5 million
City of New Orleans and Illini/Saluki trains using Canadian National's former Illinois Central grade-separated lakefront route from the south currently execute a time-consuming back-up move to get to or from tracks leading to Union Station. That's because the current connections face south to Norfolk Southern's Chicago-Toledo route or west to BNSF Railway's three-track main after crossing the Chicago River's South Branch on an elderly drawbridge, which has been out of service in the raised position for more than two years. Its BNSF, CN, and Union Pacific owners have not prioritized repairs because other routes are available.
Trains News Wire has learned that high-level engineering design for a track descending from the elevated Air Line to a north-facing connection to Union Station was studied in 2009 when Amtrak learned economic stimulus funds might be available.
"There were some grade and curvature concerns, but they were comparable to those of North River tunnels under the Hudson River in New York and the BNSF flyover out of Los Angeles," says a source familiar with previous Chicago terminal improvement initiatives. A more recent study completed in 2021, referenced in the grant application, shows a single track descending from the Air Line between the BNSF and Amtrak mains.
The estimated cost includes preliminary engineering, environmental compliance, final design, and construction. Building the connection will also likely require repairing the drawbridge and leasing or purchasing the Air Line.
Property acquisition for storage and displaced service functions: $29 million
Though not specified in the "project narrative," a letter urging support of prospective stakeholders obtained by News Wire identified the land as UP's Canal Street yard.
Rebuilding a connection between the Airline and Metra's Rock Island District, and a new station platform in Joliet, Ill.: $69.9 million plus $21.8 million in Joliet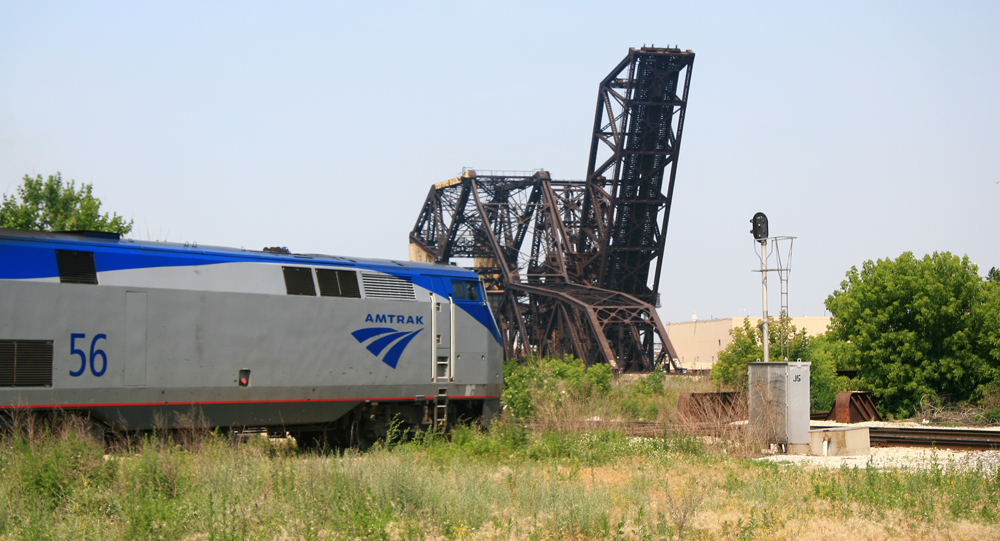 The preferred route for St. Louis-bound trains between Chicago and Joliet blessed by the Federal Railroad Administration is Metra's Rock Island District, not the existing, delay-prone CN tracks used by the Texas Eagle and Lincoln Service, as well as Metra's low-frequency Heritage Corridor. Detouring Amtrak trains periodically have used the existing connecting track at 16th Street Tower, but its tight radius limits speeds to 5 mph. A new connection would increase that to 25 mph. The new platform in Joliet would be necessary given the new location where Amtrak trains would arrive and depart.
Chicago Union Station mail platform "reactivation:" $35 million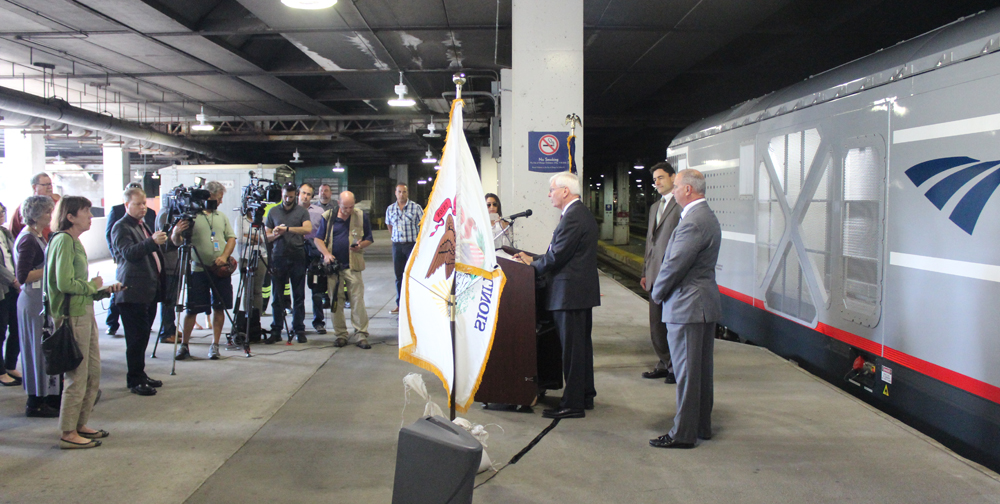 The easternmost tracks of Union Station's south concourse once facilitated the loading and unloading of bulk mail destined to or delivered from the Chicago Post Office building above. Since the end of Amtrak's mail and express initiative in 2005, they have been used only for passenger car or maintenance equipment storage; idle Siemens Venture cars now reside there.
The platforms are chipped and need refurbishing with Americans with Disabilities Act-compliant markings and lighting. Their rehabilitation is especially significant because two of the platforms serve through tracks that can be utilized by Wisconsin trains leaving from the north concourse. At least initially, Amtrak personnel will escort travelers across tracks 28 and 30 to the three platforms slated for improvement.
Union Station trainshed ventilation, concourse, and platform capacity improvements: $97.3 million
Amtrak has attempted to get this basket of overdue rehabilitation projects funded with previous grant applications, but is folding it into the "Mega" umbrella because the additional capacity created by reactivating mail platforms would allow other parts fo the station to be shut down.
Double track from Niles to Glenwood, Mich.: $20 million
A total of 16 miles of new second main would link and extend existing passing sidings from Niles through and beyond Dowagiac, Mich., thereby reducing delays resulting when passenger-train meets don't occur as scheduled. This is common for Wolverine and Blue Water trains as a result of freight train interference west of Porter, Ind., on Norfolk Southern and east of Dearborn or Battle Creek, Mich., on Canadian National. As with the two Airline connection projects, the Joliet platform, and the Union Station improvements, the cost estimate includes preliminary engineeering, environmental compliance, final design, and construction.
Acquiring the CN's Lakefront line as far as Kensington, and possible use of South Shore to Michigan City and South Bend, Ind: Proposed, no cost estimate
These investments are estimated at $418.5 million. But buried in the description of the St. Charles Airline acquisition is this statement, "Just as importantly, it will provide a means by which Michigan and East Coast trains can link to the minimally used CN Lakefront Line to Chicago's far South Side. The trains can ultimately switch to passenger-friendly South Shore Railroad trackage (at 115th Street/Kensington) to reach the Amtrak-owned infrastructure in Michigan City, Ind."
A letter sent to potential stakeholders went further. "By acquiring this critical, but currently underutilized 13-mile segment of the CN Lakefront line, Amtrak would be in control of Illinois, Michigan and East Coast trains … this would eliminate all usage of the heavily-congested Norfolk Southern Chicago Line."
It is premature to assume such a transaction might occur, given that no formal negotiations have taken place with Canadian National or the South Shore's parent, the Northern Indiana Commuter Transportation District, according to Amtrak spokesman Marc Magliari. He did note, however, that CN in the past has expressed interest in a potential sale of this line.
The Lake Shore Limited and Capitol Limited could operate over a connection with NS near Amtrak's current South Bend station, but the electrified route would need to accommodate the Capitol's Superliners. Additionally, the Cardinal could potentially ditch its circuitously problematic Chicago exit and entrance by utilizing a future CSX connection at Dyer, Ind., with the South Shore's West Lake Corridor Project now under construction.
The forward look expressed by Amtrak is speculative, but the elements of the grant request are a prerequisite for any future operational changes.