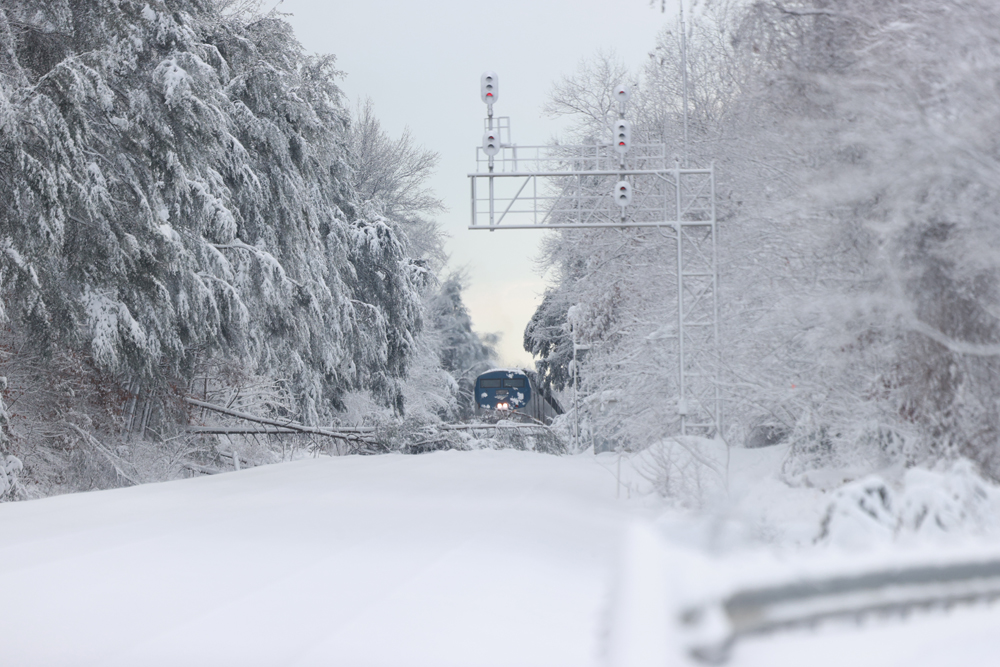 WASHINGTON –The well-publicized snowstorm that stranded motorists for 24 hours along Interstate 95 near Fredericksburg, Va., didn't spare Amtrak trains operating through the region from cancellations and monumental delays. But the disruptions weren't limited to the Northeast, as mudslides, cold temperatures, and snow caused route truncations and delays elsewhere.
In Virginia, trees laden with the heavy snow fell across both Amtrak and Virginia Railway Express commuter routes south of Washington.
On CSX Transportation's Richmond-Washington, D.C., main line used by Northeast Regionals and long-distance trains bound for the Carolinas and Florida, Amtrak's northbound Auto Train was stopped Monday morning by trees across the main line just south of its Lorton, Va., terminal. It was unable to move into the station for automobile unloading until after 8 p.m. That day's southbound departure was cancelled, as was the northbound Auto Train from Sanford, Fla., on January 4.
Also on Monday, the New York-bound Carolinian terminated at Petersburg, Va., south of Richmond, and became the continuation of its southbound counterpart that had been halted at Washington, D.C. The makeup Carolinian rolled into Charlotte, N.C., 6 hours late, and only operated as far north as Raleigh, N.C., the next day.
Long-distance trains to Florida that never ran through the storm on Monday attempted to depart Tuesday, but the Silver Meteor didn't leave Washington until 4:27 a.m. Wednesday, Jan. 5., instead of 7:30 p.m. Tuesday. With equipment still out of position, the northbound Silver Meteor, Silver Star, and Savannah, Ga.-to-New York Palmetto are cancelled for January 5.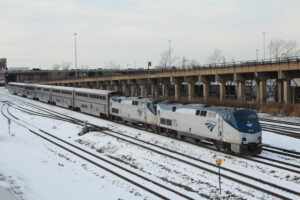 Trains on Norfolk Southern's route through Charlottesville Va., also encountered fallen trees. Both northbound Northeast Regional No. 176 from Roanoke and the Crescent from New Orleans were stopped north of Lynchburg all day Monday while crews attempted to unclog the route. The Crescent finally backed into Lynchburg that evening after passengers were kept aboard all day, but it didn't continue until Tuesday morning. The train had a previously planned cancellation set for January 4 [see "Amtrak faces some holiday cancellations," Trains News Wire January 3], but is operating between New York and Atlanta Wednesday.
At Chicago, eight long-distance trains encountered departure delays of more than an hour January 3 and 4. The Southwest Chief, California Zephyr, and City of New Orleans all departed more than 2 hours late on Tuesday.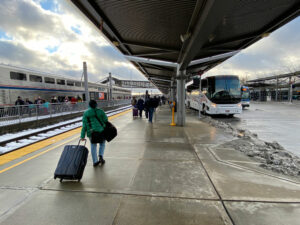 Most overnighters arriving Chicago from the west were on time both of those days. The Empire Builder, however, is not only dealing with low temperatures and snow over its entire route between Chicago and the Pacific Northwest, but mudslides between Everett, Wash., and Seattle have forced passengers onto buses between the two cities. The equipment turns at Everett, but the eastbound train departing Monday got a tardy start and was 13 hours late out of Fargo, N.D., on Wednesday. But Tuesday's train departed Shelby, Mont., only a half-hour late the same day.