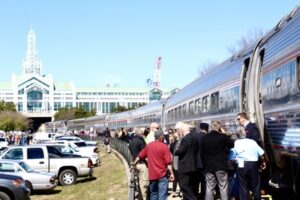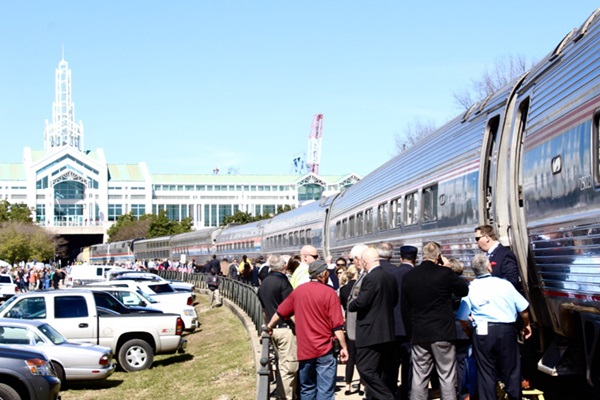 MOBILE, ALA. — Amtrak, attempting to move forward a project that has most funding in place, says it has notified host railroads CSX Transportation and Norfolk Southern that it plans to start two daily round trips between New Orleans and Mobile, Ala., sometime in 2022.
The passenger carrier announced its intentions even though a traffic study of the route is not complete, more than a year after it began. Amtrak paid for the study, utilizing Berkeley Simulation Software's Rail Traffic Controller program to evaluate how freight traffic and two proposed passenger trains might interact.
"The existing agreement between our parties expired in January," Amtrak spokesman Marc Magliari tells Trains News Wire. "Something that should have taken seven months was far from completion after a year. In fact, discussions have been underway for five years; there was no sign of any conclusion in sight."
That said, Amtrak stressed in a statement that discussions with CSX and Norfolk Southern over infrastructure improvements will continue: "We have again asked the freight railroads where they believe there are more issues. We safely and successfully operate together elsewhere in the United States, with dependable freight service coexisting with reliable and relevant Amtrak service. That's what the Gulf Coast deserves, too."
The corridor's sponsoring operating authority, the Southern Rail Commission, acknowledged in a statement issued Thursday that "Additional work needs to be done to address the concerns of the Port of Mobile before service can start."
CSX maintains a completed study is a prerequisite for any further discussions. In a statement to Trains News Wire forwarded by spokeswoman Cindy Schild, the company says, "From the onset, CSX prioritized this Amtrak Gulf Coast study, treating each step as expeditiously as possible. Any CSX requested modifications to study parameters were to ensure the model was compliant with federal law. CSX and our customers strongly support the completion of this study. Not only are we committed to seeing its completion, but the STB has a statutory obligation to determine if a new passenger service unreasonably interferes with freight operations. It is critical that this study and the full infrastructure impact assessment is completed."
The statement illustrates that the primary reason the study has taken so long — and why Amtrak lost patience with the process: It kept getting rerun over the past 12 months with different parameters requested by the host railroads and Amtrak. (The Southern Rail Commission was asked to be excluded from any input by the hosts, according to a commission source.)
Trains News Wire separately asked CSX, Norfolk Southern, and Amtrak if they were willing to reveal details from each iteration of the capacity study, but none of the parties were willing to disclose any preliminary findings, specific infrastructure change requests, or the timeline of negotiations.
A baseline set of improvements was established in 2017 when the Federal Railroad Administration issued a report by the Gulf Coast Working Group that service could resume from New Orleans to Jacksonville, Fla., if certain investments were made [see "Report: $117 million can restore Gulf Coast passenger service," Trains News Wire, July 18, 2017]. That study contemplated one daily round-trip to Mobile and another to Jacksonville, but the proposed schedules between New Orleans and Mobile are consistent with what Amtrak and the Southern Rail Commission intend to operate.
That report suggested $66 million in improvements for the New Orleans-Mobile segment, a figure that drove federal and state grants for capital projects. They include a house track at Mobile's downtown station where trains can stop and reverse off the main line; a signaled passing track around CSX's Gentilly Yard on the east side of New Orleans; a second main track extension to accommodate long freight trains at Bay St. Louis, Miss.; an automated junction in Gulfport, Miss.; and yard capacity expansion at Pascagoula, Miss.
Although Louisiana and Mississippi have set aside capital funds and Mississippi has agreed to help provide operating support, Alabama has declined to furnish any money. Governor Kay Ivey's opposition to the service, despite its potential positive economic impact, has been fueled largely by contentions by the port that its rail freight access would be disrupted — even though virtually all of those operations intersect with CSX tracks east of downtown Mobile, beyond where the passenger trains will operate.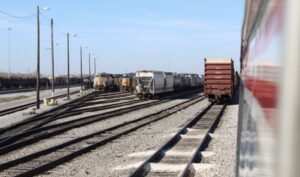 With the state on the sidelines, Mobile's City Council voted to spend more than $3 million over three years for improvements necessary to start the service. The council is currently debating whether to spend another $80,100 to match a federal grant funding a study of a possible alternate station site. That site is west of downtown and off the CSX main line at the Brookley Airport [see "Digest: Mobile councilman calls Amtrak 'A joy ride for the affluent," News Wire, Feb 19. 2021].
Since 2017, operating practices may have changed — most notably in the form of longer trains that are a tenet of Precision Scheduled Railroading. Additionally, FRA rules issued in late 2020 requires Amtrak and its hosts to jointly create schedules where trains arrive at all stations within 80% of the stated time. But the host railroads' obligation to give passenger trains priority hasn't changed.
These factors may have led to a delay in completion of the latest study, but without transparency on the part of the parties, it is not possible to know.
Amtrak officially "suspended" its tri-weekly Sunset Limited along the route in 2005 after Hurricane Katrina. Already-built stations will need only relatively minor platform improvements, except in Mobile, where the station was completely destroyed. But that was a far different service than what Amtrak and the Southern Rail Commission are proposing.