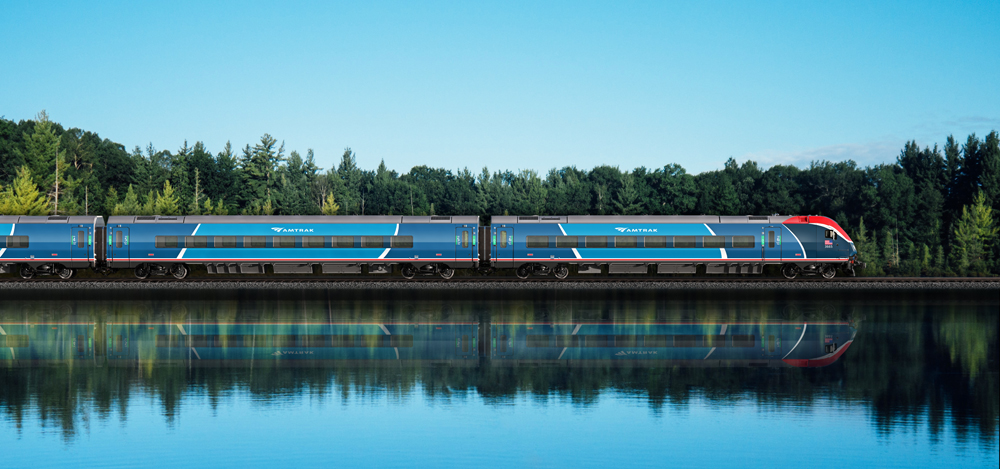 ---
NEW YORK —  Amtrak today (Thursday, Dec. 15) introduced the graphics and a new brand name — Airo — for its coming fleet of Siemens Mobility push-pull trainsets due to enter service in 2026, replacing 40- to 50-year-old locomotive-hauled equipment.
At a press conference in Penn Station's Moynihan Train Hall, Amtrak President Roger Harris and other officials sketched out the broad outlines of an 83-train fleet of semi-permanently-coupled equipment that will operate primarily from Maine to North Carolina and west to Pittsburgh, with some on the West Coast. They will retire the carrier's iconic but aged Amfleet I cars, Amtrak's first bought-new rolling stock, which is now nearing 50 years of age, and replace other equipment.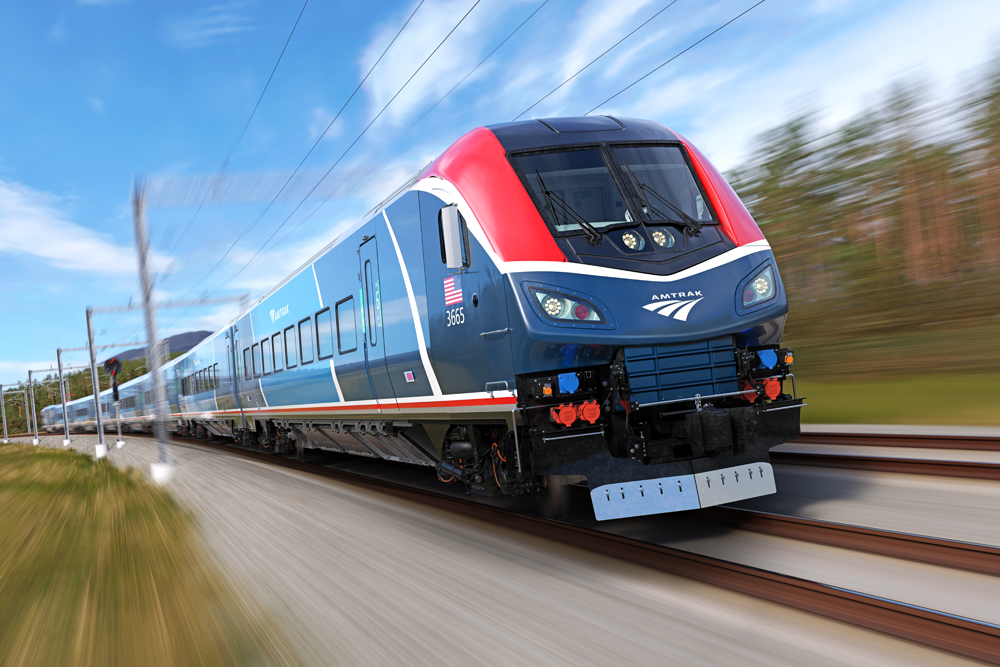 "Amtrak's procurement of new rolling stock is historic," Federal Railroad Administration Deputy Administrator Amit Bose said in a prepared statement. "These state-of-the-art trainsets will allow Amtrak to operate and provide services more safely, efficiently, and reliably,"
Entering service first on the Cascades route between Portland, Ore., and Vancouver, British Columbia, Airo trains will resemble Siemens' Venture coaches now in service or on order for Caltrans, Amtrak Midwest, Brightline, and VIA Rail Canada. The first Airo car shell is under construction at Siemens' plant at Sacramento, Calif. The production run is estimated to extend into 2031.
The design is based on the Viaggio Comfort fleet of electric-propelled trains operated by ÖBB, the Austrian Federal Railway, according to Steven Morrison, Siemens' director of business development, passenger mobility systems.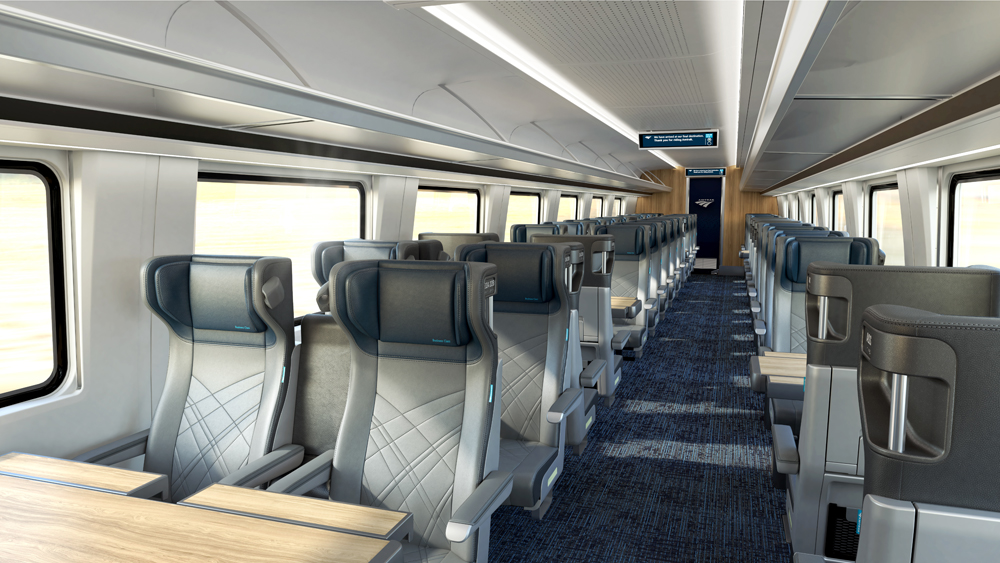 Each push-pull trainset will consist of a power car and six to eight trailing coaches, including a cab control car to eliminate the need for turning. Most will be configured with dual-mode diesel-electric/electric propulsion to facilitate no-engine-change service to and from electrified territory in the Northeast Corridor and Keystone Corridor. They will reach a top speed of 125 mph.
The 83 trainsets comprise 73 dual-mode versions costing about $3.4 billion, with another 10 sets costing $1.5 billion. Seventeen of the sets for Empire Service will employ hybrid battery technology. In all, the contract is worth $7.3 billion, including spare parts and a continuing service agreement. The deal leaves the door open for an additional 130 trainsets if Amtrak's expansion plans come to pass.
Eventually, Airo trains will be deployed on both Amtrak and state-supported short- and medium-haul trains, including the Adirondack, Carolinian, Downeaster, Empire Service, Ethan Allen Express, Keystone service, Maple Leaf, New Haven-Springfield service, Northeast Regionals, Palmetto, Pennsylvanian, Vermonter, Valley Flyer, and Virginia services.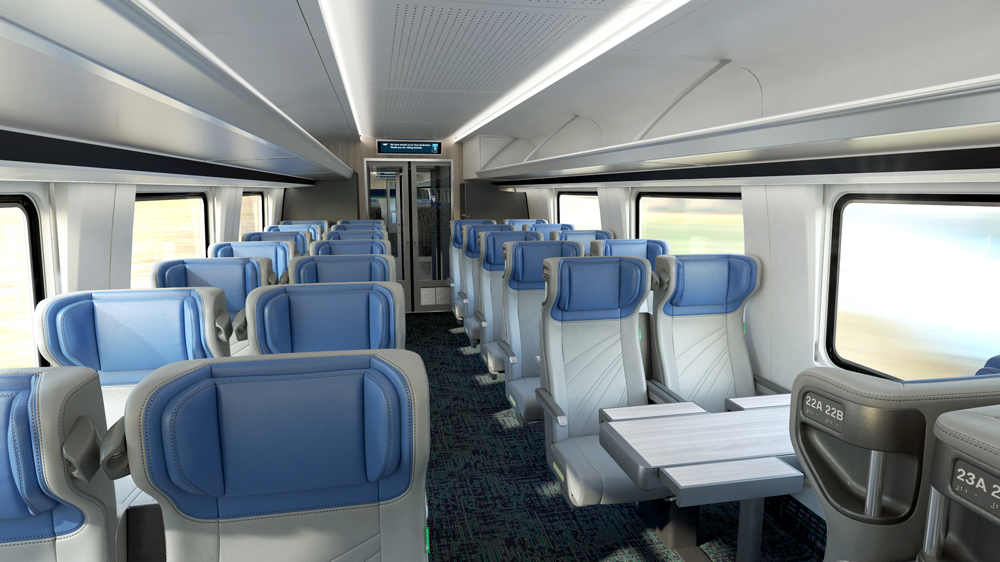 Harris said Airo equipment "combines new features with the traditional values" of train travel. He cited lower environmental impact through reduced emissions, as well as faster schedules due to reduced dwell times at stations where diesel and electric locomotives now change at the end of catenary.
Harris listed passenger amenities including panoramic windows, ergonomically designed seats, adjustable headrests, at-seat charging ports, and dedicated cup and seatback tablet holders. He said the trains will offer "contemporary food service" that will include self-serve options, though he quickly added that this does not mean vending machines. The cars will provide digital signage and full accessibility to comply with provisions of the Americans with Disabilities Act.
Harris told Trains News Wire that the Airo name was "one of many that our advertising agency proposed. Airo has aerodynamic implications, it has some alliteration with [the words] Amtrak and Acela, and it has some Amtrak history — the [1971] arrow logo."
Morrison explained that, in electrified overhead territory, the dual-mode trains will be configured with a single pantograph mounted on a business-class coach that will feed current from catenary to the power car. Asked if the application of dual-power propulsion to a semi-permanently coupled trainset is new, he said that this is an entirely new technology mix that does not exist elsewhere.
On the issue of capacity constraints and lack of flexibility for high-demand periods that is posed by a fixed-consist approach, Harris said Amtrak would simply add another frequency. Currently, when extra coaches are available, Amtrak couples extra cars to peak holiday trains as needed.
That will still be possible with Airo trains, according to Ray Ginnell, Siemens' vice president for commuter, regional, and passenger coaches, but it's more complicated. Adding or deleting cars from a consist can be done, he said, but only in a shop, not at a station or yard. Airo trains can run up to 10 cars long, he added.
Editor's note: The 83-trainset figure in this article includes an option for 10 trainsets that was exercised in August 2023 (see "Amtrak exercises contract option …," Trains News Wire, Aug. 21, 2023], although that was not reported at the time.