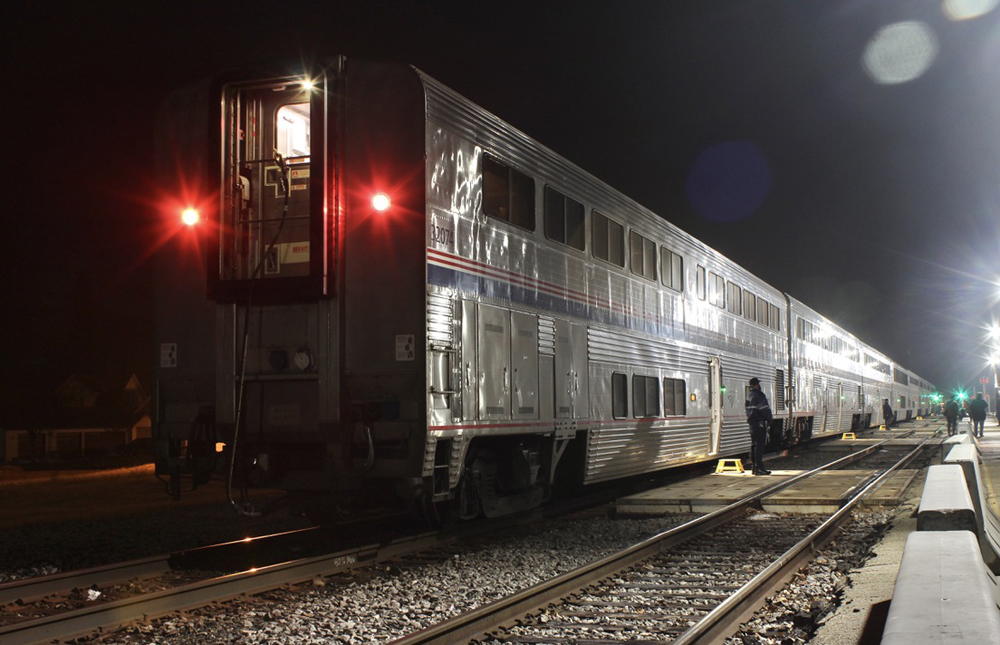 ---
WASHINGTON — Equal accessibility to onboard amenities for passengers with disabilities is the goal of potential new long-distance railcar designs Amtrak unveiled Wednesday at an in-person and online hearing.
Amtrak held the gathering to obtain feedback prior to procurement from the accessibility community regarding plans to replace its existing Superliner and single-level fleet with new rolling stock. The 1970s bilevel designs and 1980s Viewliner prototypes were developed before establishment of c regulations under the Americans with Disabilities Act of 1990.
"Since April, we've been listening to stakeholders to understand where the pain points are on the current fleet and also understand what the aspiration is for the future," Amtrak President Roger Harris noted in opening remarks. "We've assembled those visions in a concept … to make a product that's better than strict compliance to ADA regulations," a process defined as equivalent participation. He added, "With bilevel equipment, we want to make sure there is full accessibility to the upper level, so people can enjoy all of the amenities up there in terms of dining and sightseeing in both coach and sleeper service."
Fixed consists a key feature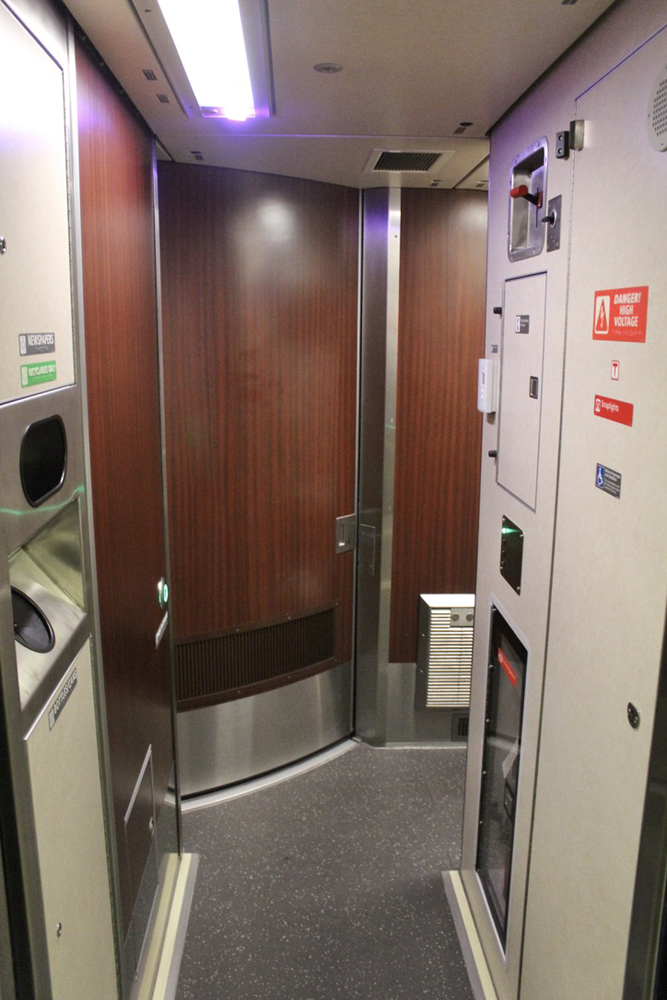 To ensure both single-level and bilevel equipment has a 32-inch-wide accessible path throughout, Fred Gazzolo, Amtrak vice president of product development and analytics, explained cars would need to be semi-permanently coupled. Compliance with current ADA regulations, which address accessibility on a car-by-car basis, would still mean travelers with disabilities would be sequestered in isolated spaces, as is currently the case.
Two "alternative design" concepts, one for a 10-car, single-level trainset and the other for a nine-car bilevel set, encompass the following standards:
— Accessible coach and sleeper space equal to or greater than the non-accessible space
— Dining and lounge facilities are located in a central "accessible core;" a trainset's accessible coach seats and sleeper space are located nearest these amenities in "priority positions." The core runs through cars 2 through 7 on the single-level set and 1 through 6 in the bilevel design.
— Each passenger will have access to more than one accessible restroom on both trainset types, and elevators on bilevel trainsets (located in cars 2 and 6) for boarding and deboarding.
The following preliminary concept designs were presented. Only some seats in accessible coaches, cafés, dining, and lounge cars are accessible, but they all have access to the 32-inch-wide accessible core and bathrooms with a 60-inch turning radius. Sleeping accommodations and configurations were not specified; details mentioned are News Wire estimates based on diagrams shown during the hearing:
The 10-car single-level trainset proposal (shown in the diagram below) includes:
Non-accessible coach, 2-2 seating.
Half non-accessible/half accessible coach, 2-2 seating; 32-inch path begins.
Non-accessible 1-2 seating/accessible coach.
Accessible coach (1-2 seating)/café
Accessible diner/galley
Accessible diner/lounge (diner section adjacent to galley in car 5)
Sleeping car, 3 accessible bedrooms, 2 non-accessible bedrooms; 32-inch path ends.
Non-accessible roomette sleeper
Non-accessible bedroom sleeper
Utility car (crew-baggage).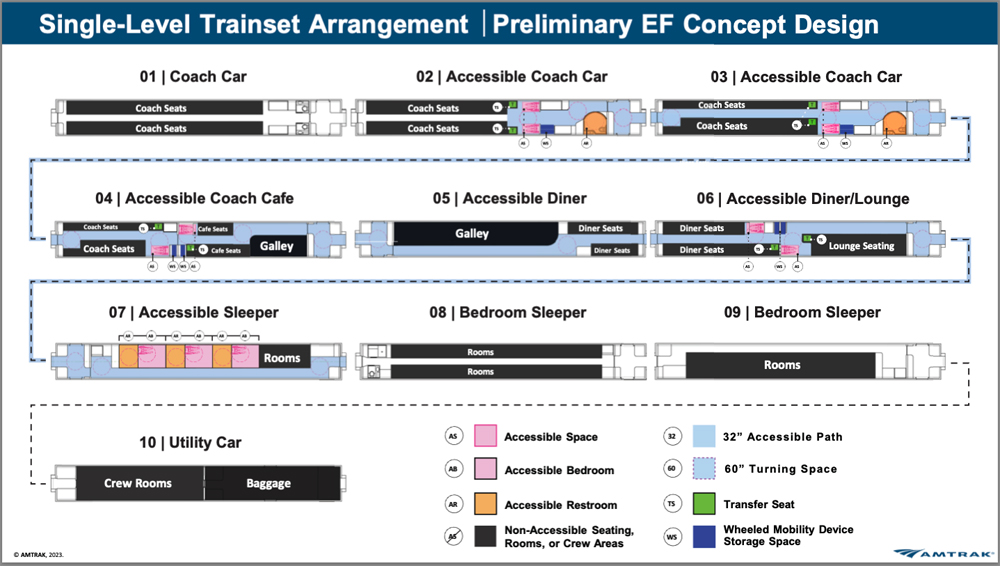 The 9-car bilevel trainset: non-accessible features on lower level listed first; top level accessible, as shown in the diagram below (in the diagram, the upper level is on top).
Lower: Non-accessible coach 2-2 seating
Upper: Accessible seating, bathroom; 32-inch path begins.
(Elevator) Lower: Non-accessible 1-2 seating
Upper: Accessible coach/bathroom.
Lower: Non-accessible coach.
Upper: Accessible coach/café (1-2 coach seating—café at one end of the car)
Dining car with some accessible seating (galley below)
Lower: Sleeper, roomettes and family room.
Upper: Accessible lounge (no exteriors shown)
(Elevator) Sleeper, lower: Roomettes and family room.
Upper: Non-accessible (2 bedrooms); accessible (3 bedrooms); 32-inch path ends.
Lower: Sleeper, roomettes and family room
Upper: Non-accessible bedrooms.
Lower and upper, non-accessible roomettes.
Utility car, Lower: Baggage
Upper: Roomettes/crew rooms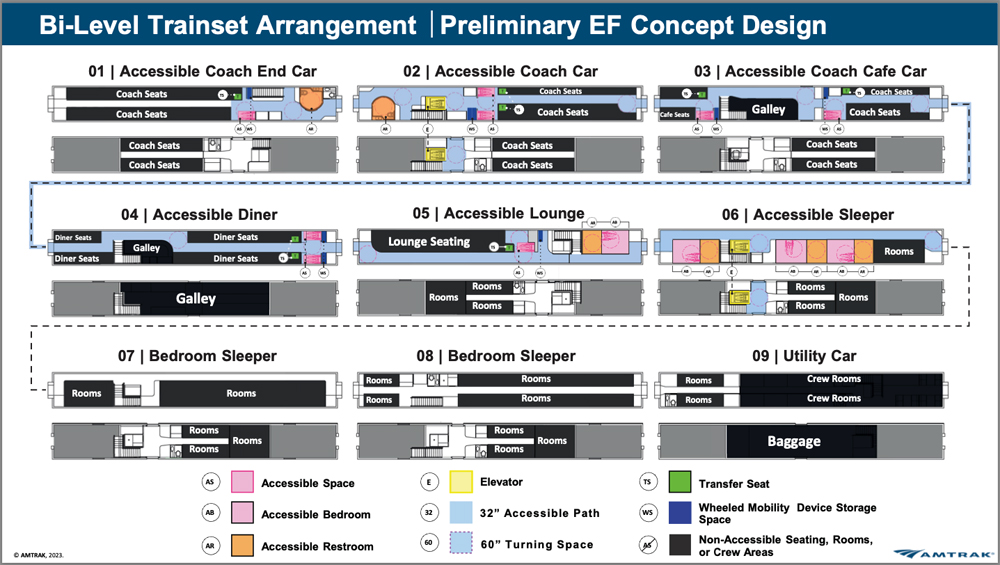 These proposals are only the starting point to elicit comments from the traveling public before any extended procurement process begins. Production of multiple car types is not new; both Pullman and Budd responded to customized railroad requests in the post-World War II streamliner conversion boom. But the process incurred substantial challenges with CAF-USA in the four car types involved in the 125-car order for Viewliner II sleeping, dining, and baggage cars that took more than 10 years to deliver.
The suitability of fixed-consist trainsets will also be debated, since demand varies widely among the routes Amtrak operates today. Combining coach seating with somewhat reduced lounge and dining car amenities may also be a concern.
Following the presentation, two commenters expressed the need for built-in lifts, such as those available on California Car and Pacific Surfliner coaches, rather than reliance on platform-based devices that are difficult to deploy.
Comments are being accepted through Sept. 5, 2023, at this Amtrak website.
— Updated Aug. 31 at 6:10 p.m. with Amtrak diagrams of trainset concepts.