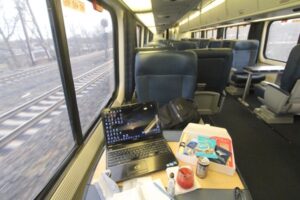 Overall intermodal traffic in North America is expected to return to growth this year as retail inventories remain low, consumers continue to spend on goods instead of services during the pandemic, and trucking companies can't field enough drivers to meet demand.
That's the view of a trio of TTX analysts who participated in an Intermodal Association of North America webcast on Tuesday.
WASHINGTON —Travelers with existing coach reservations on trains that offer business class, as well as Business Class passengers on Northeast Corridor Acelas, now have the opportunity to bid for an upgrade utilizing Amtrak's new "BidUp" website.
Passengers first enter their reservation number and last name on a separate extension of the Amtrak website (https://www.amtrak.com/BidUp) to ascertain whether a bid is possible in an "eligibility" step (i.e., if the upgraded class on that train has sufficient availability). They then may make a bid on an upgrade up to two hours before departure. There is no fee to make a bid, and the company says it, "will also provide tips on how to increase the chances of winning an upgrade."
Of course, it is always possible to purchase an upgrade in advance at the rates quoted on the Amtrak website, but if sales are light in the higher class of service, it might be possible to pay less through the bidding process. This is more likely to happen on trains carrying full-length business class cars such as all Northeast Regional trains, plus the Palmetto, Carolinian, and, Vermonter (which currently is running only between New York and Washington).
Because patronage on these trains is relatively light in all classes, the largest differential between coach and Business Class, or Acela Business and Acela First Class is likely to occur on longer journeys. For instance, it costs $97 more to upgrade to Business in advance from a typical $110 New York-Charleston, S.C., Palmetto fare, so a bid less than that might be successful. An Acela upgrade to First is usually about $75 between New York and Washington, but the spread is only $27 between the same city-pairs on most Northeast Regionals.
Midwest corridor trains operating out of Chicago have relatively limited business class sections located in one half of each train's cafe car, so the premium seating is more likely to sell out before departure, as was the case on Lincoln Service train no. 303 from Chicago to St. Louis on Feb. 24.
"BidUp is a great way for more Amtrak customers to enjoy our premium service," Amtrak Executive VP/Chief Marketing and Revenue Officer Roger Harris says in a press release on the new feature.