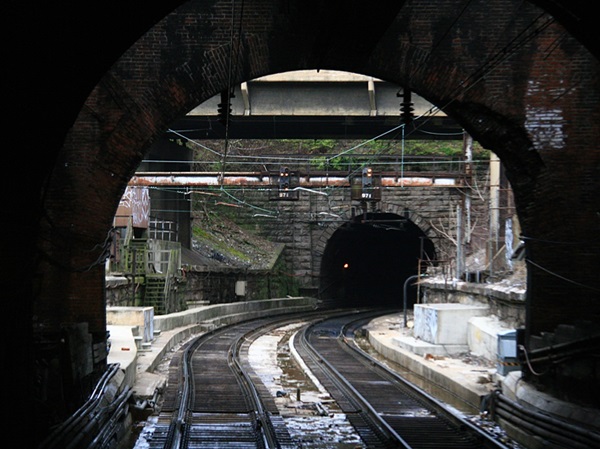 BALTIMORE — Amtrak and the state of Maryland marked the 150th anniversary of the groundbreaking of the Baltimore & Potomac Tunnel on Friday by announcing new plans to advance treplacement of the tunnel, as well as plans to name the new bore for Maryland-born abolitionist leader Frederick Douglass.
Longstanding plans to replace the aging B&P Tunnel, a major Northeast Corridor bottleneck, have called for a new underground route consisting of four single-track bores. The new plan would construct two tunnels for electrified passenger service but defer construction on two additional tunnels which could accommodate freight trains. As part of this plan, Maryland Secretary of Transportation Gregory Slater said the state department of transportation will electrify all MARC commuter train operations using the tunnel.
"This is a generational project for passenger rail in the State of Maryland and the entire Northeast Corridor," Slater said in an Amtrak press release. "MDOT is proud to partner with Amtrak on the new approach, and we are ready to work with Amtrak and the federal government to move a new B&P Tunnel forward."
The change will eliminate diesel train emissions from a ventilation facility on the edge of a residential neighborhood above the tunnel, while also cutting two years and more than $1 billion from the construction project.
Full project funding has yet to be obtained, however, meaning initial construction work is still at least one to two years away.
Maryland Gov. Larry Hogan had said Thursday evening in Annapolis, Md., that the state was committed to partnering with Amtrak on the tunnel project. "This is a critical project for Baltimore, for the State of Maryland, and for the entire Northeast Corridor of the United States," Hogan said at an event marking Amtrak's 50th anniversary, "and we plan to work with Amtrak and the federal government to move it forward as expeditiously as possible."
In announcing the new name for the tunnel, Amtrak president Stephen Gardner said, "As Frederick Douglass escaped to freedom by way of a train in Baltimore and traveled extensively by rail, naming this state-of-the-art new passenger rail tunnel after him is a fitting way for us to honor his legacy."
More information on the tunnel project is available here.