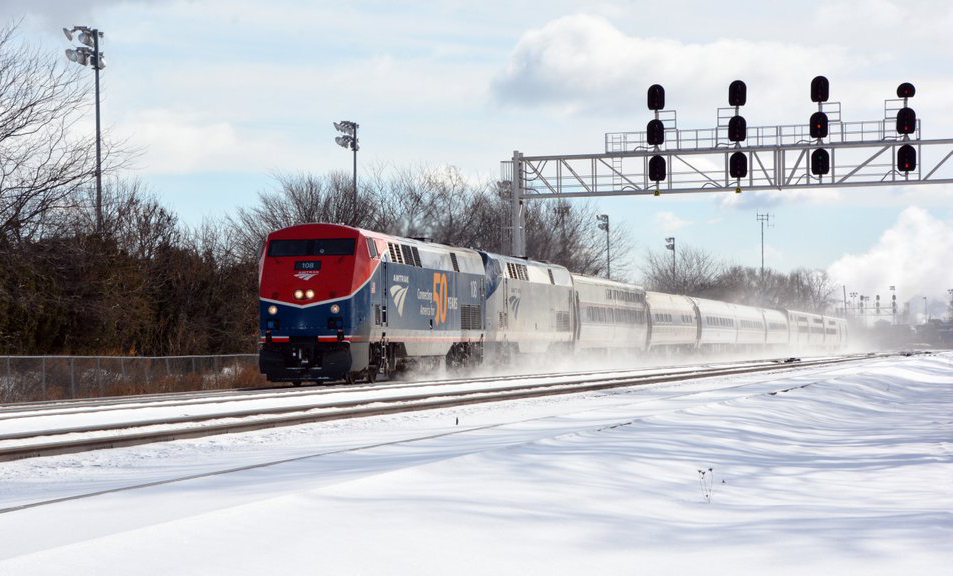 ---
WASHINGTON — With a major winter storm predicted, Amtrak has cancelled all service on Saturday, Jan. 29, between New York and Boston, as well as all New Haven-Springfield, Mass., shuttles and the Vermonter.
Forecasts call for up to 2 feet of snowfall for the Boston area and lesser but uncertain amounts further south through Rhode Island and Connecticut.
All Acelas have also been annulled entirely on Saturday, along with four Washington-New York Northeast regional round trips, including two that normally operate into Virginia. Three Keystones to and from Harrisburg, Pa., from either Philadelphia or New York have been dropped, although the Pennsylvanian is set to operate.
A summary of the cancellations is available in this Amtrak advisory.
Snow accumulation is expected to be 6 to 9 inches in the New York City area on Saturday — far less than amounts routinely encountered in upstate New York. Still, Amtrak cancelled both Friday's Lake Shore Limited from Chicago and Saturday's westbound Lake Shore from New York, even though the Maple Leaf and the other state-supported New York-Niagara Falls, N.Y., round trip are set to operate. Previously, when the Boston section of the Lake Shore couldn't run as a result of trackwork on the route, its equipment operated to New York instead of being switched at Albany-Rensselaer, N.Y.
The Friday eastbound and Saturday westbound Lake Shore cancellation — coupled with the recently-implemented 5-day per week Capitol Limited schedule, means Amtrak isn't offering any Chicago-East Coast service in one direction on each of those days. As a result of reduced coach capacity, no seats are available on the westbound Lake Shore out of New York on the days it is running, Friday and Sunday.
Also truncated north of Washington D.C., Saturday was the northbound Palmetto and Sunday's southbound counterpart to Savannah, Ga. This eliminates an overnight equipment turn at New York's Sunnyside Yard, but leaves Carolina travelers to and from cities north of Washington without any connection possibilities on those days.
— Updated at 3 p.m. CST to correct date to Saturday, Jan. 29.