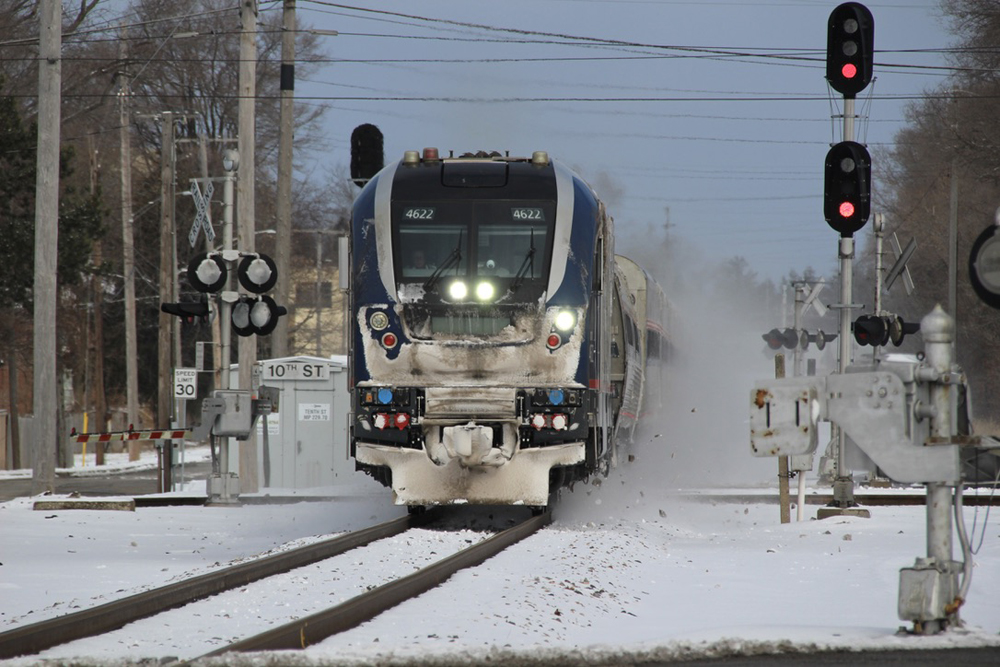 ---
CHICAGO — While sub-zero cold and blizzard conditions had begun to moderate somewhat across much of the Midwest toward the end of the holiday weekend, Amtrak has continued to cancel trains on less than 24 hours' notice for "mechanical" and "manpower" issues, as well as the weather.
A running list of trains not operating continues to be updated on Amtrak's website, but the information may not always reflect last-minute changes
Empire Builder cancellations, which began Dec. 21 from both Chicago and Seattle/Portland, Ore., were extended on Christmas Day to Monday, Dec. 26 as a result of "manpower issues," according to the Amtrak Alerts Twitter feed and the Service Alerts section of the company website. On Monday afternoon, Tuesday's Builders were also cancelled.
Sunday, eastbound Capitol Limited passengers were originally told their train to Washington, D.C., "will be delayed departing due to unforeseen mechanical issues," but when the train was eventually cancelled, the reason given was "due to severe weather conditions." Although the westbound Capitol that departed Sunday arrived in Chicago two hours late Monday morning, Monday's westbound train was cancelled, even though its eastbound counterpart was scheduled to operate.
Other trains leaving Chicago on Christmas night suffered significant departure delays, including:
— The eastbound Blue Water to Port Huron, Mich., delayed over 7 hours to 11:09 p.m.
— The southbound City of New Orleans, delayed more that 3½ hours to 11:42 p.m.
— Southbound Lincoln Service train #307, delayed almost 5 hours to 12:08 a.m.
Monday trains that were canceled on Sunday, after previously being scheduled to operate, included two trains to St. Louis, Nos. 301 and 319; the westbound Illinois Zephyr to Quincy, Ill.; and Wolverine Nos. 353 and 354.
Upstate New York still impacted
The deadly storm that dumped more than 50 inches of snow on Buffalo, N.Y., and disrupted VIA Rail Canada service in eastern Ontario after a Canadian National derailment [see "VIA Rail Canada again cancels corridor service," News Wire, Dec. 26, 2022] still has Amtrak service shut down through the area. The Maple Leaf and a pair of Empire Service round-trips are only operating New York-Syracuse, N.Y., through today (Tuesday, Dec. 27). The Lake Shore Limited is also cancelled until at least Wednesday.