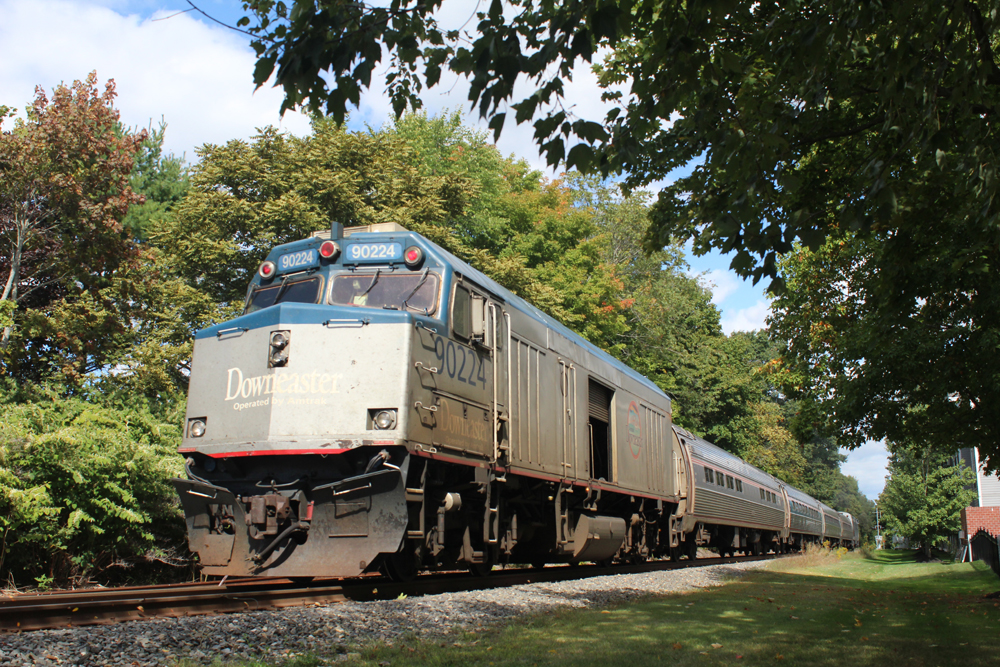 WASHINGTON — Amtrak has urged federal regulators to impose conditions on CSX Transportation's proposed acquisition of Pan Am Railways that would protect current and potential expansions of passenger service in New England.
The CSX-Pan Am merger is the first before the Surface Transportation Board in which passenger trains account for the majority of traffic on many of the lines involved, Amtrak noted in a filing posted to the STB website today.
It's also the first merger to face an STB review since the Biden Administration's July 9 executive order encouraged the board to consider a host railroad's handling of passenger trains, Amtrak noted.
Pan Am has worked with Amtrak and its state partners to expand and improve service in recent years, Amtrak said, including the Downeaster linking Boston with Portland and Brunswick, Maine, and Vermonter and Valley Flyer service in western New England.
"In contrast, CSXT consistently has taken the approach of obstructing the expansion of passenger rail, and to limit access to its facilities, despite the fact that CSXT is statutorily required to provide Amtrak with access to its rail lines," Amtrak wrote. "Indeed, as the Board is aware from the current Gulf Coast dispute, CSXT has a history of stonewalling Amtrak's requests for additional service."
Amtrak has asked the board to intervene in its dispute with CSX and Norfolk Southern over launching state-sponsored service between Mobile, Ala., and New Orleans.
In New England, Amtrak says CSX snubbed its proposal to launch seasonal, weekend-only Berkshire Flyer service between Albany-Rensselaer, N.Y., and Pittsfield, Mass., via a 36.9-mile section of CSX's Berkshire Subdivision. CSX said the extension of an Empire Service train for two round trips per week would require a traffic study and capacity improvements, Amtrak said.
Yet Amtrak notes that CSX did not conduct a traffic study or require capacity improvements as part of its merger-related trackage rights agreement that would allow Norfolk Southern to divert a daily pair of intermodal trains to its Berkshire and Boston subdivisions from their current routing via Pan Am Southern's former Boston & Maine main line.
"Instead, CSXT now claims in its Application that the entire Albany-Worcester line 'has excess capacity,' directly contravening the position it continues to take with regard to the proposed seasonal, weekend Berkshire Flyer service that would operate over only a small portion of the line, and claims that Amtrak operations will not be affected by operation of the NS double-stack trains because their not yet developed schedules will provide for them to operate outside of the operating windows of the Lake Shore Limited," Amtrak wrote.
Amtrak said it is concerned CSX's acquisition of Pan Am would interfere with proposed service expansions in New England. Amtrak's "Amtrak Connects US" expansion blueprint includes proposals for new service linking Boston with Concord, N.H., via Pan Am; two daily round-trips between Boston and Albany via CSX; increased Downeaster service from Boston to Brunswick, Maine, via Pan Am; and a summer seasonal extension of Downeaster service to Rockland, Maine.
CSX has said that its acquisition of Pan Am would have no negative impact on passenger and commuter service in New England.
But Amtrak said that prior freight railroad mergers that were approved without conditions ultimately hurt passenger service. Among them: CSX's lease of the Buckingham Branch in Virginia, which hosts the Cardinal; the split of Conrail between CSX and Norfolk Southern; Canadian National's acquisition of Illinois Central; and the Union Pacific-Southern Pacific merger.
As a result, Amtrak is asking the STB to impose seven conditions on any approval of CSX's acquisition of Pan Am. They are:
— CSX should be required to fulfill all of its merger-related promises regarding passenger service. Specifically, Amtrak asks for a modification of the CSX-NS trackage rights deal to reflect a commitment that the trains will be scheduled to operate over CSX's former Boston & Albany main line outside of the Lake Shore Limited's operating windows and that the NS trains don't interfere with the Valley Flyer and Vermonter service at the diamond in Springfield, Mass., where their routes cross.
— CSX should be required to negotiate in good faith with Amtrak and its state partners for service expansions, improvements, and additional weekend and seasonal service, particularly on its route between Albany and Worcester, Mass.
— CSX should be ordered to cooperate with Amtrak and its partners to identify what improvements would be required to raise passenger train speeds on Pan Am and CSX routes, then work in good faith to promptly make improvements.
— CSX should be ordered to not make operational changes that would result in a deterioration of on-time performance of Amtrak trains.
— CSX should be required to perform non-emergency trackwork during non-peak passenger periods.
— CSX should be ordered to provide for the operation of up to four weekend Berkshire Flyer trips in the summer between Albany, N.Y., and Pittsfield, Mass., within 90 days written notice from Amtrak – and without any Amtrak-funded capacity improvements.
— Amtrak also asked the board to maintain jurisdiction over the CSX-Pan Am merger to ensure compliance with any conditions imposed.
Amtrak also disputed CSX's claim that one benefit of its Pan Am acquisition will be the installation of positive train control on the Downeaster's route between Portland and the New Hampshire-Massachusetts border. The PTC project, mostly funded by Amtrak, pre-dates CSX's announcement that it would acquire Pan Am, Amtrak said.
Amtrak's filing, which was highly critical of CSX, comes on the same day that the Northern New England Passenger Rail Authority, the agency that sponsors the Downeaster, affirmed its support for the CSX-Pan Am merger.
"As the State Sponsor of the Amtrak Downeaster, which operates over approximately 106 miles of railroad to be controlled by CSX if this transaction is approved, NNEPRA expects to maintain strong and productive working relationships with the host railroad," Executive Director Patricia Quinn wrote. "Consistent with that expectation, NNEPRA and CSX already have worked collaboratively to address, in their letter agreement, a number of issues that are important to NNEPRA, and NNEPRA looks forward to continuing to work with CSX in a similar manner in the future."
The Massachusetts Department of Transportation said it hoped it could reach a written agreement with CSX that would satisfy the state's concerns about ensuring that the merger does not have a negative impact on passenger and commuter service.
But it also asked the board to impose conditions, including having CSX turn over dispatching of commuter lines to the Massachusetts Bay Transportation Authority. Massachusetts also seeks CSX cooperation for launch of new passenger service west of Worcester, Mass., on the B&A, and west of Ayer, Mass., on Pan Am, as well as Berkshire Flyer service.
Meanwhile, New Hampshire's two members of the U.S. House of Representatives – Reps. Chris Pappas and Ann McLane Kuster – expressed passenger and commuter service concerns in a separate letter to the STB.
New Hampshire would like to launch commuter service linking Manchester and Nashua, N.H., with Boston over Pan Am trackage. They asked that CSX, as a condition of the merger, be required to negotiate in good faith about track improvements.
— Updated at 4:15 p.m. CDT with information from Massachusetts filing to STB.