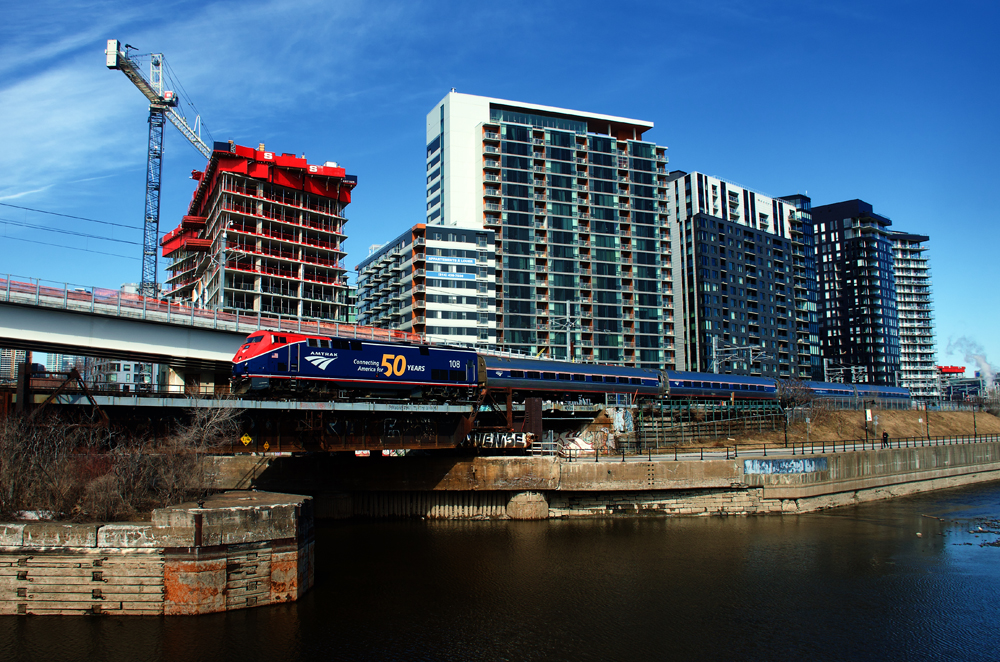 ---
MONTREAL — Following a 47-mile run last week that reportedly took four hours because of a 10-mph speed restriction imposed by Canadian National, Amtrak has suspended operation of the New York-Montreal Adirondack north of Albany-Rensselaer, N.Y., as of Saturday, June 24.
The Adirondack — the last Amtrak route to return after pandemic-related cutbacks — had only resumed operation in April.
The restriction is on CN's track north of the U.S.-Canada border. A Canadian National spokesman tells Trains News Wire that for the class of track involved, the railroad imposes a 10-mph restriction if temperatures exceed 30 degrees Celsius (86 degrees Fahrenheit) "to insure safe operation." He adds, "We are currently negotiating with Amtrak to get necessary investments to insure continuous service at higher temperatures."
If track does not meet certain tolerances related to tie placement and roadbed quality, temperature extremes can cause rails to move out of alignment, which can lead to a derailment.
Not clear is when negotiations began, whether other parties are involved, or what class of track CN would require. Deteriorating track conditions clearly played a role leading to the Adirondack being the last Amtrak restored after the COVID-19 pandemic [see "'Adirondack' tickets now on sale …," News Wire, March 21, 2023] However, neither Amtrak nor the sponsoring New York State Department of Transportation would discuss why the train was not reinstated north of Albany-Renssalaer during the final two years of its extended hiatus, despite repeated News Wire inquiries.
As for the latest interruption, Amtrak spokesman Jason Abrams says, "A restoration date has not been determined." He says passengers whose trains were cancelled were offered refunds but no alternate transportation. When asked whether Amtrak is considering a connecting bus service north of the state capital or turning the train south of the border so it could continue to serve New York State residents, he says, "we're looking at all options."
The company has posted a service alert notice, although passengers attempting to book the train last weekend through June 30 were advised without explanation that it was cancelled. Despite the statement, as of this evening (Monday, June 26), the Amtrak website was still offering tickets beginning Sunday July 2. Northbound and southbound trains were both showing a 90% sellout that day.
Now the issues are what track upgrades are necessary, how much they will cost, who will pay, and when work can commence. The immediate question is what weather conditions will allow service to resume. The 14-day Montreal forecast calls for daytime highs between 23 degrees and 28 degrees Celcius (73.4F-82.4F), below CN's stated threshold when the 10-mph speed restriction kicks in. Though temperatures in Canada south of Montreal may have exceeded 28C (82.4F), for the city itself, that was the high temperature last Friday according to World Weather Info. Since then, temperatures have dropped.