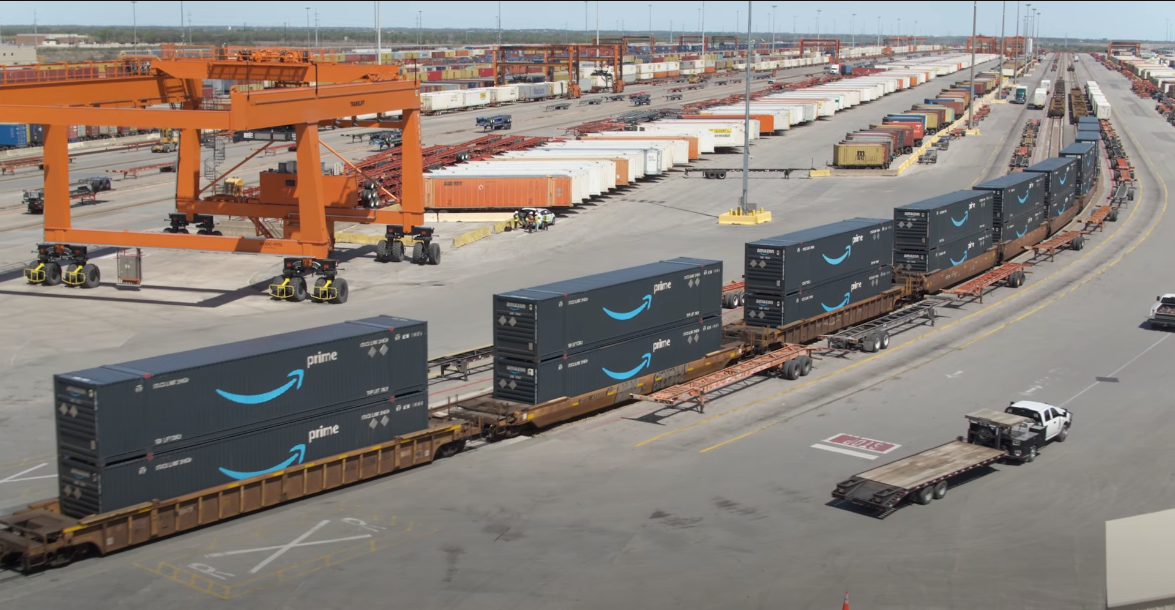 ---
Amazon has begun soliciting business from shippers interested in using space in the company's fleet of 53-foot intermodal containers.
The move, touted in a YouTube video posted this month, puts Amazon in direct competition with intermodal providers such as J.B. Hunt, Hub Group, and the intermodal marketing companies that fill rail-owned containers.
"With intermodal for external customers, we really started talking about how to go big because of the product that we had. We can compete on cost, speed, capacity, and performance," Chris Oliver, senior manager, Amazon Freight Intermodal, says in the video.
Amazon manages loads from dock to dock and plans the transportation moves, including the rail and road portions of the trip. "It's a full end to end solution for every customer," he says.
Amazon bought its first 250 domestic containers in 2019 and has since expanded the fleet to more than 5,000 boxes, according to the Journal of Commerce.
Amazon aims to reach zero net carbon emissions by 2040 as part of its climate pledge. "Intermodal helps us to get there," says Mathew Thomas, senior manager, Amazon Freight Intermodal. "You're making a choice to move something in not just a more cost effective way. You're moving a product in a much more sustainable way as well."
Analyst Larry Gross says Amazon is following a path blazed by companies that were once intermodal customers but then became competitors with intermodal providers.
One of the motivating factors behind seeking business from other shippers, Gross says, is building densities that make intermodal more efficient. "There's a real value to having density," he says.
A case in point is drayage, the road moves between intermodal terminals and the customer's loading dock. Ideally, Gross says, the dray move leaves an intermodal terminal with a load and returns with one, too. The odds of having loaded outbound and inbound moves in the right places at the right times increase when the intermodal network is larger, he explains.
Plus, the more volume a company puts on a railroad, the better deal it can get in terms of price and service, Gross adds.
Amazon's entry as a domestic intermodal player will help create capacity and volume, Gross says. "There's a need for someone to step up and provide capacity to intermodal marketing companies if the railroads aren't going to reinvest in their domestic container fleets," he says.
Intermodal volume moved in rail-owned containers has declined this year, while moves of privately owned containers have risen as part of a shift of domestic intermodal share, Gross notes.
Union Pacific and Norfolk Southern, Canadian National, Canadian Pacific, and Florida East Coast participate in the EMP container program, while UP and CSX are partners in the UMAX fleet.