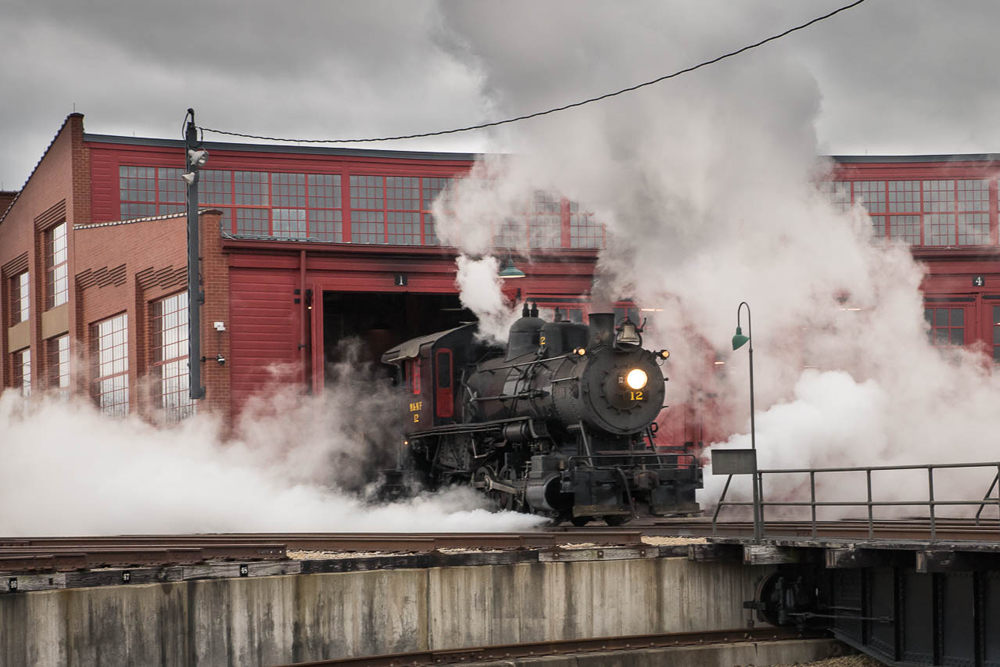 ---
SUGARCREEK, Ohio — Age of Steam Roundhouse and Trains Magazine will sponsor an exclusive day of photography May 20 at the venue that houses the late Jerry Joe Jacobson's extensive steam locomotive collection.
The day will begin with the operation of Moorhead & North Fork 0-6-0 No. 12 and then moveinside, where locomotives ranging in size from diminutive tank engines to mighty 4-8-4s are on display in America's newest roundhouse, constructed a little more than a decade ago for the collection. Re-enactors will enhance the mood of bygone days.
"Age of Steam Roundhouse is an incredible gift to all of us who love steam locomotives and want to see them well cared for and preserved in an appropriate setting," says Trains Magazine Editor Jim Wrinn. "We are deeply appreciative to the Age of Steam Roundhouse for allowing a small group of photographers access to the site to create images we all thought were gone some 60 years ago."
The event will be limited to 25 to ensure high quality, and Chris Lantz, who organized an earlier event at Age of Steam, will coordinate this one, too.
Says Lantz: "A shoot there is a trip back in time to the days when you could sign a release and walk through the yard and roundhouse. The sights and sounds of a long-gone era of railroading are all around. There is a very deep and personal connection to history that is rare. It is a very surreal experience and to be honest it took me several days to let it all soak in. I've been around steam locomotives most of my life and have worked on and crewed them for 20 years and I've never experienced anything quite like it."
Lunch is included. The event is designed so that you can also enjoy Nickel Plate Road 2-8-4 No. 765 at the Cuyahoga Valley Scenic Railroad as the Fort Wayne Railroad Historical Society's locomotive visits that evening or that weekend.
Details and tickets are available at this Eventbrite page.