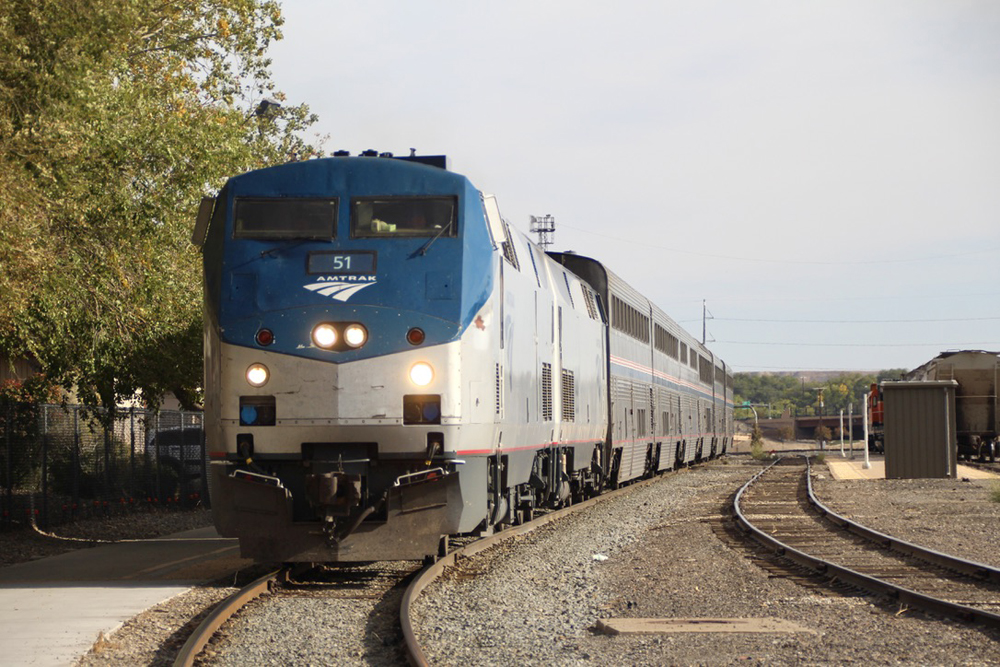 ---
CHICAGO — Amtrak's westbound California Zephyr has been cancelled this Sunday, Sept. 25 — continuing a week of disruptions for the service between Chicago and Emeryville, Calif.
The sequence that led to Sunday's cancellation began with the westbound departure of Monday, Sept. 19, which sustained delays totaling 16 hours, 35 minutes on its way to Emeryville. With the equipment and Chicago-based onboard service crew on No. 5 arriving less than an hour before train No. 6 was scheduled to depart, the eastbound Zephyr of Sept. 22 never left the station.
Perhaps prophetically, the CZ trainset that headed west on the 19th was missing a Sightseer Lounge car (as was that day's Southwest Chief). This was became less of an issue for the Zephyr when delays meant it passed through its signature mountain scenery at Glenwood Springs, Colo., after 1 a.m. Wednesday and at Truckee, Calif, at 3 a.m. Thursday.
Reasons for the extreme tardiness were unavailable, but tracking information shows the train went from 17 minutes behind to 3 hours, 16 minutes late in the 76 miles between Holdrege and McCook, Neb., then was held in McCook for 5 hours. It departed Denver 10 hours off the advertised at 6:27 p.m., and left Salt Lake City nearly 15½ hours late at 2:55 p.m.
With no lounge to provide food for coach passengers, they were offered café fare and beverages in one half of the Superliner dining car, which otherwise would have been off-limits to them.
This Zephyr and Sightseer Lounge episode is the latest illustration how Amtrak management's decision to reduce shop forces beginning in fall 2020 continues to plague its overburdened Superliner fleet and the passengers who depend on it.
The company has never been flush with enough spare cars and locomotives in the Superliner era to maintain a spare West Coast trainset to protect against delays for the Zephyr in the San Francisco area (or for the Empire Builder in Seattle or Portland, Ore.). But there were always enough "protect" cars in Chicago and Los Angeles to assemble a complete consist because each terminal hosts at least three long-distance trains.
Not so in 2022. The Zephyr has been operating with only two coaches and two standard sleeping cars, one less in each category than in previous summers. As a result, sellouts have been common, exacerbating the ability to accommodate travelers displaced from cancelled departures.
The loss of a complete set of equipment when the eastbound Southwest Chief struck a dump truck in Missouri on June 27 exacerbated the problem, but the company had declined to adequately beef up its maintenance capability throughout the year before the accident.
Since daily service was restored in May, each of Amtrak's cross-country routes out of Chicago has missed more than one round trip after a badly-delayed train arrived too late to turn back at its West Coast terminal.
And while Sunday's cancellation may provide the opportunity to break the cycle of Zephyr cancellations, it will not assure that everything is going smoothly on the Chicago-Emeryville route: Friday's westbound departure left Chicago at 5:01 p.m., instead of the scheduled 2 p.m., because of what the Amtrak Alerts Twitter feed called "an unforeseen mechanical issue."