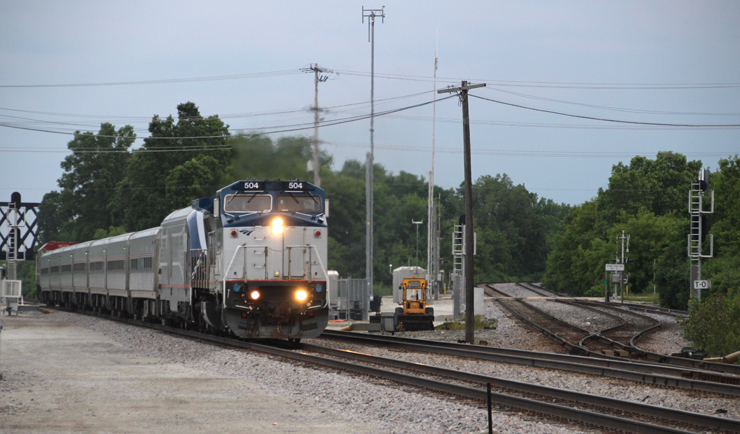 ---
MADISON, Wis. — Wisconsin's plans for increasing Chicago-Milwaukee Amtrak Hiawatha service may not be as close to fruition as state officials have believed.
Canadian Pacific Railway, the host railroad for much of the Hiawatha route, has released a letter to the state's rail program manager saying it will not support additional service without additional improvements in Illinois. The Wisconsin Department of Transportation announced earlier this month it continues to seek matching funds for infrastructure improvements to allow more Hiawatha round trips, indicating it believed increased frequencies could be accommodated only through improvements within Wisconsin. [See "Wisconsin announces plans for more Hiawathas," Trains News Wire, July 18, 2019.]
CP's letter of June 26 cites the Illinois Department of Transportation's decision to not move forward seeking federal grants for freight train holding tracks at Glenview, Ill., and north of Lake Forest at Rondout, Ill. [See "Illinois DOT bows to opposition on sidings for Hiawatha expansion," Trains News Wire, May 13, 2019,  and "Local opposition threatens expansion," "Passenger" Trains Magazine, August 2019.]
It points out "these improvements … were identified by a joint team of stakeholders as necessary and required infrastructure to support any additional Hiawatha train starts. Without these improvements, CP cannot support any additional Hiawathas in this corridor."
Signed by C.E. Hubbard, CP's director interline and passenger – South, the letter warns Wisconsin officials that applying for and receiving federal grants improving Canadian Pacific track capacity and efficiency in the Milwaukee terminal area and the railroad's Muskego Yard would not guarantee any more frequencies unless the Illinois improvements are also included.
Hubbard's letter says, "Should WisDOT do so, it does at its sole risk that there will be no additional Hiawatha train starts," arguing that the additional trains, "would unreasonably interfere with the adequacy, safety, and efficiency of our existing operations."
In any case, adding round trips would require an additional trainset with cars and locomotives that won't be available for at least three years. However, the most-needed rush hour departures are set to operate in conjunction with Metra trains south of Rondout when CP movements are already sidelined at those times of day.
Canadian Pacific's decision to release the letter a month after it was written indicates the railroad initially chose to keep negotiations private, but was not a part of what it considered to be any meaningful discussions with WisDOT before the agency publicly indicated that it was seeking more frequencies.
WisDOT's Passenger Rail Manager Arun Rao told Trains News Wire in May, "The big issue is finding a solution to the capacity and infrastructure needs of the railroads." Rao has not yet responded to inquiries whether CP's letter might impact future negotiations or the department's investment plans.