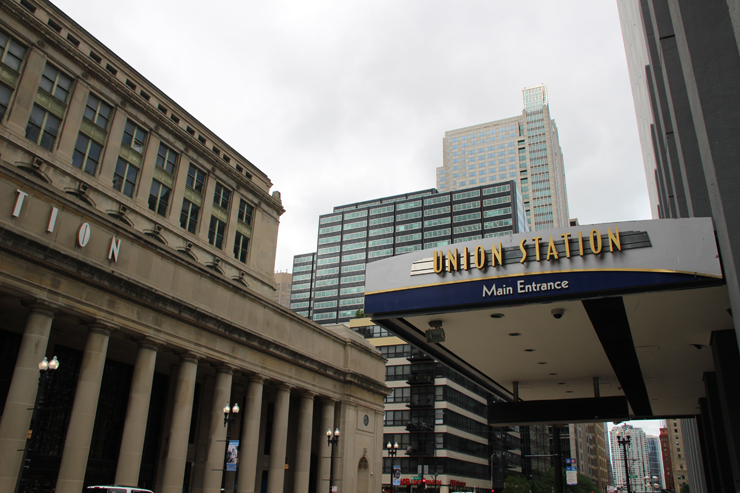 TRAINS: David Lassen
WASHINGTON — Amtrak has filed a petition with the Surface Transportation Board asking the agency to settle its ongoing dispute with Metra over terms and compensation for Chicago commuter railroad's use of the Amtrak-owned Chicago Union Station, asking more than $17 million annually and including a list of 17 conditions the passenger railroad wants imposed as part of the new deal.
As recently as 2018, Metra paid $9.66 million to use the facility.
Metra spokesman Michael Gillis says the commuter railroad's response is due in late June, and that settlement discussions are ongoing.
"Metra has tried in good faith to offer a fair and reasonable settlement that protects the interests of the taxpayers of the six counties of northeastern Illinois," Gillis tells Trains News Wire. "The parties both hope the Surface Transportation Board will provide additional guidance, as multiple interests use Union Station in different ways."
Amtrak says that under its allocation formula, Metra should pay $15,318,019 annually for four areas of operating costs (maintenance of way, dispatching, station operation and maintenance, and policing); $1.7 million for "tier 1" capital expenditures, and an amount to be determined for "tier 2" expenditures. Amtrak contends Metra is "drastically undercontributing" to capital costs at the station, though exact dollar figures are redacted from the petition.
Amtrak is requesting the STB make the new agreement good for 10 years. Among other proposed terms, Amtrak wants Metra to provide a written request to increase or modify service levels — it can currently add service as it desires — and both sides would evaluate the station's ability to accommodate the change. Amtrak would also base Metra's annual fee on the operation of 111,497 trains annually — the number operated in 2017 — with additional fees for each additional train, including specials and test trains. (A formula for such fees is outlined.) Amtrak also asks for the right to remove from service any Metra equipment "that does not meet Amtrak's written safety or operation standards, or legal or regulatory requirements."
Redactions are a significant feature of the 53-page petition, and to a lesser extent its accompanying exhibits. In all, the document totals 371 pages, even though a number of exhibits were filed under seal because of confidential information, and includes some pages that are completely blacked out, such as a copy of a draft agreement for station use from 2019. Blacked out in the petition are such statistics as the percentage of trains operated out of the station by Metra and Amtrak — reportedly, about 90% of the trains are Metra's; the percentage of passengers for each who use the station, the portion of the station's 489,555 square feet used by Metra, and the number of Amtrak police based at the station.
This is not the first time the two sides have asked the STB to intervene in the dispute. Metra did so in 2018, but the STB said then the request was premature [see "STB won't step in — yet — to resolve Chicago Union Station dispute," Trains News Wire, Aug. 27, 2018]. Amtrak made a similar request in July 2019 [see "Amtrak says it can't reach agreement with Metra, asks STB to settle Union Station rent dispute," Trains News Wire, July 25, 2019].
The disagreement plays out against a background including a bill proposed by outgoing U.S. Rep. Dan Lipinski to transfer control of Chicago Union Station from Amtrak to Metra, a bill Amtrak said at the time of its introduction would "make it impossible" for Amtrak to operate at the facility [see "Congressman introduces bill to transfer control of Chicago Union Station to Metra," Trains News Wire, March 13, 2020]. Lipinski, who lost the primary election for his seat in March, has been a vocal critic of Amtrak's operation of the station since a Feb. 29, 2019, incident involving an Amtrak computer upgrade that snarled Metra traffic for much of a day.
— Updated at 1:35 p.m. on May 28 with Metra comment.