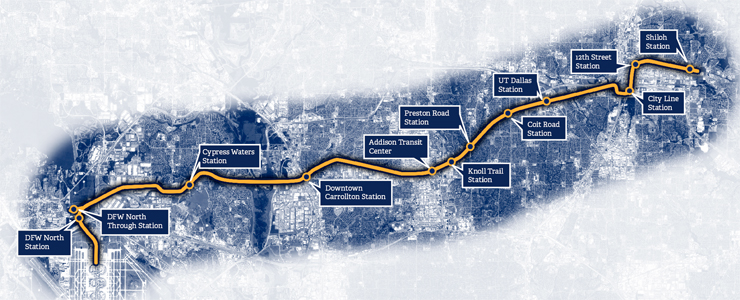 DALLAS — Dallas Area Rapid Transit has awarded $872 million in contracts to design and build its 26-mile Cotton Belt commuter rail line, the Dallas Morning News reports.
The contract was awarded to a joint venture of Archer Western Construction, based in Irving, Texas., and Herzog Contracting, based in Fort Worth. Construction is scheduled to begin in 2019 with service projected to start in 2022. The firms' website notes the line will extend from DFW International Airport to Plano, with up to 11 stations. It will connect to three existing DART light rail lines, as well as the DFW Skylink people mover and the Tex Rail regional rail line.
The Morning News reports that the contract figure includes $815 million for construction and another $49.2 million for a company to represent DART's interests during the project. The construction contract is contingent on receiving a federal loan.
The DART board may still elect to spend an additional $90 to $120 million to double-track the route, the newspaper reported.