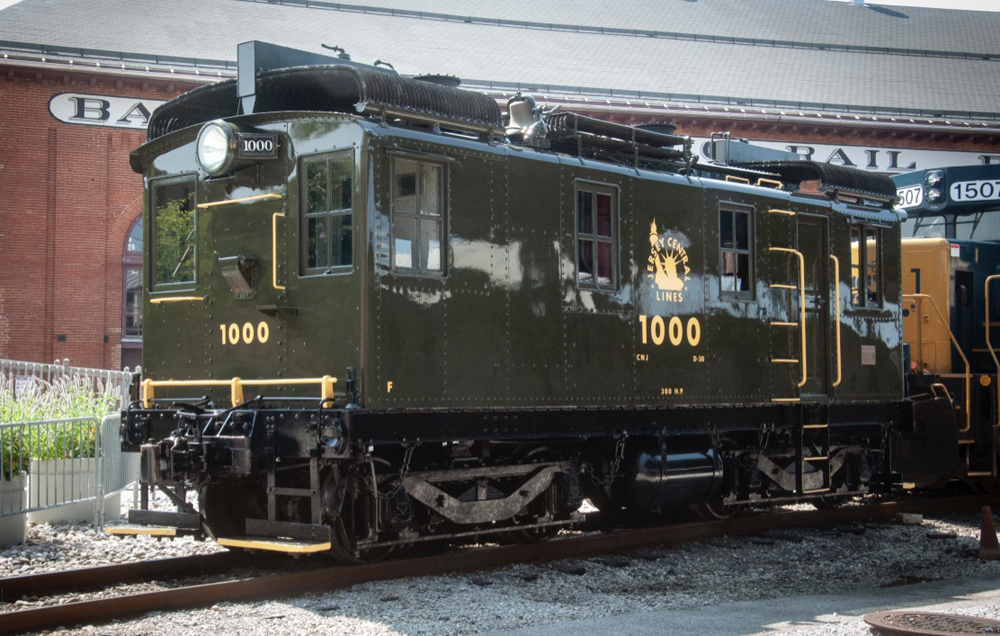 BALTIMORE, Md. – The B&O Railroad Museum has completed a cosmetic restoration of Central of New Jersey No. 1000, the world's first commercial diesel-electric locomotive. The existing paint scheme from the 1950s was maintained, which was an olive green with the famed Statue of Liberty emblem in gold.
This restoration was completed in memory of Robert D. Timpany, trustee of the Central Railroad of New Jersey, and made possible with the generous support of individual donors and the Baltimore National Heritage Area.
The locomotive will be on display in the museum's roundhouse through Aug. 31.
In 1925, General Electric, in partnership with Ingersoll-Rand and the American Locomotive Co., created the first commercially successful diesel-electric locomotive. Identified as No. 1000, this diesel-electric was purchased by the Central Railroad of New Jersey. No.1000's boxy body, traction motors, and trucks fell in line with the light electric locomotives of the time and was an instant success. Almost immediately, other railroads followed suit as managers realized that diesel-electrics were more efficient yard switchers because of their maneuverability and cost-effective operation. On June 13, 1957, No. 1000 retired from service and was donated to the B&O Railroad Museum.
The B&O owned and operated a few miles of New Jersey track. Built in the late 1880s, this line ran from Cranford Junction and the CNJ to the Arthur Kill Bridge that connected it to the Staten Island Rapid Transit, controlled by the B&O. The railroad also had some track on Manhattan Island, at its West 26th Street Yard and car float dock. This locomotive was used as a switcher in New York. B&O freight would have been loaded and unloaded at the Central of New Jersey yard using this piece.
The CNJ No. 1000 restoration is part of a plan to prepare for the 200th anniversary of American railroading in 2027.