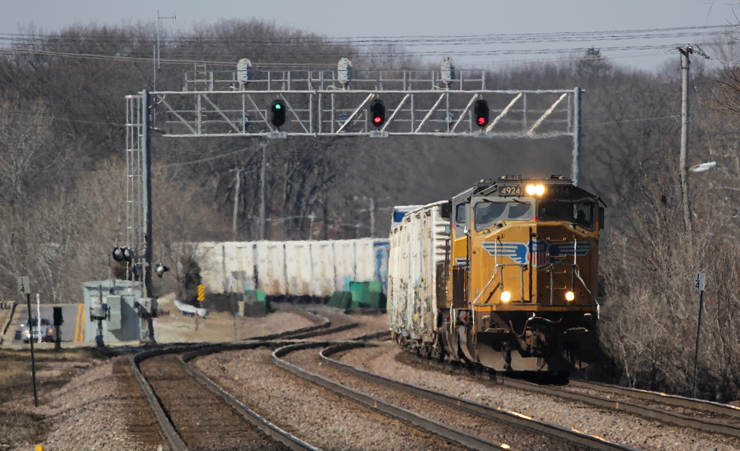 ---
OMAHA, Neb. — Union Pacific has pulled the plug on its innovative Cold Connect reefer service, which the railroad had touted as a way to return long-lost perishables business to the rails.
The service linked growers in California and the Pacific Northwest with consumers in the Northeast and New England via a mammoth refrigerated warehouse in Rotterdam, N.Y., located on CSX Transportation near Albany, N.Y.
Cold Connect, part of UP's Loup Logistics subsidiary, will be shut down permanently after the last loads arrive and are distributed, UP said in a statement. Shippers and Cold Connect employees were notified on Friday.
"This decision was not made lightly," UP said in a statement. "Since acquiring the Railex assets in 2017, employees diligently worked to grow volumes and create a platform for the future; however, with COVID-19 impacting volume and truck prices, it is no longer sustainable to continue operations."
UP's decision stunned independent analyst Anthony B. Hatch. "It greatly surprises me that a railroad with a sunk investment in the reefer supply chain would exit this line of business, which should be so vital (truly essential, no?) during this crisis and we think, like Canadian National, for example, offers such growth potential after the pandemic," he says.
Before the railroad adopted its Precision Scheduled Railroading operating model in October 2018, UP had been considering expanding the Cold Connect network to include new warehouses in Arizona, Texas, Chicago, Atlanta, Florida, and Mexico.
In January 2020, Kenny Rocker, UP's executive vice president of marketing and sales, noted that the railroad had gained market share in food and beverage shipments. And as recently as March, Chief Financial Officer Jennifer Hamann told investors that UP's more consistent merchandise service allowed Cold Connect to better compete with trucks for temperature-controlled food and beverage service.
In January 2017, UP purchased Railex, the refrigerated food and beverage logistics provider that filled reefers for a decade. UP dubbed it Cold Connect and increased service to five days per week, up from three. The reefer trains rated high-priority Z-symbol status and departed Tuesday through Saturday from terminals in Delano, Calif., and Wallula, Wash.
The trains were combined in Wyoming, interchanged with CSX in Chicago, and unloaded at the Rotterdam terminal Sunday night through Thursday night, with trucks making final-mile delivery to cities across the Northeast and New England.
The traffic was shifted into the merchandise network last year, however, as UP blended unit-train traffic into manifest trains.
In a way, the reefer service was a blast from the past with a modern twist. The reefers often carried less-than-carload shipments for multiple customers, while UP provided shippers with real-time GPS-based tracking visibility on each pallet, whether it was on the train, a truck, or in the warehouse.
With door-to-door delivery in seven or eight days, depending on origin, the Cold Connect service was better suited for traditional reefer-car commodities such as hearty vegetables plus canned goods, cheese, wine, and beer.
But that had been changing. It takes a truck two days longer to make a coast-to-coast perishables run thanks to the 2017 electronic logbook requirement that enforces truckers' hours of service rules. And that makes reefer-car service more competitive. "With the changes in the trucking market, we feel significant opportunity remains in the fresh produce markets," Brad Thrasher, UP's vice president of marketing and sales for agriculture products, said at the railroad's 2018 Investor Day.
"This network is not only fast enough to open up opportunities to handle the more perishable products that don't traditionally move by rail, but it also provides a faster and more reliable ride to our traditional customers that is attracting growth from them," Thrasher said at the time.
Some of UP's reefers are equipped with filters that can extend the shelf life of more perishable commodities such as fruit, which UP said would allow it to gain additional volume. And UP had been considering adding intermodal ramps at Wallula and other locations to expand the reach of Cold Connect.
The service also at one point enjoyed the rarest of commodities: Backhaul moves of hard cider, beer, and wine from Rotterdam to West Coast destinations. That made the round-trip economics more attractive than running empty miles back to the West Coast.
UP late last year took delivery of the first of 300 new refrigerated boxcars. They feature improvements such as hybrid refrigeration units, double-sealed doors, and customized air distribution pressure to better preserve food.
But despite the new cars, UP's reefer fleet continues to shrink. The railroad's industry-leading reefer fleet is down 23% over the past five years, according to the railroad's annual reports.