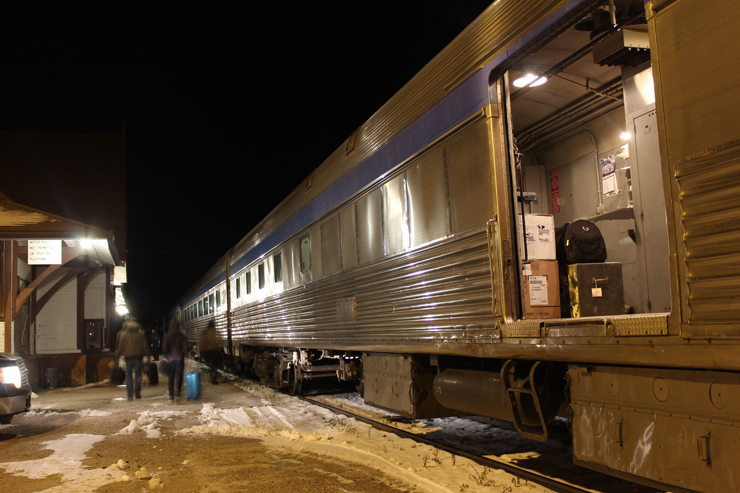 THE PAS, Man. — Although Canadian Prime Minister Justin Trudeau promised full passenger and freight service restoration to Churchill, Manitoba, "by the end of November", Trains News Wire has learned that full service could begin within the next few weeks and the tracks should be secure through the winter.
Last Friday, the two SD50 and a GP38 that pulled a caboose and flatcar carrying a diesel generator headed back south on the Hudson Bay Railway, after going to the northern Manitoba outpost on Halloween night for Trudeau's announcement. In addition to celebrating the return of rail service ["Trains return to Churchill after more than a year," Trains News Wire Nov. 1], Trudeau also pledged more than $3.8 million for a series of initiatives to help revitalize the community, the Winnipeg Free Press reports.
Jim Conner, Hudson Bay Railway's Superintendent of Operations, tells Trains News Wire, "We ran one train over the subdivision, did electronic testing with a Sperry Car, tested all the bridges, and are still looking [to repair] a few spots right now, but once the hard freeze occurs in the next two weeks, the roadbed won't move [underneath the tracks] until spring."
VIA Rail Canada spokeswoman Marie-Anna Murat says passenger service will resume north of Gillam, Man., after engineering reports are completed, confirmation of freight activities over the line takes place, and "an audit by our own infrastructure engineers" is finalized.
She tells Trains News Wire that service to Churchill will revert to twice-weekly round trips from Winnipeg and one from The Pas using two sets of equipment. That schedule was in effect at the time of the May 2017 washouts north of Gillam, Man., that shut the line down. [See "VIA trims Manitoba service, will retrieve stranded train by ship," Trains News Wire, Oct. 5, 2017.]
Since then, a single set of two locomotives, a baggage car, diner, Chateau sleeping car, and two coaches have been making one weekly round trip into the Manitoba capital for servicing after covering triweekly stints from Gillam to Thompson, Man., and two round trips from Thompson to The Pas.
Murat says VIA plans to add a Park dome observation for the peak summer whale-watching and fall polar bear seasons in 2019.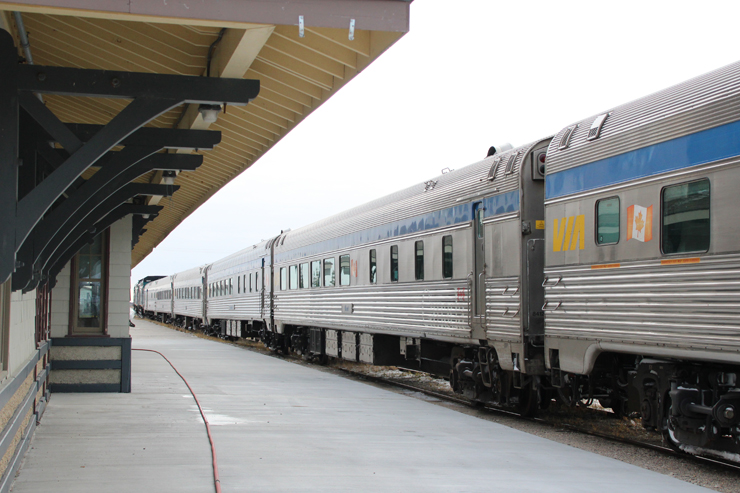 Bob Johnston
Cando Rail Services, based in Brandon, Man., hired Keewatin Railway track crews to do the work as a subcontractor, once the Arctic Gateway Group assumed ownership of Hudson Bay Railway and the Port of Churchill from Omnitrax on Aug. 31, 2018. [See "Hudson Bay Railway sale completed, repairs to begin," Trains News Wire, Sept. 4, 2018.]
Keewatin, which previously handled track maintenance for Hudson Bay and operates a mixed train between The Pas, Man., and Putatawagan, Man., is owned by one of the First Nations groups that, along with Fairfax Holdings and Saskatchewan's AGT Foods, comprise Arctic Gateway.
After more than a year of legal standoffs trying to get former owner OmniTRAX to live up to its track repair obligation, the Canadian government stepped in with $56.4 million in U.S. dollars ($74 million Canadian) to facilitate the purchase and has promised another $32.8 million ($43 million Canadian) in operating support over the next decade.
"It was clear when we finally got out there after standing by all summer waiting for the government to kick them out that Omnitrax had done little — if any — maintenance on the rails, ties, and roadbed," Keewatin General Manager Tom McCahill tells Trains News Wire. Crews worked continuously through September and October to rebuild deteriorated culverts and spread lots of ballast that had washed away. "We knew what we had to do; we've done it before," he says, adding, "I hear the ice hasn't come in off Hudson Bay so the (polar) bears haven't left Churchill yet, but you can't get anything done once everything freezes."