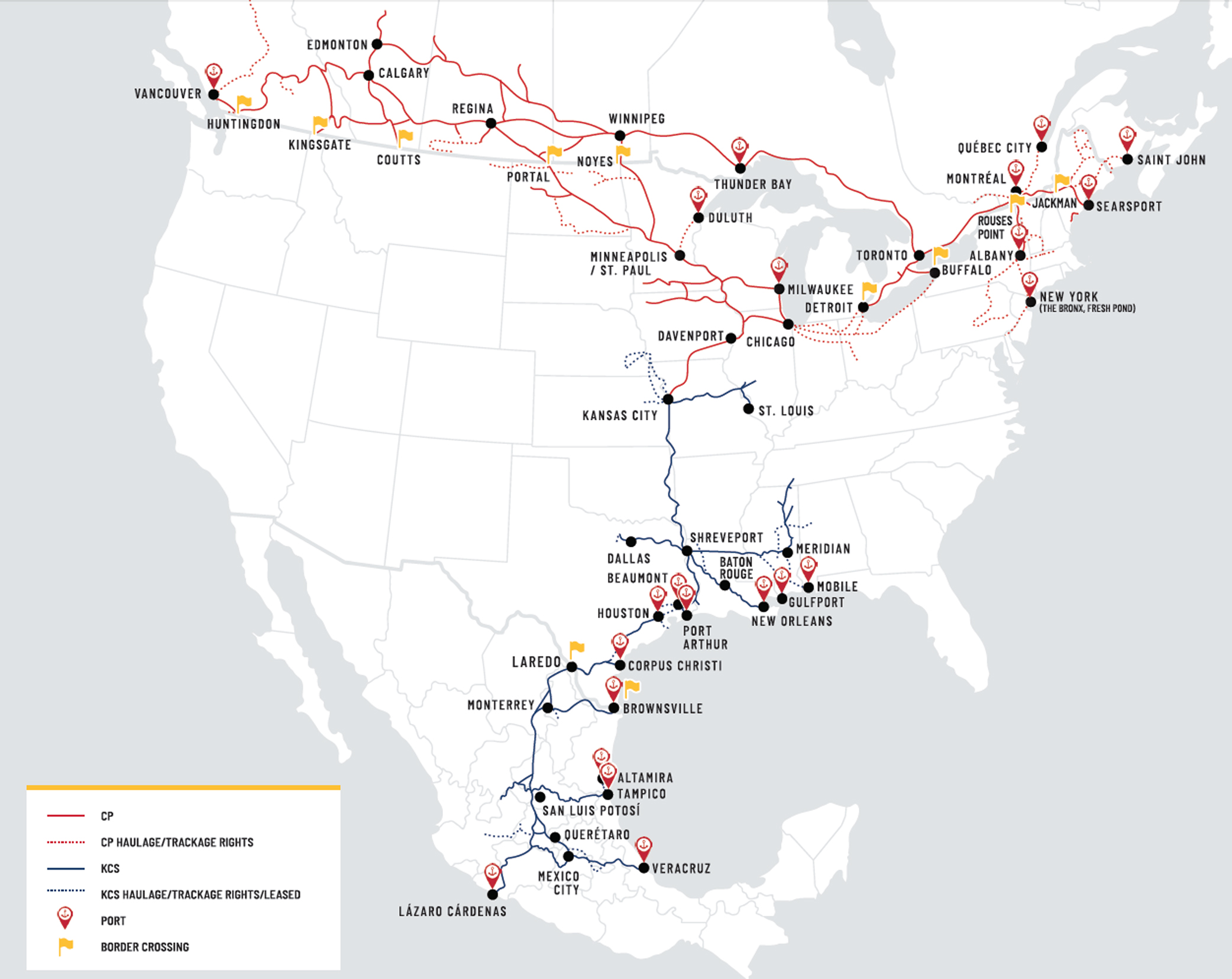 KANSAS CITY, Mo. — Canadian Pacific CEO Keith Creel and Kansas City Southern CEO Pat Ottensmeyer expressed excitement today about finally being able to combine their two railways into the first system to connect Canada, the U.S., and Mexico.
Their merger deal, officially announced on Wednesday after Canadian National dropped its pursuit of KCS, came after a four-month battle for control of the smallest Class I system.
"We're very excited about the merger between these two terrific, historic, and iconic franchises," Ottensmeyer said on a webcast Thursday morning with investors and analysts.
The combined CP-KCS will remain the smallest of the Class I railroads by revenue, but new single-line service will boost competition, take trucks off the highway, help lure manufacturing back to North America, and provide environmental benefits, Creel says.
The railways envision $820 million in annual revenue growth from new traffic opportunities and $180 million in cost and efficiency savings. The new railway, dubbed Canadian Pacific Kansas City, expects single-line service to lead to growth in all traffic segments, CP Chief Marketing Officer John Brooks says.
The railways outlined a timeline for key milestones in the merger process. CP and KCS shareholders will vote on the merger in December. Mexican antitrust regulators are expected to review the deal in the next two to four months. In the first quarter of 2022, assuming shareholder and Mexican regulatory approval, KCS will be placed into a voting trust, with former CEO David Starling overseeing the railroad as trustee.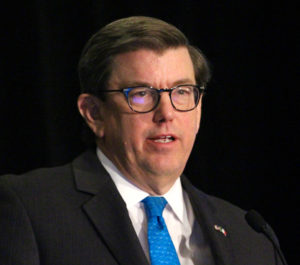 Once KCS is placed in the trust, KCS shareholders will receive the equivalent of $300 per share in a combination of cash and CP stock. That's a 34% premium to the KCS stock price before the CP-KCS merger was announced in March. KCS shareholders will own 28% of the combined company.
The railways expect to file their merger application by the middle of October and are requesting a 10-month Surface Transportation Board review of their deal under the board's less onerous, pre-2001 merger rules. Approval is expected in October or November 2022.
The companies have similar cultures and will mesh well, Ottensmeyer says, noting that it was Creel who suggested putting Kansas City into the new railroad's name as well as making Kansas City the system's U.S. headquarters. The North American headquarters will be in Calgary, where Creel will serve as chief executive.
As an end-to-end merger, the combination is about growth in traffic, revenue, and jobs, Creel and Ottensmeyer say.
Creel expects that some customers and Class I railroads will ask the STB for concessions as part of the merger review process. But he didn't expect there to be nearly as many concessions as prior Class I mergers, all of which involved significant route overlap and a reduction in railroad options for some customers. The CP-KCS combination is different, he says, because it has no competitive overlap and no customers will see their options reduced.
Creel also said CPKC will keep all existing gateways and interchanges open as a way to help bake a bigger rail traffic pie. "I'm not here to go to war with UP or BNSF or CN or CSX or NS," Creel says.
UP has expressed concerns about protecting its Laredo gateway, where it interchanges cross-border traffic with KCS de Mexico. NS has said it will protect its 30% interest in the Meridian Speedway joint venture that is an important intermodal route linking the Southeast with Texas and the Southwest.
CP and KCS will work to minimize the potential for the type of service disruptions that followed the major Class I railroad mergers of the 1990s. Creel says the railways expect a smooth transition, have already identified technology integration issues, and notes that CP has recent experience from integrating regional Central Maine & Quebec into its system in 2019 and 2020.