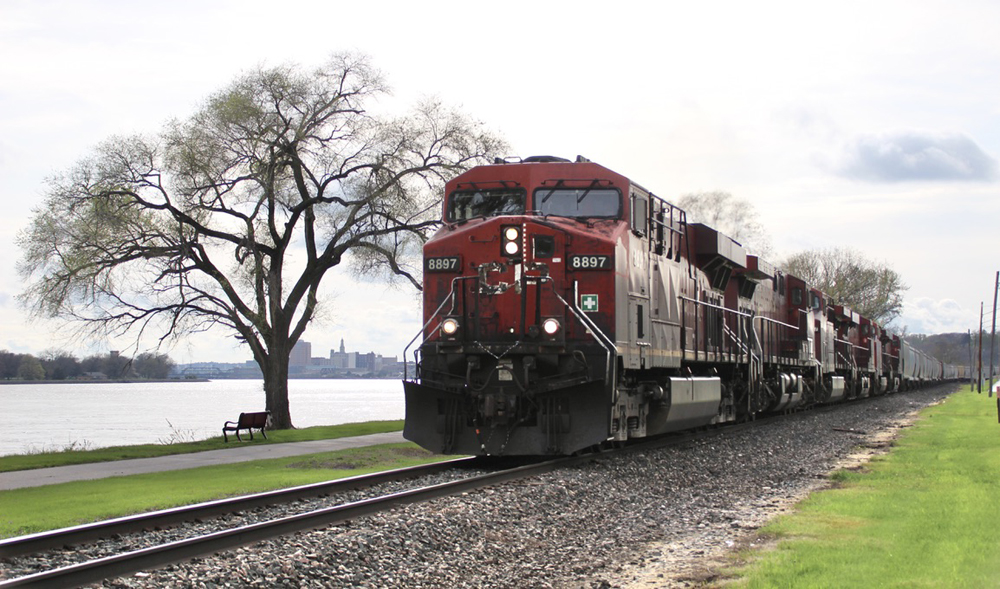 ---
WASHINGTON — Canadian Pacific and Kansas City Southern made closing arguments for their proposed merger on Thursday, telling regulators that their combination was in the public interest and that critics either didn't do their homework or were seeking conditions that would stifle competition.
They also said that the CP-KCS merger would not lead to operational problems in Chicago or Houston.
The railroads didn't get to finish their testimony before the Surface Transportation Board on Thursday, however. The seventh and final day of the public hearing is set to run from 11:30 a.m. to 2 p.m. on Friday. The hearings were initially set for three days, but STB Chairman Martin J. Oberman said he didn't want to rush the railroads or board members. "There's just too much at stake here," he says of what's likely to be the last Class I railroad merger.
Planning for smooth merger
BNSF Railway, Canadian National, and Union Pacific have raised concerns that the CP-KCS merger has been poorly planned and could lead to widespread service problems like the UP-Southern Pacific merger and the Conrail split.
But CP and KCS say that comparing the merger of the two smallest Class I railroads to the mega-mergers of the 1990s is a red herring.
UP and SP had largely parallel networks that had to be stitched together, with operational changes leading to integration issues in nearly every terminal in the west, CP lawyer David Meyer says. SP also was in a fragile state, and its Englewood Yard in Houston was a basket case that collapsed as soon as more traffic was pushed into the yard, he adds.
"There's nothing like that for us to plan for. We start with two railroads that connect at one point. And on day two they're going to connect at one point but it's not going to be an interchange," Meyer says. "It's going to be the same trains, the same traffic, the same operations and there just isn't any special calamity for us to be prepared to remedy."
The Conrail split was just as complicated as UP-SP, Meyer notes, with some routes going to Norfolk Southern and others to CSX Transportation on the day they began operating their respective portions of Conrail. The railroads' computer systems had to work perfectly in order for their merger to go smoothly, he says. But they didn't and service suffered out of the gate.
CP and KCS will keep all of their information systems in place and only cut them over once everything is ready.
James Clements, CP's senior vice president of strategic planning and technology transformation, noted that CN said the UP-SP merger ran into trouble due to UP's arrogance. He said CP-KCS would not suffer the same fate.
"We're not thinking we're God's gift to railroading and it's going to go well simply because we show up," he says. More than 1,000 people from CP and KCS have contributed to their merger planning efforts.
CP CEO Keith Creel says it was disingenuous for CN to suggest that the railway doesn't have experience integrating mergers. Creel notes that he had a leadership role in every successful merger involving CN, including its acquisitions of Illinois Central, Wisconsin Central, and Elgin, Joliet & Eastern.
"Experience matters," Creel says, pointing to CP's smooth acquisitions of regionals Dakota, Minnesota & Eastern and the Central Maine and Quebec.
Nonetheless, Oberman asked CP and KCS to flesh out their service promises and suggest ways they could be crafted into workable merger conditions that the board could enforce.
Meyer said the railroads would do so in their final briefs. But he warned that rigid service metrics, such as requiring 30 days' notice before making service changes to particular customers, could create problems and that broad commitments would allow the railroads more readily adapt its operations. "Flexibility is a feature, not a bug," Meyer says.
Houston can handle it
BNSF and UP contend that the eight additional trains CPKC projects it will run through Houston will bring the complex terminal to its knees. The increase, they said, would in some areas significantly top peak daily train counts from 2016.
But CP and KCS say the eight additional trains per day they'll run through Houston on UP trackage rights is well within the typical daily variation in the terminal's train count. CP and KCS looked at train counts since early August and found that an addition of eight trains would fall right in the middle of Houston's high and low volume days.
The railroads played a video recorded from the camera on the lead locomotive of a CP-KCS interline grain train that ran through the Houston terminal. The train took 74 minutes to make its way from the east end of UP's Englewood Yard to West Junction, the last interlocking Laredo-bound trains face in the terminal.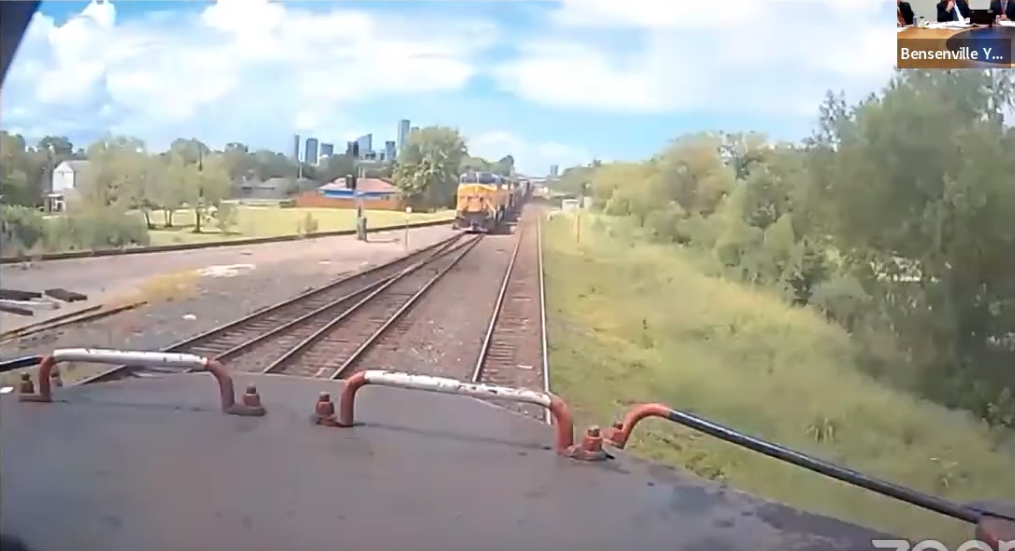 ---
Creel used the video to show how operations could be improved on the double-track route KCS trains currently follow through Houston.
Dispatching could be better, he said, noting that the 5,827-foot train was routed into the 3,800-foot Creosote Siding adjacent to Englewood Yard and right out the other end even though mainline tracks were clear.
As the train passed the west end of Englewood Yard, Creel noted that its 7,000-foot receiving and departure tracks force UP to double trains in and out of the yard. While doing so, UP's long trains tie up one of the mains — something Creel says is the last thing a railroad concerned about terminal throughput should do.
Oberman asked if that meant UP should run shorter trains or build longer tracks.
Creel said he understands UP's desire to run longer trains. "But you can't let your ambitions get ahead of your physical plant," Creel says. "You have to match yard capacity with mainline capacity, size of trains."
CP expanded receiving and departure tracks at its lone hump yard in St. Paul, Minn., something Creel says UP could do at the west end of Englewood Yard. UP shifted intermodal operations to Settegast Yard, leaving the west end of Englewood open to extend yard leads and tracks, Creel says.
Overall, the route through Houston has the capacity to handle 96 trains per day but no section currently sees anywhere near that many, says Raymond Elphick, CP's assistant vice president of service and product design.
CP says there's no immediate need to add capacity in Houston. But the railway will collaborate with BNSF and UP on capacity projects that become necessary, just as KCS has done since its Tex-Mex subsidiary was granted trackage rights from Beaumont to Robstown, Texas, in 1996 as part of the UP-SP merger. The trackage rights agreements spell out how the railroads share the cost of capacity projects.
Oberman asked if it would be possible for CPKC traffic to take an alternate route around Houston.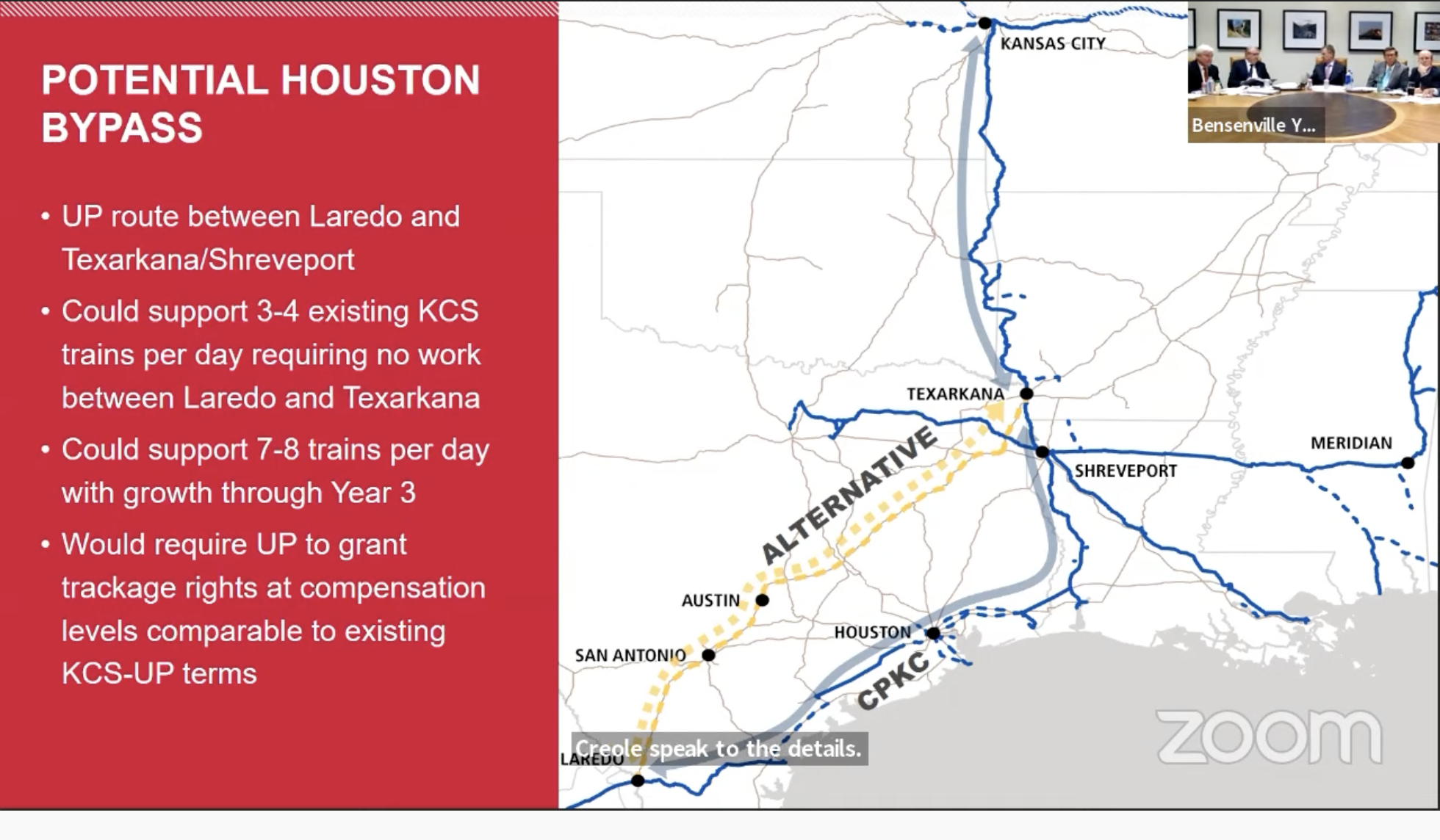 ---
Some trains could run between Laredo and Texarkana on UP via San Antonio and Austin, CP says. Three or four current KCS trains and seven or eight CPKC trains — those that don't need to perform work at Shreveport, La., or Beaumont or Kendleton, Texas — could use the route as a relief valve for Houston.
If UP actually was concerned that Houston would melt down due to the additional CPKC traffic, Meyer says it could work out a trackage rights deal with CPKC. CP and KCS will not ask the board to make it a condition of the merger and wouldn't say if any such talks had occurred or are under way.
Oberman says it makes sense to reroute some CPKC trains away from Houston if it's feasible and can reduce congestion on the railroad and in surrounding neighborhoods. "Responsible corporate citizens would take a look at it," Oberman says.
CPKC merger would help Chicago, not hurt it
CP pledged to work with Metra, the Chicago-area commuter railroad that has said additional CPKC traffic will snarl its operations and delay commuters.
CP disputed Metra's contention that CPKC would be forced to run some St. Paul-Kansas City traffic via Milwaukee and Chicago to avoid a bottleneck on the Marquette Subdivision, which runs along the Mississippi River in Iowa and Minnesota. If that were to occur, freight trains operating west of Bensenville Yard on the Metra MD-W line would jump to 18 from 3, rather than the 11 CP is projecting, Metra claims.
But CP insists that its capacity studies show that the Marquette Subdivision can handle merger-related traffic growth and that it plans to run up to 11 trains per day into Chicago – not 18. The main has excess capacity now and will retain this buffer as passing sidings are added.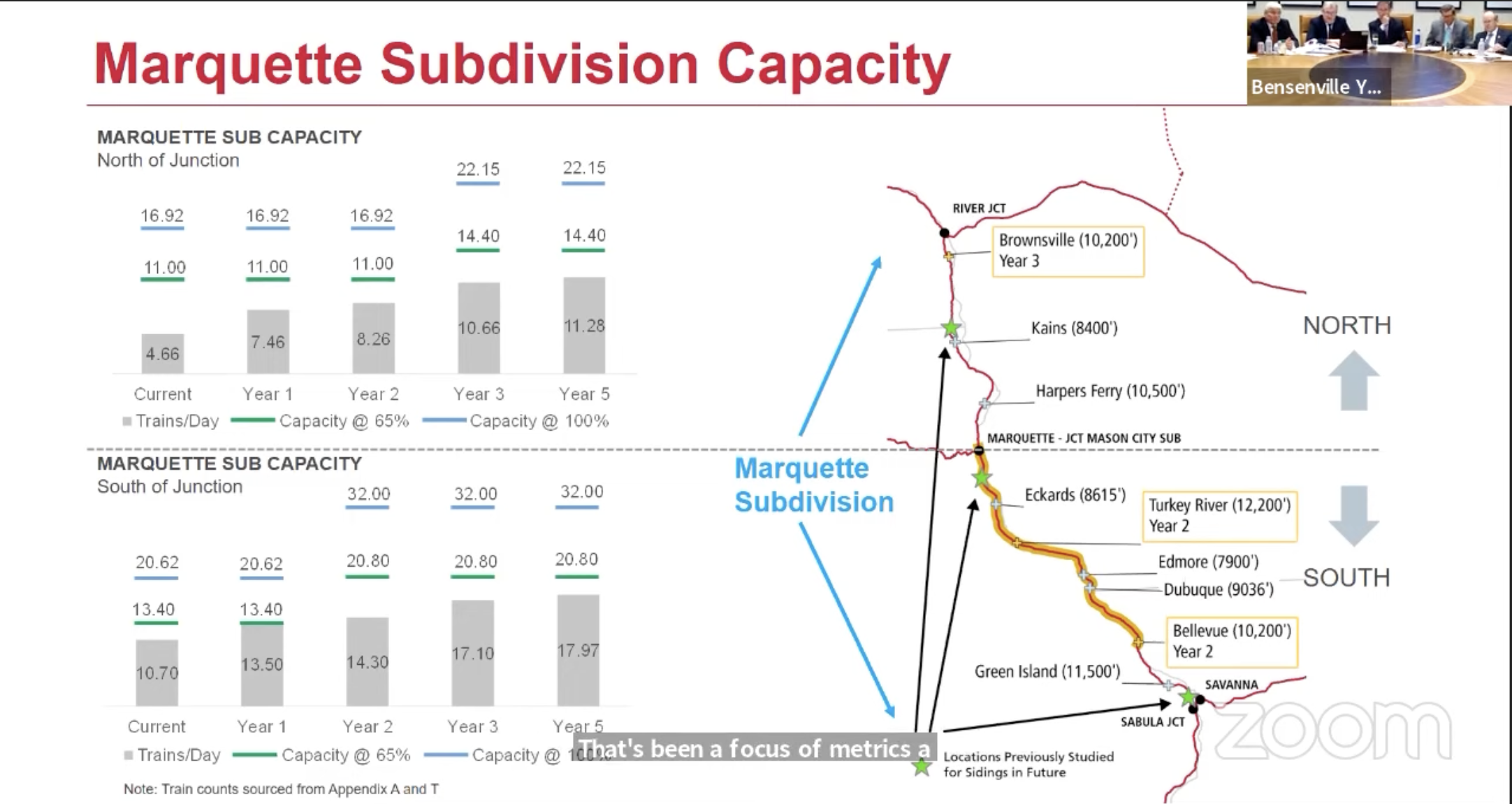 ---
Metra's Rail Traffic Controller traffic simulation — which showed CPKC would cause massive delays to commuter trains — was riddled with errors, CP says. When CP corrected the errors, including adding back 23 miles of double-track and crossovers, the simulation worked and reduced delays.
CP also said its merger with KCS will take freight traffic out of Chicago. Instead of interchanging north-south traffic with UP or BNSF in Chicago, CPKC will be able to send it from St. Paul to Kansas City on its own route along the Mississippi.
One example: A North Dakota grain shipper that sends unit trains to St. Louis via Chicago, could divert 200 trains a year to CPKC's single-line service, says John Brooks, CP's chief marketing officer.
Meanwhile, the expansion of Bensenville Yard's intermodal and auto ramps will eliminate the need for CP trains to run between Bensenville and the nearby Schiller Park Yard on a combination of Metra and CN trackage. CN had contended that CP's operating plan skipped an analysis of how the merger would affect operations on this key segment east of Bensenville Yard.
Updated at 9:03 a.m. Central to clarify a statement by James Clements, CP's senior vice president of strategic planning and technology transformation.